The Major Thing To Pay Attention To When Painting A Room Black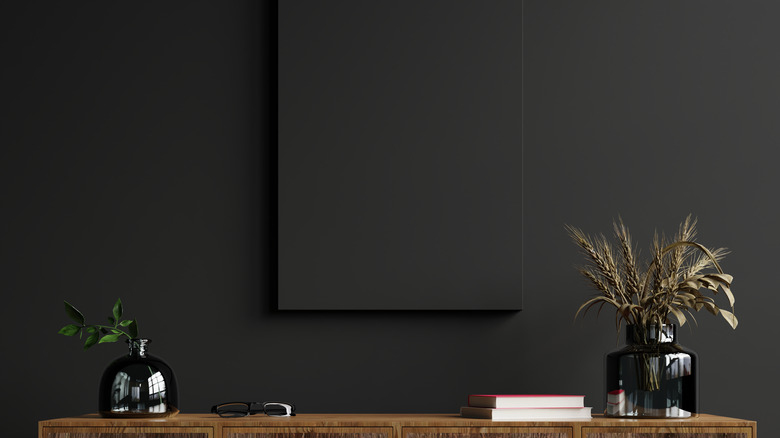 vanitjan/Shutterstock
Experts often stress how much a simple coat of paint can transform a room. And as people choose to design their spaces in ways that reflect their personalities, there are some new inspiring shades being featured on the walls and ceilings. Once popular, all-white interiors are moving aside for colorful alternatives, while dark and moody shades are some of the favorites in recent seasons.
Swedish interior designer Lotta Agota tells Dezeen that currently, people are preferring to nest. This inclination has homeowners embracing darker walls to create cozier environments. Dark blues, purples, greens, and reds are becoming more popular options for both smaller spaces and large rooms.
unexpectedly, one color that has grown in popularity is black. While many people might find black to be an overwhelming and challenging color use, designers are encouraging this dark shade to create bold, moody, and cozy spaces. But to make the black shine on the walls, you have to ensure that the rest of the design is working to complement and highlight it.
Lighting makes a difference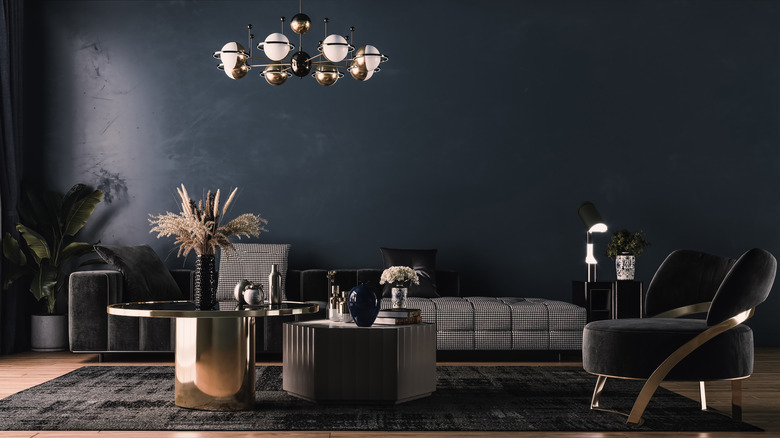 mixphotos/Shutterstock
One reason people tend to avoid painting a room black is that it can quickly make it feel dark and depressive. To combat that, experts recommend being smart with the lighting in the space. Interior designer Gianpiero Gaglione suggests to The Zoe Report that painted black should "have natural light if possible, or overhead lighting that can be dimmed to avoid the black-hole, cave effect." Painting rooms a dark color without having natural light to supplement will definitely make the room feel uninviting rather than cozy.
Without natural light, you'll want to add a sufficient amount of artificial light using multiple sources. Choose an overhead light like a chandelier or pendant and accent lighting, such as table lamps and wall sconces. An overhead light and accent lighting around the room can not only help illuminate the space and prevent a cave-like feeling, but it can also contribute to the overall feeling throughout the space.
Be cautious with natural light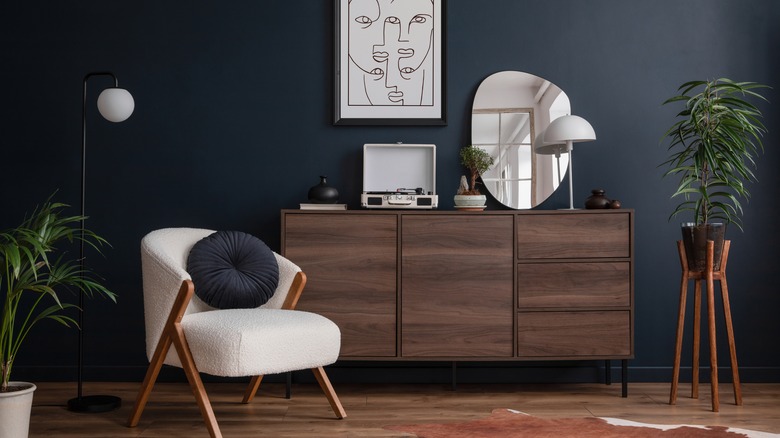 Followtheflow/Shutterstock
However, too much of a good thing can come into play here. When it comes to natural lighting and black rooms, too much natural light isn't suggested. "Spaces where I think you can avoid black would be rooms with a ton of light," Gianpiero Gaglione tells The Zoe Report, "so rooms with large windows or very open spaces." You want to balance the amount of natural light with the darkness on the walls. Too much natural light can wash out the black and reverse the coziness that you're trying to accomplish within the space.
Interior designer Jennifer Walter also agrees with not putting dark shades of black in wide open spaces. "Creating a box around that color can be so pervasive in a smaller space," Walter says. Powder rooms, dining rooms, offices, and bedrooms can offer great places to show off black paint. Black accenting the smaller spaces makes them feel cozier. And in larger spaces, or ones with more natural light, black may be better used as an accent than an all-over color.