42% Of Homeowners Say This Is Their Favorite Way To Decorate For The Holidays - Exclusive Survey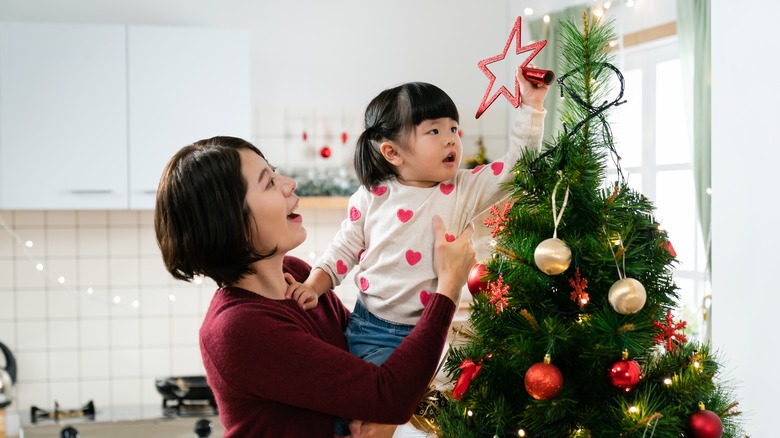 PR Image Factory/Shutterstock
The holidays are here and it seems they have been announcing their coming sooner every year — it's called the Christmas creep. "This is the tendency of retailers — both physical and e-commerce — to try and kick off holiday spending earlier and earlier in the season," said Matt Johnson, the author of "Branding Means Business," in Healthline. In fact, some folks haven't even bought Halloween candy yet when packages of lights hit the shelves at big-box stores. "If a retailer can convince its consumer base that its holiday season begins earlier, the period in which they'll spend at this higher rate is extended, which means more revenue for the retailer," Johnson adds. Yet we still clamor for the holiday spirit, trying not to allow a forced arrival (black cats and candy canes standing together) to dampen our cheer. Still, by early December, parties, cookie swaps, and gift-giving are in full swing — the festivity is a feeling like no other. 
It's this magic we're attempting to create and share when we decorate for the holidays, even if we purchased the baubles in October. (Better yet, Forbes says the greatest deals are to be had during Black Friday and in January.) Adding your contribution to a community of holiday trimming is an act of neighborliness (and sometimes competition). To that end, House Digest asked 629 participants their favorite way to decorate their home's exterior for the holidays. (FYI, the most popular time to decorate for Christmas is after Thanksgiving.)
Outdoor lights shine the brightest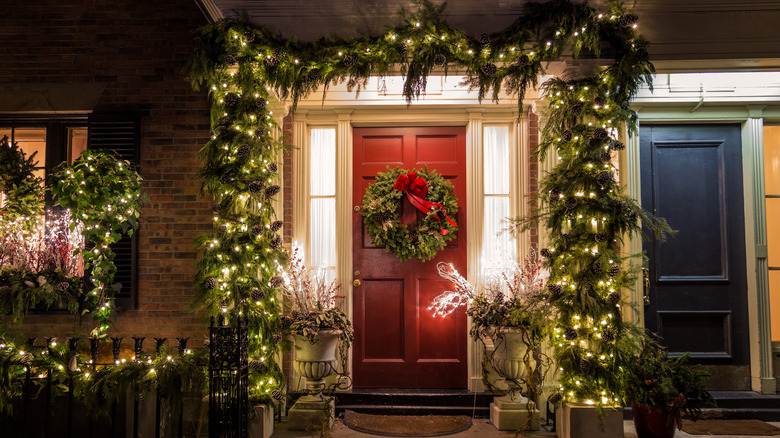 Luis Enrique Torres/Shutterstock
We'll start with our winner since it seems glaringly obvious: 265 respondents (can we please just call them elves?), or 42.13% said that outdoor lights are their favorite exterior decoration. This answer isn't surprising considering that driving around at night and admiring the houses aglow with lights has been an enduring pastime for generations; there's always at least one in the neighborhood that takes the concept delightfully over the (roof)top. 
Electric lights began appearing as holiday decorations in the 1940s and 1950s, and we've continued the practice because of religion, tradition, a penchant for Vegas-style pomp, and competitive spirit — whether to outdo ourselves of Christmases past or our neighbors. Some are energized by the novelty of innovations like the newest shapes, colors, methods, and animations. (Icicles and snowflakes are beloved options beyond conventional white string lights, for example.) And yet others just want to pay their jubilation forward; a Yuletide light ride can be one of the best budget-friendly activities for the family during the holidays.
As for second place? 192 people, or 30.52% of respondents, noted that wreaths and other front porch décor is their favorite way to decorate. Time explains that they originally ringed the tree as ornaments and are therefore an extension of the Christmas tree. Symbolically, the perpetual circle and greenness represent eternal life. Perhaps the easy way (just secure them on a hook) that they add color and festivity offers additional appeal during this busy time of year.
Charming characters steal the show
Tsuguliev/Shutterstock
In third place with 13.2% of participants is light-up yard decorations. Fantastical reindeer and sleighs, nostalgic characters, and a gigantic J-O-Y are some of the illuminated forms that can be seen brightening a holiday eve. These show even more splendor with a covering of snow, their bulbs softly muted, shining through a crystallized blanket. 
Next, people like inflatables; they're colorful, bold, and fun for the little ones, since they're often made to replicate familiar characters from a favorite show. Yeti-sized penguins, growling Grinches, and jolly Santas share pride of place and look magnificent. The problem is that when they're deflated they seem a bit sad. To the 50 folks in our survey, or the 7.95% who prefer to decorate with inflatables, we have tips for keeping them fully festive: Place them on a flat area sheltered from the wind, stake them down, add weights, and anchor them to something stationary so they can't be whisked away by a thieving Scrooge.
Lastly, 39 respondents chose a projector as their decoration of choice — a show-stopping and attention-getting device. They portend an announcement: Something big is happening. The holidays are here!