IKEA Or Target: Which Has The Cheapest Blinds?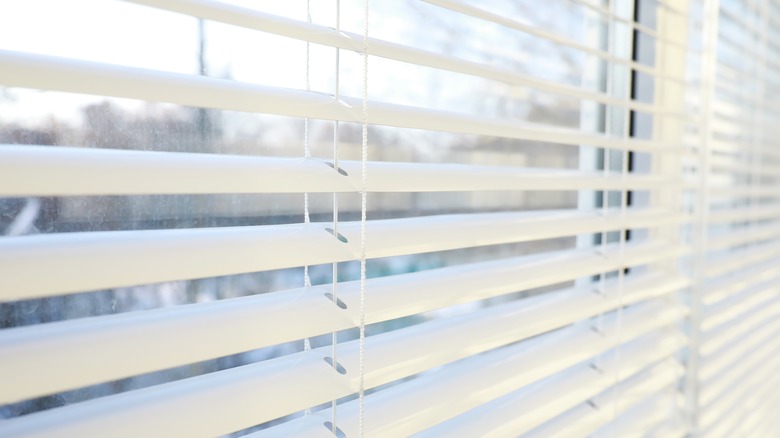 alexkich/Shutterstock
When it comes to regulating your home's temperature and keeping light out, there are plenty of window treatments available. Blinds are one of the most popular and classic styles, and there are lots of benefits to installing them — they have low purchase and installation costs, they are durable, easy to clean, and allow you to adjust the amount of light you let in, as well as increase your privacy, explains Budget Blinds.
In general, it's recommended that you replace your window blinds roughly every seven to eight years, according to Blinds.com. However, any number of reasons can speed that timeline up, including the blinds getting damaged, becoming discolored, and the chord or pulling mechanics breaking. Luckily, blinds can be purchased at a lot of stores, and not just hardware or home improvement stores. Retailers that sell furniture and decor usually also carry window coverings, including Target and IKEA. Between the two, though, which store has the cheaper options?
IKEA blinds
IKEA has a wide range of blinds and window treatments, including higher-end, roller blackout blinds, as well as much more affordable options. The absolute cheapest blinds sold at IKEA are the SCHOTTIS pleated blinds, which come in a white color for $4, and dark gray blackout blinds for $6.
These blinds are made of 100% polyester, which is durable, dirt resistant, and easy to clean, but prone to staining, especially if you have animals or kids, warns Ultimate Shades & Blinds, who recommend choosing darker colors to avoid the issue. The SCHOTTIS blinds are just under 75 inches long and 34 inches wide, but can be cut to the size of your window. The blinds stick to your window frame, meaning you can install them vertically or horizontally, and have a hook-and-loop fastener and clips to open or close them. Both colors have a pleated design, so instead of slats, the blinds are made from one large piece of polyester that folds up like an accordion. They have a 4.3-star rating.
Target blinds
Target also a wide variety of blinds, at various price points. The cheapest blinds available at Target come from Lumi Home Furnishings and cost $7. There are a few color options, including white and gray, both of which are made of paper.
The black blinds, however, are the most popular, with a 4.6-star rating and 94% of customers recommending them. These blinds are room-darkening, whereas the white and gray blinds are just light filtering. They are 72 inches long by 36 inches wide, but can also be cut to length. They have the same design as their IKEA counterpart, in that they adhere to your windowsill and can be adjusted using included clips. Paper blinds are also called temporary blinds since they aren't the sturdiest or most long-lasting, but they're quite inexpensive and easy to clean, explains 3 Benefits Of.
IKEA and Target's range of inexpensive window blinds is almost identically comparable in terms of price, appearance, material, and functionality. IKEA's may be a little cheaper, but Target just takes the advantage in terms of ratings, customer satisfaction, and variety, making Target the better overall option for just a couple of dollars more.