The One Thing Every Homeowner Needs In Their Yard, According To The Hosts Of Inside Out
Carmine Sabatella and Mike Pyle are the industry experts in total property renovations. On their hit HGTV series "Inside Out," they work together to transform both the interior and exterior of homes, with Sabatella handling the inside renovations while Pyle tackles the outdoor landscaping and styling.
In a recent episode titled "Mold to Bold," Pyle and Sabatella meet Jenna and Chris Miller, a couple with four children who are enlisting professional help to complete the renovations of their outdated house. Though the family tried to complete the renovations on their own, ultimately, the house needed a lot of love both inside and out, which proved to be too much of an undertaking for them without help.
After spending $125,000 on the interior and $100,000 to spruce up the exterior, Pyle and Sabatella transform the fixer-upper into a beautiful and modern space — and share the one thing they think every yard should have (per Realtor.com).
Why every yard needs this feature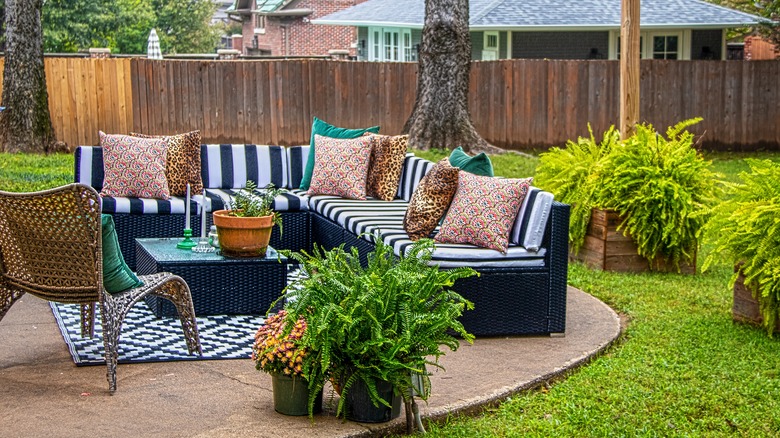 Vineyard Perspective/Shutterstock
Though the duo finds that the house needs a lot of work upon arrival, they are both pleased with its potential — particularly upon seeing the property's large lot (per Realtor.com). The duo excitedly knows that a large lot like the one the Miller's house sits on has a lot of untapped potential when it comes to entertaining guests and simply enjoying time outdoors with the family. They both agree, however, that the yard needs an added sense of privacy before taking full advantage of the outdoor space's eventual transformation, which is why they decide to fence in the backyard — and why they think all homeowners should do the same.
Once the yard is fenced, Pyle transforms it into a relaxing hangout spot – now that the family has plenty of privacy to enjoy. He maximizes the space's potential by setting up a comfortable, relaxing sitting area complete with stylish furniture and a water fountain.
Not only does a fenced-in yard provide an elevated sense of privacy, but it also helps contain both pets and children and prevent them from leaving the safety of the yard and getting injured. "I get to enjoy an awesome space while my kids play," Jenna says after seeing her new backyard oasis for the first time. The end result is a cool, relaxed space for adults to hang out in and a safe, contained area for the kids to play.