Things To Clean Before Showing Your Home To Make It Look Dazzling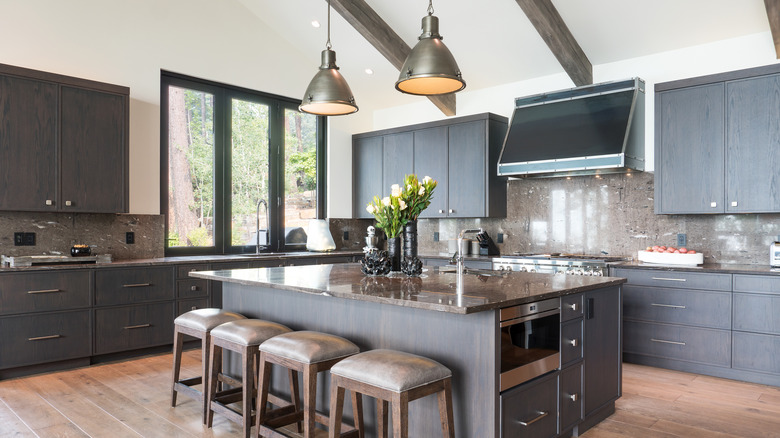 Pc Photography/Getty Images
Moving can cause a ton of stress because there are a lot of steps to ensure you're checking everything off your to-do list. One thing people put off too late is preparing their current home for the market. If you want the best chance of seeing your home sell, there's one major item you need to do to make that happen. You need to clean. And we don't mean giving it a little dusting and calling it a day. If you truly want your home to appeal to potential buyers, you need to make it look dazzling.
According to Order & Bliss, there are a few significant mistakes people make when getting ready to move, and cleaning or dealing with repairs is one of them. If you don't take the time to make your home look neat and tidy, potential buyers won't be able to picture themselves living in it. That is what you're aiming for when selling your home. You want the next family to feel just as comfortable as you did. That's why we put together a list of things you need to clean before showing your home so it looks dazzling and appealing.
Clean the interior and exterior of all appliances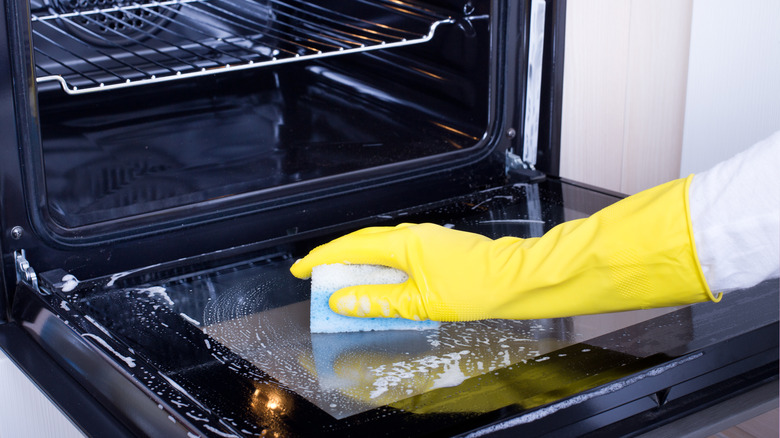 Jevtic/Getty Images
Something interested homeowners will look at when touring a house is the current condition of appliances. While some appliances will come with you when you move, a few will stay behind. Those are the ones you want to focus on when cleaning. You may not know that appliances can add value to your home. As reported by HomeLight, matching kitchen appliances give potential buyers a sense of cohesion and style. But this doesn't mean you need to go out and buy new ones. You can still update the ones you have, especially if your budget is tight.
You won't know what you'll need to fix until you give the appliance a good cleaning. Before you do anything, consult the manual, which will tell you what products are safe to use. As you clean the interior and exterior (both are vital), note anything that may need to be replaced. For example, you may only need to buy new burner grates on your stove to improve its look and quality. No matter what, taking the time to clean the appliances you're leaving behind is a surefire way to excite potential buyers.
Dust and lubricate your doors and cabinets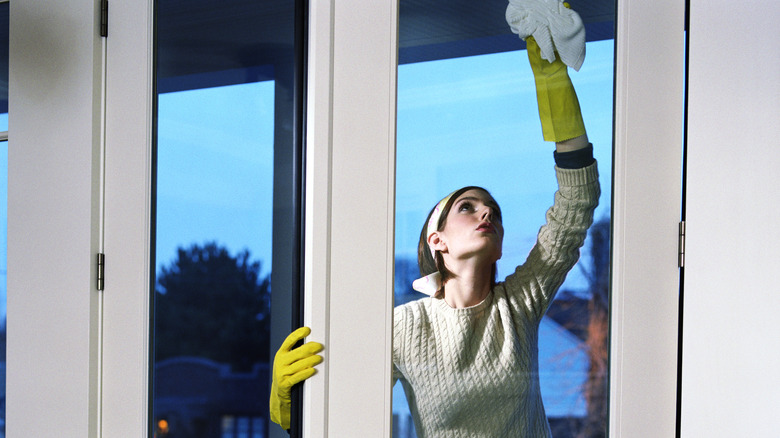 Ryan Mcvay/Getty Images
Something you may ignore on a daily basis is the state of your doors and cabinets. Don't worry; you're not alone here. They're easy to forget because they often last a good long while. But if you're moving, it's important to check the state of every door and every cabinet, especially the hinges. The last thing potential buyers want to hear when they open something is to hear a creak. It exposes how dated that piece is. The good news is it's easy to give your doors and cabinets a boost of life, and it begins with basic cleaning.
Your front, side, or patio doors will be the dirtiest since they're exposed to outside elements. They're the ones you'll want to focus the most on. According to Woodgrain, every type of door in your home can be cleaned with a few ingredients. You'll need dish soap, vinegar, and salt (for the door handles). For glass doors, use a combination of liquid detergent, vinegar, and water. Your goal is first to remove any dust and grime. Then, using a dedicated cleaner or mixture of your own making, scrub the door using a soft cloth or rag. Finally, add a bit of lubrication to the hinges, and don't forget to clean those doorframes.
Clean and sanitize bathrooms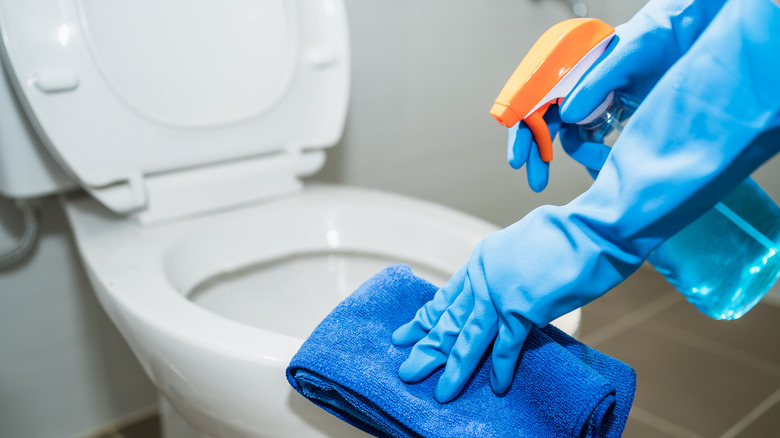 Gumbariya/Shutterstock
Bathrooms are one of the most used rooms in any household. Even if you're not trying to sell your house, cleaning your bathroom is something many of us don't want to do. But it's vital to clean and sanitize every single bathroom in your home before showing it. If you want to impress potential buyers, Cabinet City Kitchen and Bath says your bathroom is the place to do that. When they see a clean bathroom, they will feel confident that the rest of the house is just as clean. Even if your bathroom is dated, a little elbow grease and time can make it shine as bright as a renovated bathroom. Plus, keeping the clutter off the counters and having the insides of your drawers and cabinets organized shows potential buyers that there is enough organizational space in the bathroom without a remodel.
What are some of the best ways to ensure your bathroom is cleaned and thoroughly sanitized? First, you want to focus on the toilet, tub, and sink. These are the most used in the bathroom and require the deepest cleaning. Use hot water as it will encourage grime to loosen up. To get the best surface clean, spray the cleaner of your choice on a sponge or cloth to evenly disperse the solution. Then wait five to seven minutes before wiping it away. If you need to remove tough build-up on walls or floors, use steam and hot water. It may not be the most glamorous work, but a clean and sanitized bathroom is a must if you want to sell your home.
Dust all your furniture and surfaces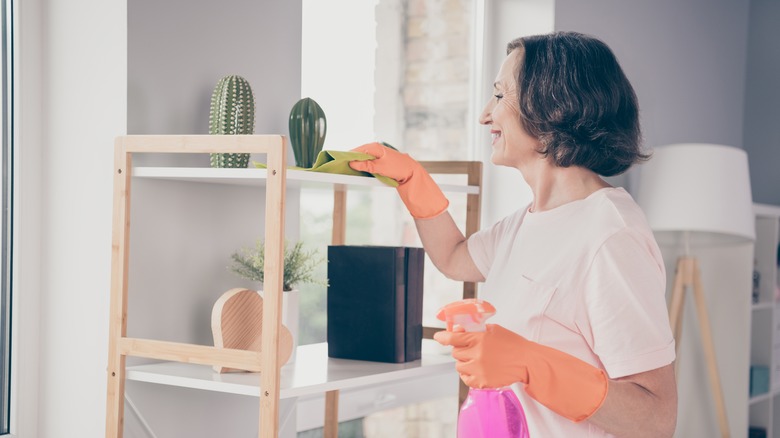 Roman Samborskyi/Shutterstock
It doesn't matter if you're showing your home only one day a week. You need to make sure you're dusting everything inside before potential buyers walk in the door. Dusting is a simple enough cleaning chore, but it can get quite tedious, especially if you have a lot of surfaces to clean. And if you're staging your home while showing, it's doubly important to stay ahead of dust. Staging can show a home's potential to buyers and, according to Forbes, it can also increase the selling price.
But staging means extra surfaces to clean, so make sure it's something you're up for before making the commitment. If you don't want to dust your home before every showing, you can add an air purifier as a preventative measure. You should also leave shoes at the door when entering the house and keep the clutter low. That means if you're going to stage your home, use as few pieces as possible to keep dust under control.
Wash and replace used linens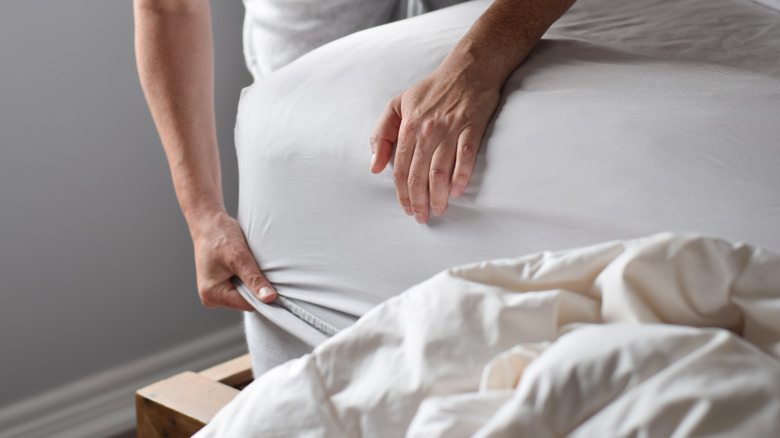 JulieK2/Shutterstock
We mentioned before how a clean and sanitized bathroom will appeal to potential buyers because it shows them the level of care you give to your home. The same can be said for linens in the bedroom. When showing your home, make it a habit to wash and replace used linen. You can also display linen in closets to show buyers the storage space they will have.
Why does it matter to show it off? Well, according to The New York Times, a clean and made bed helps buyers visualize themselves there. Leaving your bed and linen wrinkled and dirty will not appeal to them because they'll assume the rest of the house is just as untidy. This lowers the value of the listing in their eyes. If you want to reduce the number of times you need to do laundry, keep a set just for showings that you can put on when there is an open house or showing appointment. Stick to neutral colors like white or beige, and keep decorative pillows and blankets to a minimum.
Give your upholstery a steam clean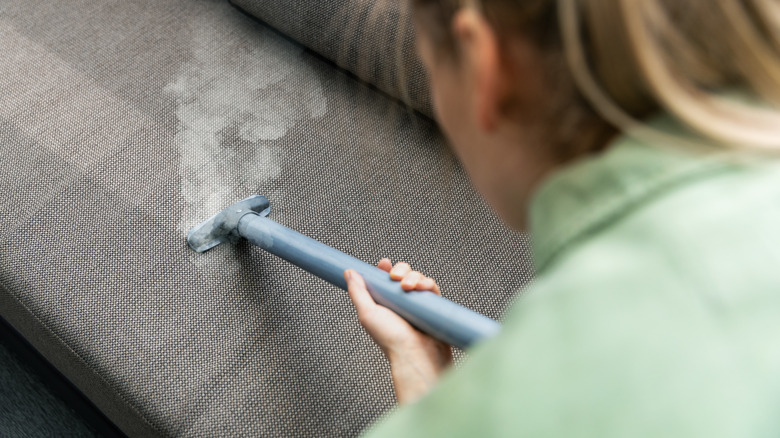 Ronstik/Shutterstock
Depending on how long you've lived in the home you're trying to sell, furniture, curtains, and more can look lived-in fast. So before you show your home to potential buyers, take the time to give all of your upholstery a good, deep cleaning. While this may seem like a big undertaking, the good news is you'll only have to do this once. Yes, you may have to dust your furniture a few more times, but cleaned curtains should last you the time it takes to sell.
Using steam is the best way to ensure these items remain cleaner for longer. According to Bob Mills Furniture, steam benefits your upholstery in several ways. For starters, it draws stains, odors, and bacteria living deep in the fibers to the surface and removes them. However, not all fabric can be steam cleaned. The three types of materials you should never steam clean are leather, silk, and suede. Most others are safe, though always check the manual or the manufacturer's website if you're not sure.
Dust walls and baseboards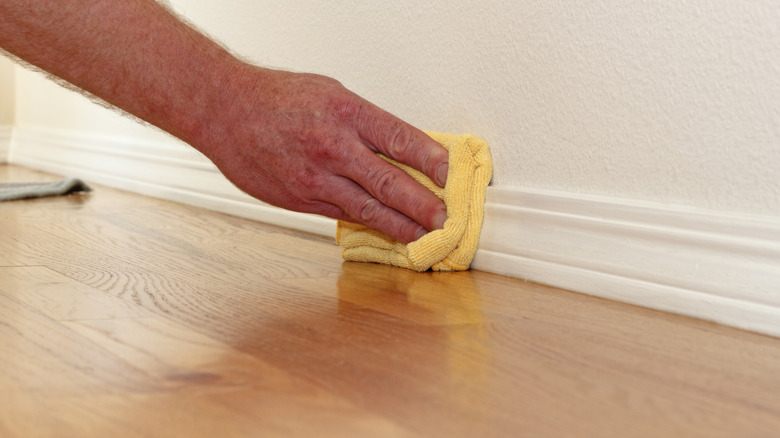 Serenethos/Shutterstock
Too often, we neglect walls and baseboards when cleaning because they may not seem to be that dirty. But if you're showing your home, it's important to give them a once over as you may not realize the amount of dust that builds up on them over time. Will cleaning all the walls in your home take some time? Absolutely, but when potential buyers see them shining and clean, they'll feel more at home. Cleaning walls and baseboards will also show you if you need to buy a small can of paint for minor touch-ups.
One Crazy House suggests dusting walls and baseboards first. Then get one bucket filled with soapy water and another with just water. Going one wall at a time, use a sponge to disperse the soapy water evenly across the space. You'll then use regular water to remove the soap residue because if you don't, you'll risk leaving streaks. If you need the walls to dry fast, open a few windows. The best cleaning solution for baseboards is water and a Magic Eraser. This combination works great for removing scuff marks, stains, and dust. Like your upholstery, this is something you'll only need to do once before showing your house.
Vacuum and deep clean your vents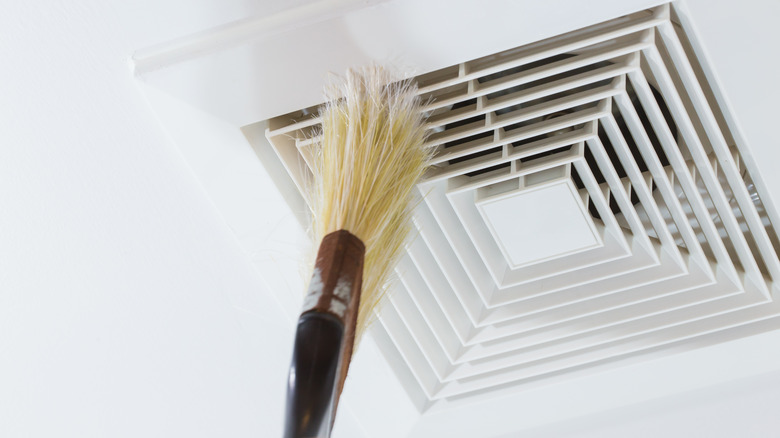 Coffeekai/Getty Images
If you haven't noticed a pattern yet, you'll see that most of the things you need to clean before showing your house are items you may skip cleaning altogether. That's why this list will come in handy for you. The next thing to check off your cleaning list is your vents. If you don't clean or vacuum your vents every so often, dust will build up, and the air quality will suffer. It'll also work harder to make your home cooler or warmer, which causes your bills to increase.
And you want to ensure the air quality in your home is welcoming for potential buyers. If they come in and start coughing or breathing in too much dust, they won't be interested in the house. Seeing dust caked on the vents will also alert them that the system might not be well taken care of and that it might need replacing sooner rather than later. That could be a potential turn-off.
According to Cates Heating and Cooling, you're quite capable of cleaning the vents and ducts yourself, though if you want a thorough, deep clean, hiring a professional is your best bet. They'll be able to clean the entire system rather than just the surface. So before showing your home, take the time to clean those vents and improve the air quality for potential buyers.
Polish up any hardwood floors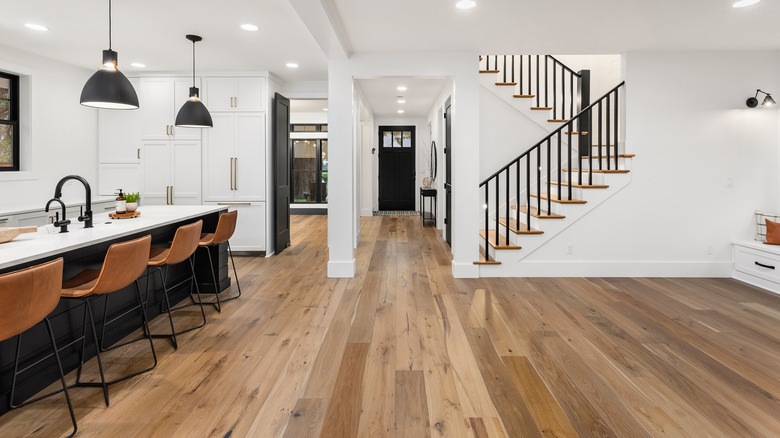 Justin_Krug/Shutterstock
Hardwood floors are a major appeal for potential buyers. In fact, Apex Home Loans reports that people will pay extra for homes with hardwood floors. Why? Because they're low maintenance and give the house an air of elegance. They're also easy to personalize by adding your own throw rug to spruce it up. But just because you have hardwood floors doesn't mean your home will automatically sell. You need to make sure those floors are clean and polished for buyers.
While it's normal for floors to get scuffed and scratched, there are plenty of ways to clean them to remove as much of that as possible. And according to Really Cheap Floors, you can do that without harmful chemicals. Sweep and vacuum the floors first to remove as much dust as possible. To clean the floors, use equal parts lemon juice and water. But if you want to make those floors shine before showing them off, combine olive oil, vinegar, and water. When you take the time to polish those hardwood floors, your home will appeal to more buyers.
Deep clean your carpets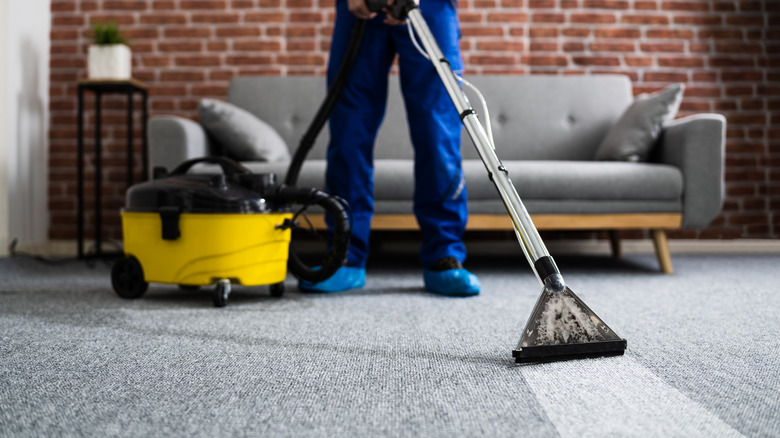 Andrey_Popov/Shutterstock
If the previous section has you down because you don't have hardwood floors, don't worry. Carpets are just as important to potential buyers, especially those interested in saving money on heat. Carpets, however, are more challenging to clean than hardwood floors, and if you plan on showing your house, they're important to spruce up. Carpets collect a lot of dust; if you walk around your home with shoes on, they also have bacteria, dirt, and grime. If that's the case, a simple vacuuming won't suffice. You need to give them all a deep, thorough clean.
Luckily, a good carpet cleaner can be rented at your local hardware stores. Depending on the size of your home and how many carpets you have, most rentals last 24 hours, giving you plenty of time to do at least two rounds of cleaning. But if you're strapped for time and have a lot of carpets to clean, you may be better off hiring a professional service. They'll come in and give all your carpets the best clean possible, making them all the more appalling to potential buyers.
Make those windows shine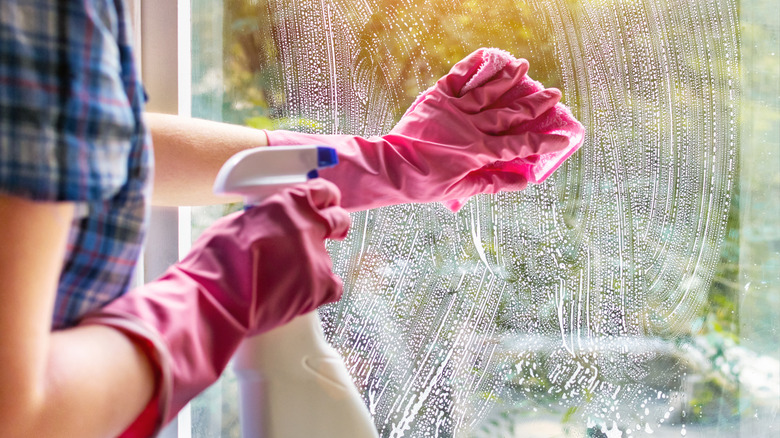 Ksenia Valyavina/Getty Images
Windows are relatively simple to clean, yet we neglect them too often. By the time you do finally clean them, they've built up so much dust and dirt that you need to give them a few passes to make them shine. But cleaning your windows is necessary if you want potential buyers to feel comfortable. Grimy windows can signal that you haven't taken care of the house's exterior well over the years or that other parts of the window might be in disrepair. The longer dirt sits on glass, the harder it'll be to clean and remove completely. While soapy water and a good sponge can give them a solid clean, you may want to bring in a professional to ensure they shine.
But the question remains: Should you simply clean your windows or replace them? That depends on the state of the windows and your budget. According to Builder, replacing your windows can be a considerable cost, but it's also the sixth-highest return on investment, mainly when selling your home. New windows improve the home's curb appeal and show potential buyers that you're serious about keeping your home up to date. It also increases energy efficiency. Again, a complete replacement will depend on your budget, but know that you can clean your windows thoroughly and make them look as brand new as possible.
Do some yard maintenance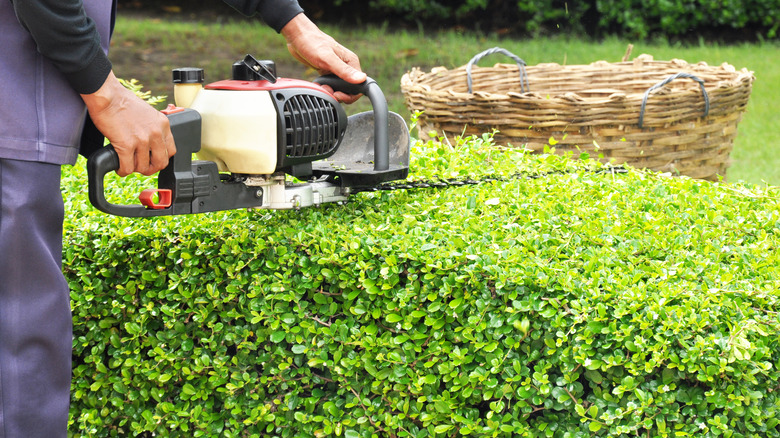 Atstock Productions/Getty Images
Let's turn our attention outside and focus on the first thing potential buyers will see when they pull up to the house: the yard. Whether you're showing your home in the summer or winter, doing some yard maintenance will help show buyers the possibilities they have with the property. According to Square Cow Movers, good yard maintenance does a few things when it comes to selling your home. It adds curb appeal, boosts the home's value, and can make your home an eye-catcher. Even adding a few fresh potted flowers can amp up the appeal.
As for general maintenance, focus on keeping things as clean as possible. For example, trim shrubs and rake out any dead leaves or grass. Consider adding a fresh layer of mulch or planting in-season flowers. Take care of any repairs like broken trellises, loose bricks, and more. When you take the time to clean up your yard, you're giving potential buyers a chance to see what they can make of it, and no matter what season you're selling in, a good, clean yard will appeal to many.
Power wash your deck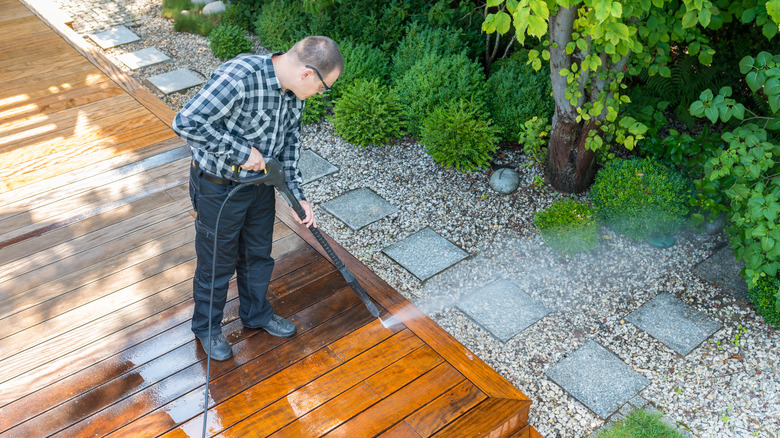 Wojciech Kozielczyk/Getty Images
Another major outdoor appeal to potential buyers is a deck. Who wouldn't want to imagine themselves grilling outside on a comfortable deck that oversees the beautiful yard below? Scenarios like this can help you figure out what to focus on before showing your house. What would appeal to you? If your deck has seen better days, would you be interested in buying the home? These questions are vital to your cleaning plans, and your deck should not be ignored.
A.G. Williams Painting recommends power washing your deck at least once a year, but if you plan to show your house before that time, you'll want to do it anyway. Power washing is the fastest way to give your deck a good, thorough clean. It'll help remove built-up dirt or grime while also showing you spots that may need a little extra attention. If you notice sections that could use a touch of paint, get yourself a small can. You may also want to sand any areas that are prone to splinters, depending on the type of deck you have. Like everything else on this list, a little time and attention to your deck will significantly improve your home's outdoor appeal.
Touch up fences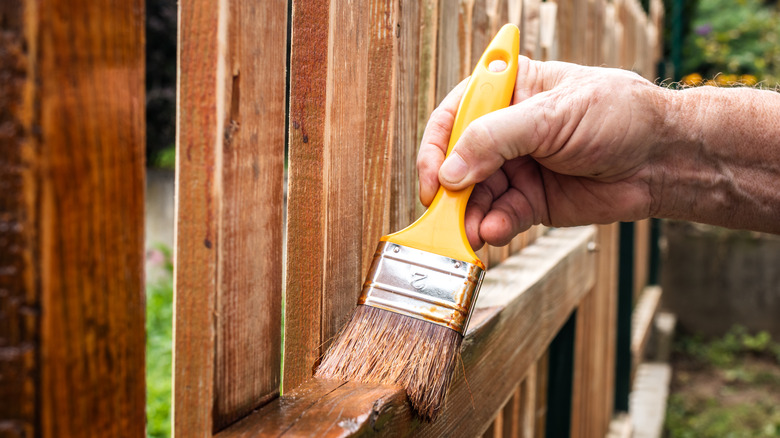 Zbynek Pospisil/Getty Images
One more thing you should pay attention to outside your home is any fences surrounding the property. Whether they're wooden, metal, or vinyl, you'll want to check every section and note any necessary repairs or touch-ups. The most common repair you'll need to do is add a fresh coat of paint, but you may also need to replace boards or polish them. Again, this depends on the type of fence you have.
Why do fences matter so much when selling your home? According to Rochester Real Estate, fences offer security, privacy, and aesthetics. Potential buyers, especially those with children or pets feel instant security when they see a fence around a home. This also increases the home's value and makes it more appealing to those types of buyers. With that in mind, taking the time to make the fence look as new as possible is key before showing your home. Make sure to clean it thoroughly, and if you notice too many loose spots, consider bringing in a professional, though more than likely, you'll be able to do any minor repairs yourself.