The Most Common Design Mistake Dream Home Makeover's Shea McGee Warns Against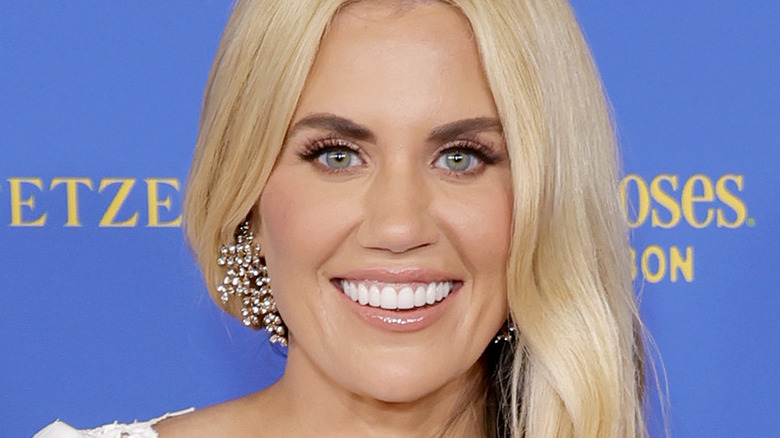 Frazer Harrison/Getty Images
Shea McGee has designed hundreds of homes during her career, including the renovations featured on Netflix's "Dream Home Makeover." So it's safe to say she knows how to choose the right furniture and decorations for a space. However, outfitting one's home is about more than aesthetics. According to Studio McGee, deciding upon a suitable fabric for your furniture is also crucial. For instance, if you have kids or pets, leather might make more sense than white linen for obvious reasons. 
Another tip is to ensure you add enough seating to fill a space appropriately — typically, adding multiple couches or plenty of chairs will make your living room feel more welcoming. Finally, balance out textures, materials, and shapes to create a dynamic appearance. For example, if most of your living room's side tables have rounded edges, break it up with a straight-edged coffee table.
However, it's easy to make a couple of common mistakes when choosing furniture and decorations. Below, you'll discover what these are, as well as how to avoid them.
Getting the wrong size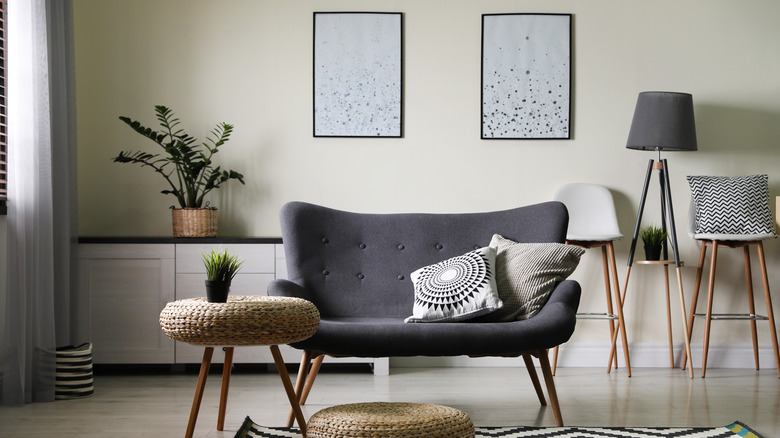 New Africa/Shutterstock
When asked what the most common design mistake is, Shea McGee says "the scale being off," per Realtor.com. She explains that "a lot of times when I'm walking into [a client's] home, it's like everything's too small. Usually, people buy too small because they're afraid it won't fit into their space, but then it looks jumbled because they don't have stately pieces that ground the room." 
Choosing furniture and decorations that are too tiny can create a cluttered look. However, you'll still want your furniture and decorations to be manageable, as too many large pieces can crowd a room.
To avoid either of these scenarios, it's important to measure the space before purchasing furniture. On the McGee & Co. website, buyers are advised to tape out the size in the space before purchasing a sofa to ensure it will fit correctly. According to Studio McGee, this is vital because "when pieces are to scale, they show off the dimensions of the room and help make the space feel full." Therefore, choosing small furniture won't make your space look larger; instead, make sure the pieces feel like they belong in the room.
Getting stuck on trends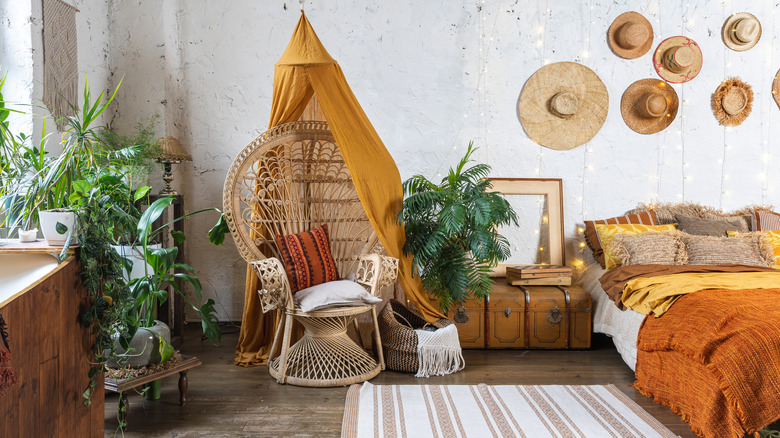 brizmaker/Shutterstock
When it comes to the most common décor mistake, Shea McGee says that she often sees "people get too stuck on trends. If you can tell exactly what year the home was built, then it's probably a sign they leaned too hard into too many trends," per Realtor.com.
The best way to avoid this is by choosing things you believe will stand the test of time. While you can choose some trendy pieces, McGee warns against spending too much on them. 
"I think that you always want the timeless pieces to be the really expensive ones," McGee says (via ChatBooks), noting that there are better, more thrifty ways to implement current trends into your home décor. According to Hunker, McGee says that, when styling with a mix of modern and traditional elements, "stay traditional in the foundational pieces of a room," or choose furniture that won't go out of style. Then, if you want to bring in some on-trend pieces, focus on your throw pillows, small accessories, or rugs, as these are less expensive and easier to replace.