Shea McGee's Top Tips For Styling Your Coffee Table
In most homes, the coffee table is one of the focal points in your living room — and if you're simply tossing your remotes on it, maybe with a few coasters for any beverages you consume, you're missing out on a huge opportunity to add your own design stamp by styling your coffee table. You don't even necessarily have to go out and buy all new items to glam it up — you'd be surprised at how many potential decorative pieces you can uncover just by shopping your own home, as Stone Gable outlines.
If the whole process seems a little overwhelming and you want some specific ideas to help you get started, don't worry — we've got you covered. Interior designer Shea McGee from Studio McGee shared a few of her tips on styling this key area in your living room with Inspired By This.
First of all, in order to deal with the eyesore items that you know you'll be using on a regular basis and thus want easily accessible, McGee recommends finding some type of vessel that will work to gather them. It may seem like adding a tray or bowl would just make the surface seem more cluttered, but actually, as Maison De Cinq explains, it helps create a more chic, streamlined look when those loose items are tucked away in one spot.
Use books as your building blocks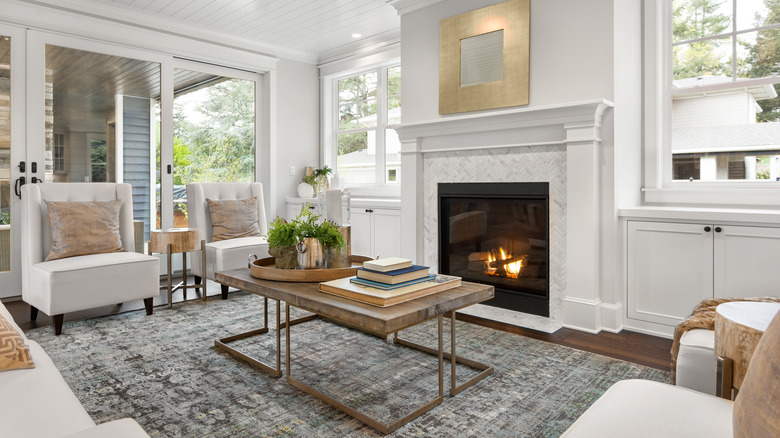 Justin_Krug/Shutterstock
As Shea McGee told Inspired By This, she has a jumping-off point for this project. "When styling a coffee table, I always start with several stacks of books," she revealed. "Books provide a great foundation for layering, and they also add color, interest and show insight into your hobbies and personality."
So how can you implement McGee's tip in your living room, specifically? For starters, if you love fashion, look for coffee table books that are focused on different designers or eras in style. If you have a passion for travel, there's no shortage of gorgeous coffee table books packed with photographs from far off lands. You can also select books that are stunning but that also speak to an interest or hobby you have — that way they'll bring you joy every time you look at them. And finally, books can be a great source of inspiration when you're solo or a conversation starter when you have guests who might end up flipping through the tomes.
There are a few rules of thumb to keep in mind. As 136 Home explains, you typically want to stack the books from largest to smallest, and you want to be selective, avoiding creating a massive stack that will just look cluttered — but you can play around with different books and configurations until you have a look you love.
Punctuate with accent pieces and natural touches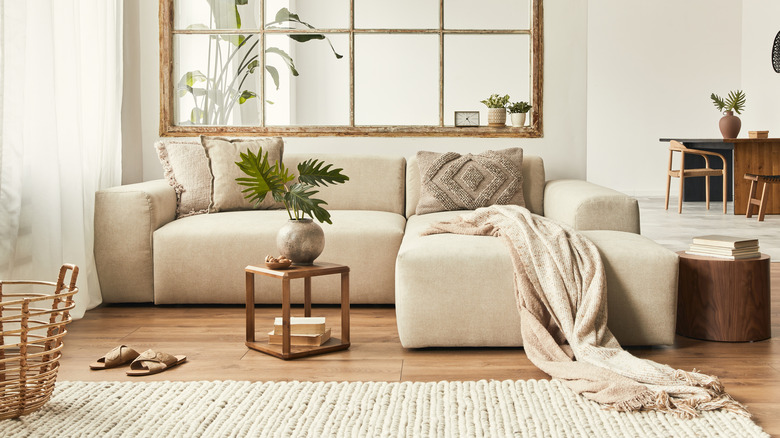 Followtheflow/Shutterstock
Once you have your coffee table books selected and styled, it's time to accentuate them, says Shea McGee. "Layer in the bits and baubles," she spilled to Inspired By This. "Place interesting items on top of, or next to, your books. Magnifying glasses, candles, matchbooks, and paperweights are a few of my go-to items." This is another area where you can really express your personality, selecting scents or items that are meaningful to you.
McGee also suggests incorporating some type of earthiness in your styling. "Whether it is a rock, plant, antler, or piece of coral from a souvenir shop, add a natural element for texture," she continued. And, if you happen to find a unique vase to display them in, a fresh flower arrangement can add multiple pops of visual interest, as Driven by Decor reports. However, flowers do need to be switched out on a regular basis, since they're a living thing — and this can be a bit high-maintenance at times, especially during busy seasons of life.
If you want to find a few pieces that can live on your coffee table for as long as you'd like, you might look for durable items that McGee suggested like branches and shells. These all work to bring hints of the natural world into your space in a very low-maintenance way.