How To Make Your Bedroom Feel Like A Luxury Hotel
Justin_Krug/Shutterstock
Your bedroom should be a serene oasis that fosters relaxation and allows you to get a good night's sleep. But some of us seem to get the best night's sleep when we're sleeping in a hotel room rather than in our own homes. "The feeling of walking into a nice hotel evokes an excitement in all of us," said Jessica Lagrange, founder of Jessica Lagrange Interiors, in a conversation with The Huffington Post. "You feel as though you are somewhere special as soon as you walk into the hotel with beautiful design all around you and many perks and amenities we may not have at home." How can this experience be replicated at home?
Here are ten ideas for how to make your bedroom feel more like a luxury hotel room. Most of these ideas can be achieved on a budget without doing any major renovations and are useful for renters and owners alike.
1. Start with decluttering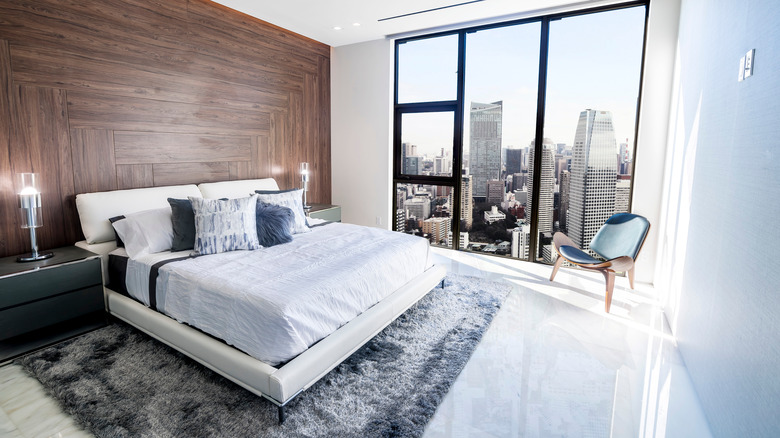 MDV Edwards/Shutterstock
What's one thing that all hotel rooms share? They're free of clutter. Hotel rooms are particularly relaxing because they aren't home to the detritus of everyday life. The first step in transforming your bedroom is removing clutter. Begin by tackling one area of the room at a time. Starting with a small section or item will help you stay focused and motivated as you continue decluttering. This can be as simple as starting with just one drawer, shelf, or closet. Commit to keeping the space clutter-free to replicate the feeling of a luxury hotel.
2. Invest in the right mattress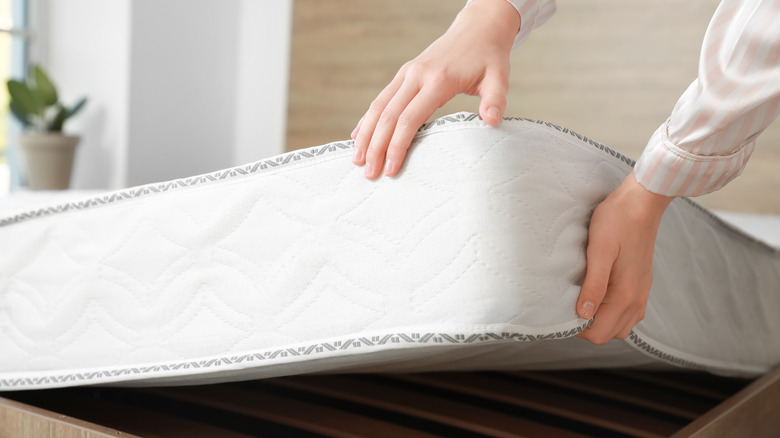 Pixel-Shot/Shutterstock
Luxury hotels prioritize providing guests with ultra-comfortable mattresses. When selecting a mattress material, there is no one-size-fits-all solution. Innerspring mattresses have been around for decades and tend to last longer than other materials; however, they usually don't offer as much contour support as foam mattresses. Firmness is another factor that impacts mattress comfortability. Soft mattresses cradle the body more closely than firmer ones; however, too soft a mattress may cause uncomfortable sagging over time. If possible, it's best to try out mattresses in person to see which one will be best for you.
3. Opt for crisp, white sheets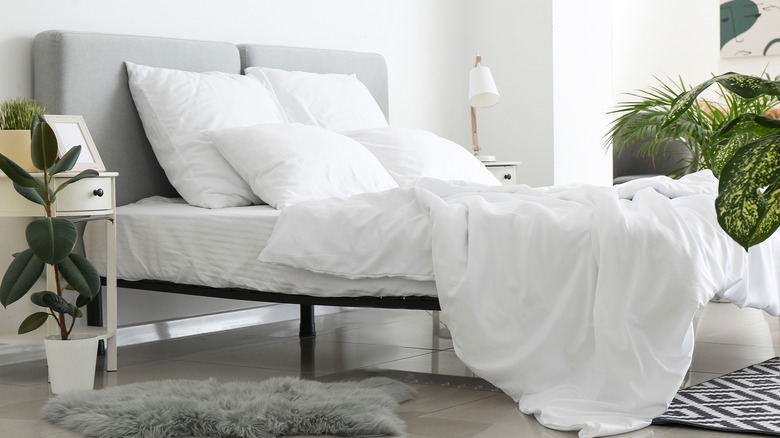 Pixel-Shot/Shutterstock
Using crisp, white sheets in your bedroom will add a feeling of luxury akin to staying in a high-end hotel. White bedding has long been associated with luxury due to its timeless style and sophistication. It can pair well with many different types of décor, which gives it added versatility when redecorating or updating your bedroom's look. White sheets also allow other colors in your bedroom, such as accent pillows or wall art, to stand out against the bright backdrop of the bedding, creating visual interest throughout the space.
4. Add Euro pillows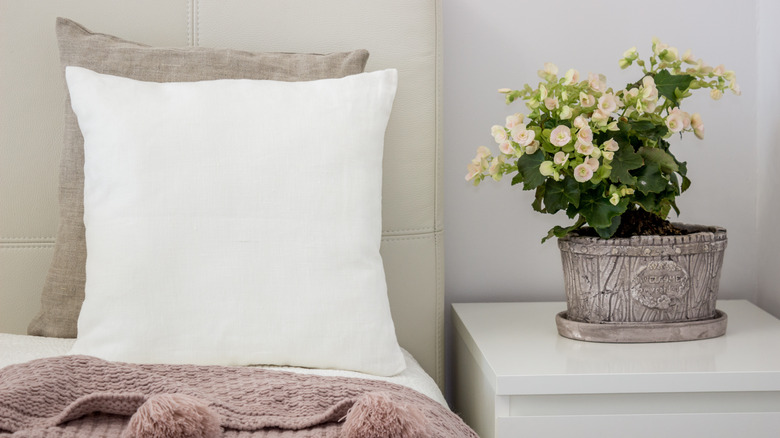 MaddyZ/Shutterstock
If your bed currently features a couple of flat pillows, you can make a simple upgrade to transform the space. Euro pillows are a luxurious and stylish addition to any bedroom, helping it to feel like a five-star hotel room. Euro pillows create a sense of elegance due to their size, which is larger than a standard pillow — approximately 26 by 26 inches. Not only do they provide a lavish aesthetic that instantly adds class and sophistication to the space, but they also offer added comfort when you're sitting up in bed.
5. Focus on symmetry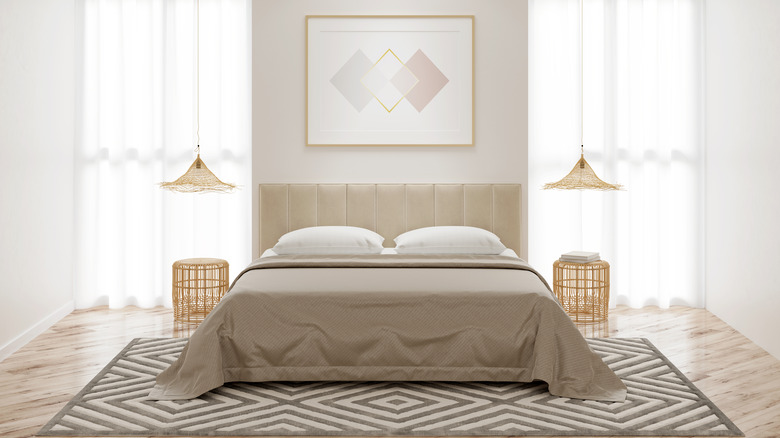 Gamespirit/Getty Images
If you look at any hotel room, you'll likely notice that the room's layout heavily features symmetry. Symmetry is an important element of interior design and can make a bedroom look more luxe and sophisticated. This is because symmetry conveys balance, order, and harmony, creating a feeling of well-being and comfort in the space. Symmetry also creates a sense of visual interest with repeated patterns that draw the eye around the room. These patterns add an elegant touch that provides aesthetic flow throughout the entire space and sparks balanced pleasure.
6. Don't neglect lighting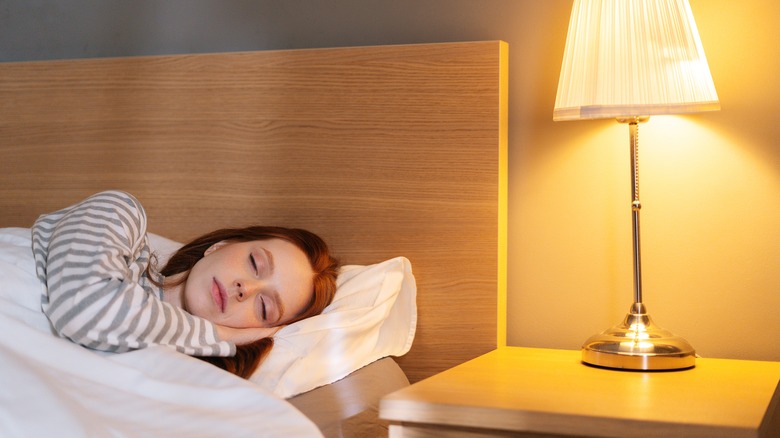 Dikushin Dmitry/Shutterstock
One thing that luxury hotel rooms always get right is lighting. When planning your bedroom lighting setup, remember that multiple light sources add depth and dimension. Layering different types of lights can create interesting effects and highlight certain areas or furnishings. Place lamps on bedside tables for task lighting when needed. Then add ambient light to fill the space with dimmer switches for easy control and adjustable settings. You may also want to consider adding accent lighting to bring attention to artwork or create a mood within the room.
7. Consider carpeting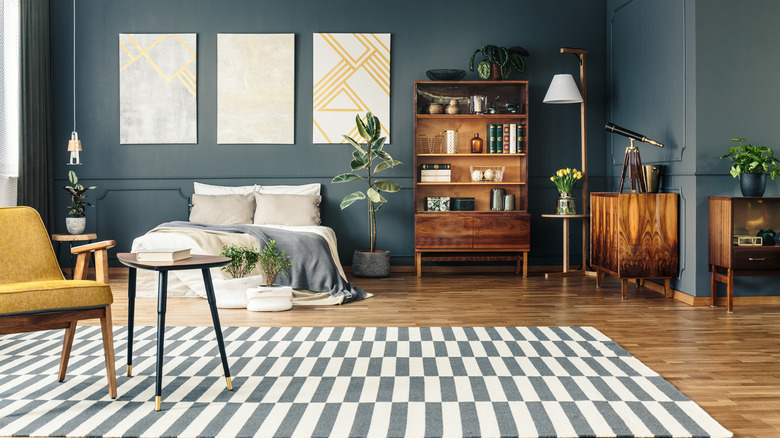 Ground Picture/Shutterstock
Many hotel rooms share feature wall-to-wall carpeting. While this trend may be out of vogue for modern homes, there is still a lesson to be taken from how high-end hotels make a space feel comfortable. Opt for an area rug instead, and be mindful that the size of a rug can greatly impact how a room looks. Ensure the rug can fit your bed and nightstands while still having enough space around it, so it doesn't look crowded. Be sure to measure the length and width of your space before heading out shopping.
8. Block out the light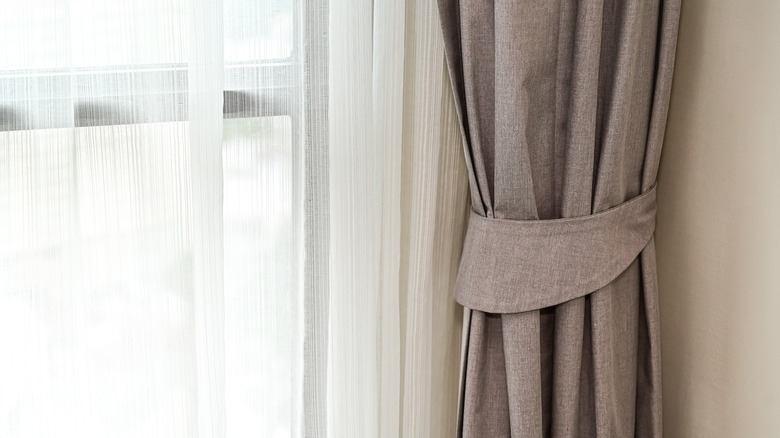 Amvi Jovas/Shutterstock
One of the best parts of staying in a well-appointed hotel is that they're practically guaranteed to have blackout curtains or shades. A dark room is one of the keys to getting good-quality sleep. Sunlight entering your bedroom during the day can disrupt the production of melatonin, a hormone necessary for healthy sleep patterns. Blackout curtains help prevent this disruption by blocking light, allowing your body to produce melatonin more efficiently so you can have more restful nights. In addition to blocking out light, blackout curtains can also reduce noise in your bedroom.
9. Add a wall treatment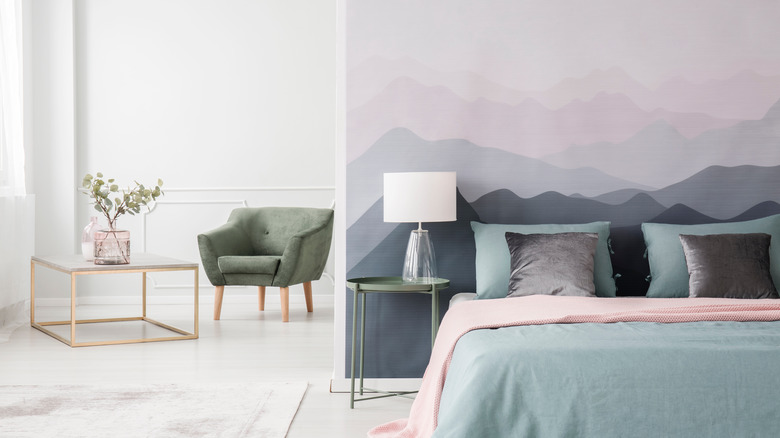 Ground Picture/Shutterstock
Wallpapering your bedroom can be a great way to enrich your living space and make it feel like a luxurious hotel room. Depending on the paper chosen, you can create different aesthetics: From modern and minimalist to vintage or rustic. For example, if you're aiming for a classic and luxurious feel, opt for heavier textures such as damask or flock wallpapers. You can also choose glossier papers with intricate patterns that combine gold and silver tones, which will bring light and energy into the room.
10. Choose a signature scent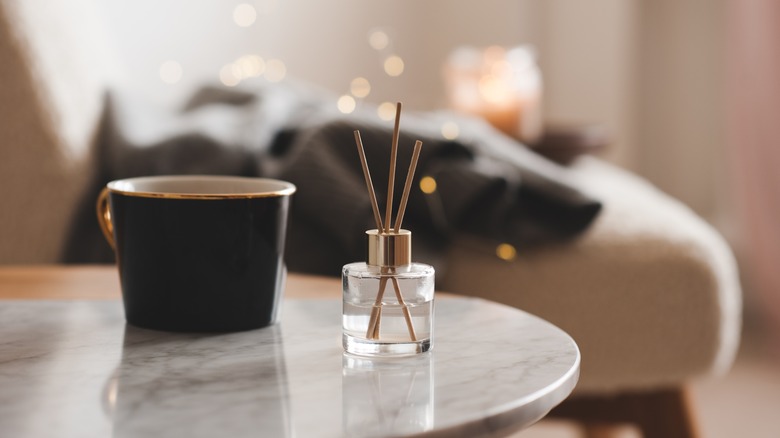 morrowlight/Shutterstock
Many luxury hotels have a signature scent that adds a layer of olfactory pleasure to the experience of staying there. Replicate the experience by choosing a signature scent for your bedroom. A few of the most popular and relaxing scents include lavender, chamomile, and rosemary. These aromas help to create a sense of calm while assisting with anxiety and stress relief. Other soothing scents such as ylang-ylang, jasmine, peppermint, frankincense, sandalwood, and orange offer more subtle fragrances to promote relaxation without being overpowering. These scents can make your bedroom an inviting sanctuary for restful sleep.