The Property Brothers' Easiest Tip For Turning A Garage Into An Extra Living Space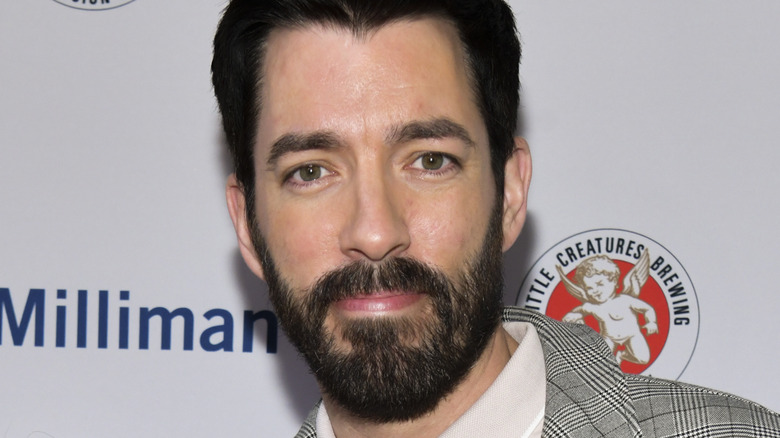 Rodin Eckenroth/Getty Images
Do you wish you had a bigger home, or perhaps add an addition to it to give your family more living space or even an added bedroom? It's not uncommon to want more space, but the cost of a home addition can be out of reach for many. One option many consider is converting their garage into a living space. According to Forbes, this conversion could be one of the best ways to add a lot of square footage to your home without a cost that's out of reach.
Jonathan and Drew Scott, TV's "Property Brothers," recently completed such a project in an episode of "Celebrity IOU" entitled "Cheryl Hines Gifts a Garage Makeover." As noted by Realtor, the team worked to convert Hine's assistant and friend Sarita's garage from a storage space into a sanctuary with numerous features and fixtures. How did they pull it off? Consider their tips for converting garages into usable, extra living space.
Pack it full of necessary amenities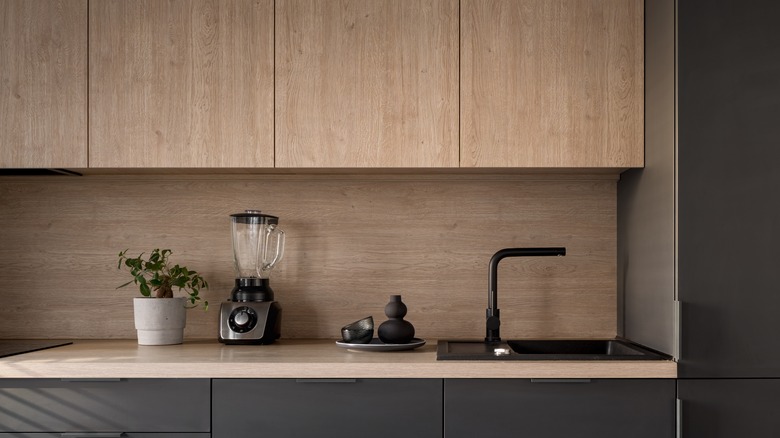 Dariusz Jarzabek/Shutterstock
As mentioned by Realtor, the team worked to completely transform the dark, dusty garage space into one with numerous amenities and features. Speaking about the project, Drew Scott shared a look at what would be included, specifically in the kitchenette, stating, "Boasting tons of storage, sleek porcelain countertops, and compact appliances, this five-star space will offer a boutique vibe for Sarita's visiting relatives, or for her own staycations."
This space's must-haves included a fabulous kitchen area and a luxurious bathroom with a glass enclosure and porcelain tile shower. Creating a genuine full-service space means adding in all the components that allow this to be a getaway. While you may be considering converting the garage into a bedroom or living space, incorporating a bathroom and kitchenette makes it much more livable and comfortable — no need to make the trek to the main house for a drink or to use the restroom.
Make it a flex space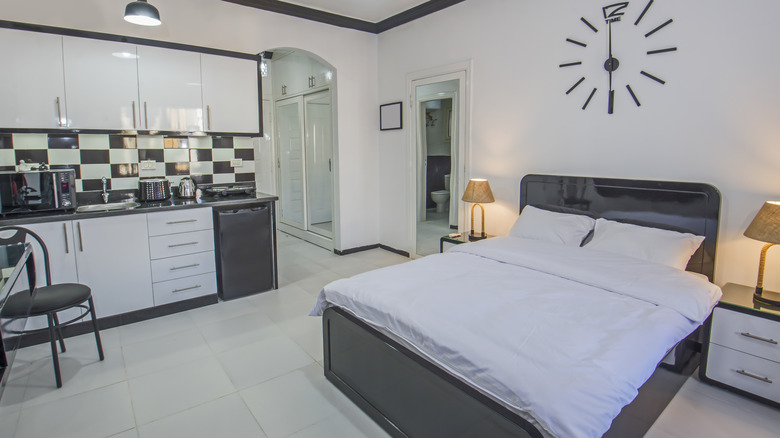 Paulvinten/Getty Images
In another episode of the show, called "Darren Criss Makes Over His Manager's Garage," the Property Brothers work on a similar project, converting a detached garage into a flex space — an area that can be used for numerous things as needed. Like other projects, it also included adding a spa-influenced bathroom space complete with brass shower fixtures that are a step above those featured in the main house. They also incorporated space-saving features, like pocket doors, to make the area more versatile.
In this project, they were able to create a living space for work or hanging out with friends while squeezing in small features — such as a small kitchenette with a mini fridge and a microwave — to make it a complete, stand-alone environment. They also created much-needed storage space behind beautiful cabinetry doors to keep the room functional and clean looking. The project also entailed adding an outdoor kitchen and seating area, which made it even more functional in order to fit the owner's lifestyle.