51% Of Homeowners Say This Is The Best Kitchen Layout - Exclusive Survey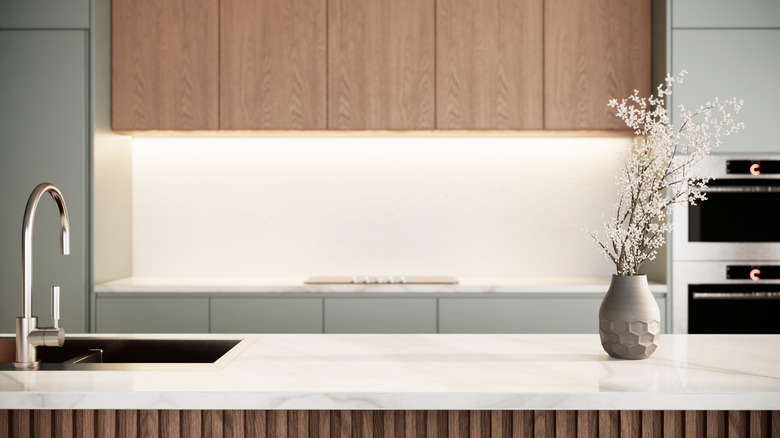 Nongnuch Pitakkorn/Getty Images
We don't think we're going out on a limb when we say that having an eye-catching kitchen is the dream for anyone who loves to cook and/or entertain at home. But as with all things, the elements needed to make that dream kitchen layout a reality aren't the same for everyone. Some house-proud homeowners, for example, might want their kitchen to be a showpiece, while others might want a culinary space that offers up both form and function.
Whether or not you cook, most home designers feel that the kitchen is the most important room in the house, because it naturally draws people into its orbit, per My Move. Many kitchens today aren't just places where meal prep takes place, they also represent spaces where families can get together and break bread. And if you're looking to update your kitchen layout to something that'll wow, or want to find out what others might say is the best kitchen for them, you're in luck, because House Digest recently asked 629 respondents what type of kitchen layout they preferred — and we came away with a pretty convincing result.
The runaway kitchen layout winner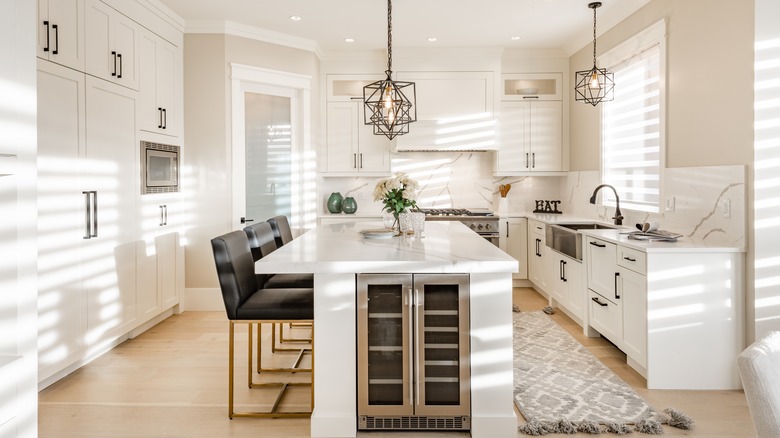 Sheila Say/Shutterstock
To those of you who spend days dreaming about — or actually moving around — an island and are loving it, know that just over half (51%) of the 629 homeowners House Digest reached out to in our exclusive survey indicated that having an island was the best kitchen layout. Singer Kitchens says islands work well because as a timeless combination of both form and function, they can act as a centerpiece of the kitchen.
An island can also be accessed from multiple points, making it a better choice in terms of usage and functionality. If your island is constructed with extra space in mind, you've got more cupboards and shelves to play with, and when you're throwing a party, the island becomes a great place for guests to gather, making it easy for you to entertain and keep your guests fed at the same time. 
Coming in at (an admittedly distant) second by capturing just over 12% of the House Digest survey vote is the U- or horseshoe-shaped kitchen, which can be nestled against the wall. A classic U-shaped or C-shaped kitchen appeals because not only does it offer the potential for plenty of storage, it also provides extra counter space and can be scaled up or down to suit your style.
The other kitchen layouts homeowners voted for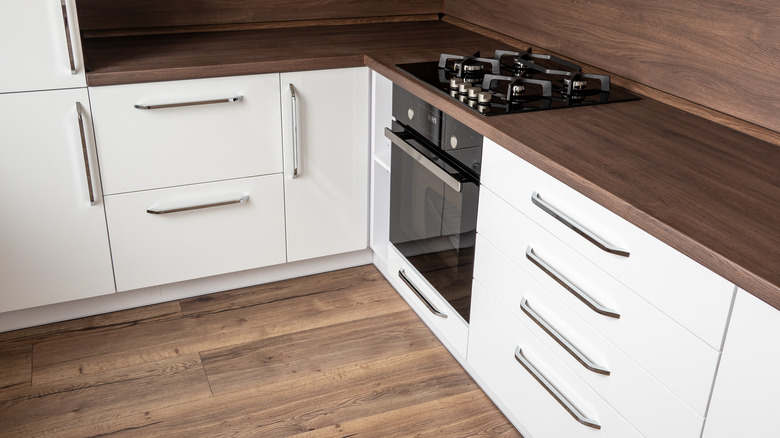 Mino Surkala/Shutterstock
But kitchen islands and horseshoes certainly aren't for everyone. Take, for instance, the nearly 11% of homeowners in House Digest's survey who indicated they'd be happiest with an L-shaped kitchen layout, which we also see in many homes today. If you're a home cook that lives for efficiency, this kitchen layout should work for you, especially since the style not only provides ample counter space, but it also gives you quick and easy access to your workstations — each a stone's throw away from each other, per Kaboodle Kitchen.
The House Digest survey also offered other design options that resonated with a number of homeowners. Approximately 9.5% of respondents said they'd select a single-wall kitchen as their ideal kitchen layout, while 8.4% were drawn to galley-shaped kitchens, and just over 8% would pick the island's sister kitchen feature, the peninsula. This last option, per The New York Times, may be a better choice for homes with more limited living space, especially since as designer Jessica Nicastro put it, "To me, having a small island is like wearing pants that aren't long enough."