How Much Should You Tip Your Movers?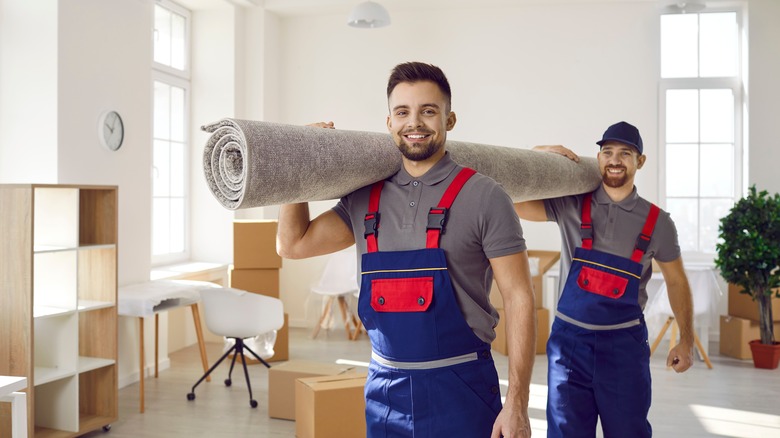 Studio Romantic/Shutterstock
Moving is a lot of work that takes a significant amount of time and physical ability, no matter who does it. Whether you are moving across town or to a new state, having highly skilled movers can help make the process efficient and less overwhelming. The cost of moving ranges based on the location, size of the move, and type of services you need, like help with packing or transporting heavy objects. Fixr shares that paying movers for a long-distance move could cost $1,500 to $3,500 or more. That's a significant amount of money, and sometimes it can be a tough purchase to manage when there are so many other things to invest in during this process.
Yet, moving is a big process that takes a lot of heavy lifting and patience. As a property owner, you also can appreciate the fact that movers are taking care of your precious belongings professionally, sometimes providing a service you couldn't do yourself. When they do a great job, you may be considering a tip. Should you tip? If so, how much do you tip movers?
You can tip movers, and sometimes should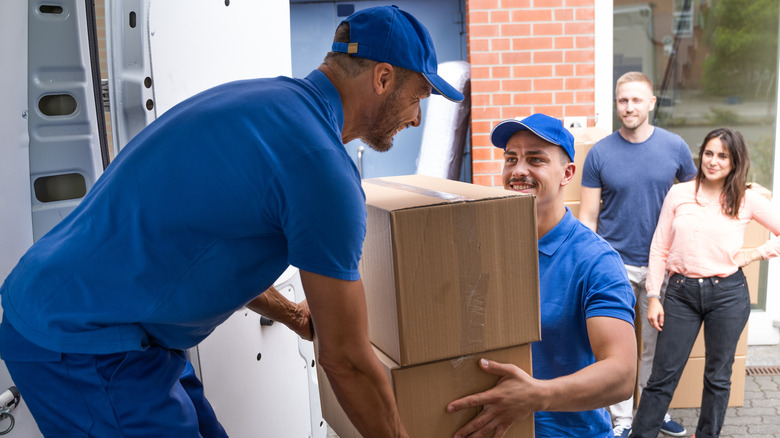 Andrey_Popov/Shutterstock
Though there's no rule that says you have to do so, tipping movers is a good way to show hard-working people that you appreciate what they are doing and the care they are taking. After all, these individuals may be packing up your prized possessions, lugging heavy and bulky items, and positioning them in your new home just where you want them to be, not to mention dealing with a high-stress job.
Realtor.com recommends tipping movers when they do a great job or took extra care in helping you with the process. Perhaps they had to move furniture from the 1800s down a set of steps without scratching it. They may have had to move a lot of heavy books from the basement to the attic of a new home. When they do a good job of taking care of your special requests, such as extra care for your fine China, a tip may be much appreciated. Still, use your discretion when tipping movers.
How much to tip movers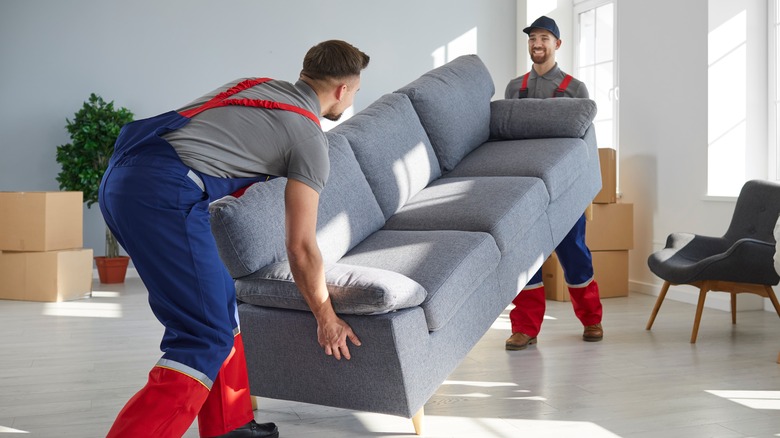 Studio Romantic/Shutterstock
If that two-person crew helped move your whole household and you want to thank them for their hard work, a tip may be appreciated and appropriate, but how much should you tip? It's very much dependent on what you want to tip, as there are no set rules. Consider a larger tip if the move is more complex, larger than average, like a three-bedroom home or bigger, or involves several delicate items. Forbes recommends tipping a two-person crew $12 to $24 for a two-hour move and $24 to $48 for a four-hour move. The larger the crew, the more you should consider tipping, with a five-person crew receiving a tip of $60 to $120 for two hours of help.
Some people may want to do something nice for movers, like buying them lunch or supplying beverages. While Realtor.com notes that's certainly a kind gesture, it shouldn't replace a tip for a hard-working team. They recommend the standard 15-20%. That's especially true if they are helping you get organized before a big move.