What Is A Jack And Jill Bathroom?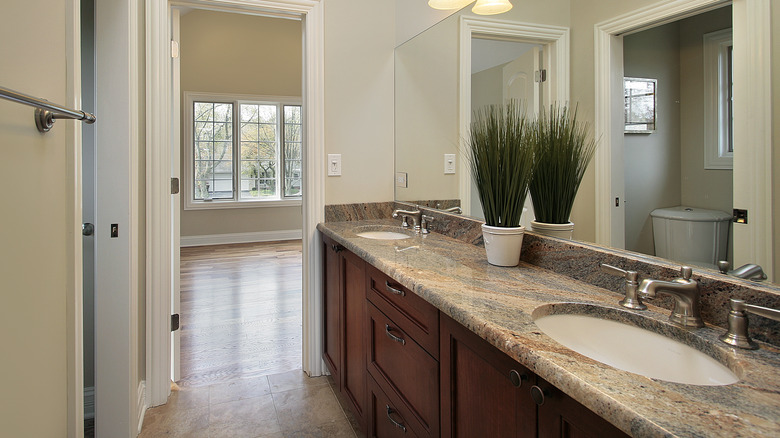 pics721/Shutterstock
In the famed nursery rhyme, Jack and Jill had a mishap as they set off to fetch a pail of water. Thank goodness it's much easier to fetch water today from a bathroom sink than to carry a pail up and down a hill, especially when you have your own private sink, as featured in many Jack and Jill bathrooms. The typical arrangement of this design includes a sink area with a shared bathtub and toilet set between two bedrooms, per CRD Design Build. Each bedroom has private access through a separate door. This unique design maximizes space by using one bathroom to meet the needs of two separate bedrooms.
When questioned, most homeowners admit that they wish their homes included more bathrooms. Whether an extra half bath would meet the needs of an expanding family, or perhaps there's just a desire for guests to have easy access, most homes would benefit from this additional space. So, could a Jack and Jill bathroom be the right solution for your home? Here are some facts about this design that answer whether it's a good fit for your needs.
The pros and cons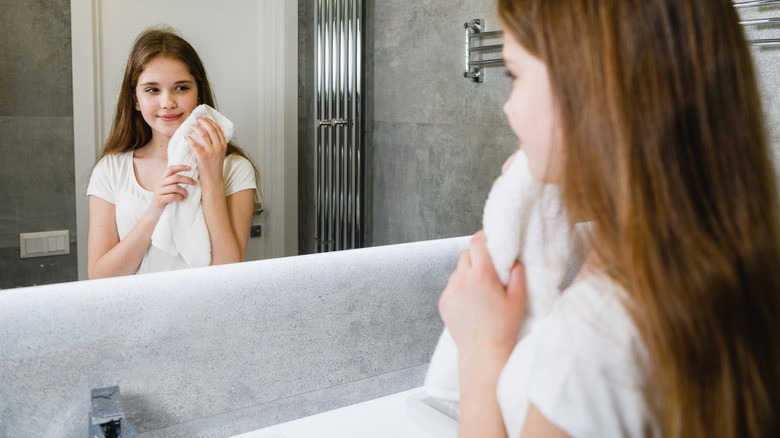 O_Lypa/Shutterstock
There are many advantages to having a Jack and Jill bathroom. Naturally, it saves space and creates an en suite design for both bedrooms, and using the same plumbing source saves money, as only one tub or shower is needed. Also, each family member still has the privacy of their own bathroom entrance. 
This arrangement can also benefit the family dynamic, as siblings spend more time together. Young children might brush their teeth at the same time before bed each night, creating a familiar pattern that is reassuring during their early years. Teenagers can interact as they prepare for school each day, offering the opportunity to share advice or confidences (along with the inevitable squabble). Sharing a daily routine with other family members can create positive memories and build family bonds.  
However, Jack and Jill bathrooms can have a few disadvantages, especially when not designed very well, via The Bathroom Blueprint. When the design doesn't include a hallway door, it becomes inaccessible to the rest of the house. For example, a guest would need to walk to the bathroom through a private bedroom, which is not ideal. In addition, it can be easy to lock others out, and light switches behind a locked door also present a problem. Storage can also be an issue, as limited counter space can cause distress when getting ready in the morning. 
Design solutions for Jack and Jill bathrooms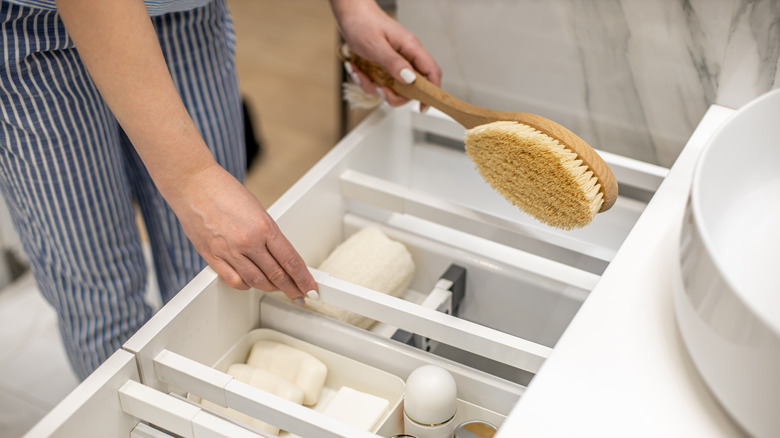 Fortunately, there are several ways to design a Jack and Jill bathroom that addresses these issues. First of all, installing separate sinks will eliminate a lot of trouble, as each person has more personal space and privacy. Including separate storage areas alongside each sink is also a common sense idea that helps prevent family members from infringing upon the other person's space. Instead of swinging doors, pocket door entries are another excellent design aspect that saves room (and prevents collisions between siblings). Finally, light switches available on the inside and outside of the bathroom can also come in handy.
Installing a third entryway from the hall will make the bathroom more accessible and eliminate the need to use a bedroom as a pass-through. This third entry point can also come in handy when a family member forgets to unlock the other person's bedroom door to the bathroom. This arrangement also keeps things functional, even when the bedrooms aren't occupied. Because at some point, the children who occupied these rooms will grow up and move out. And some of their fondest memories may be rooted in the daily routines they shared in this space.