How To Achieve The Organic Modern Aesthetic In Your Home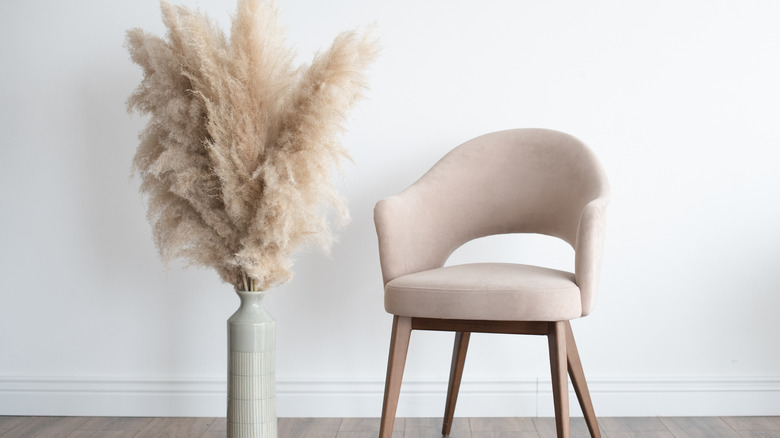 Zakharova_Elena/Shutterstock
Utilizing minimalist and modern interiors is often a popular way to foster an elegant yet subdued look in your home. One of the challenges, however, for any strictly modern decor scheme is avoiding looking too impersonal or cold, which can sometimes happen due to the severe lines of modern furniture and the lack of color. The organic modern aesthetic, which has its roots in the styles of Frank Lloyd Wright and the Brazilian modern movement (via CB2), is a great way to combat contemporary design's severity by adding softer neutral colors, natural materials, and an abundance of texture. 
This beautiful style is excellent for making your more minimal and modern rooms cozier while rooting them in nature. With a few critical considerations like form, materials, color, and texture, you can make an earthy, calm, and relaxing retreat out of any room yet still retain the sophistication and elegance of more modern decor. 
Materials and form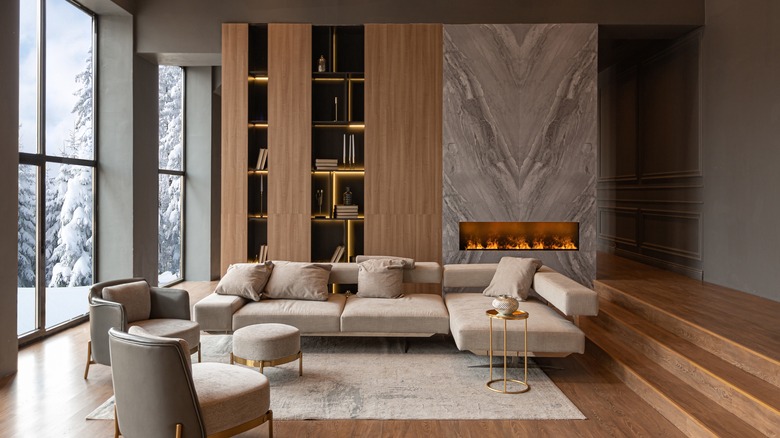 Pinkystock/Shutterstock
Modern furniture is known for its simple, straight lines and minimal decoration. According to XO, Macenna, organic modern pieces take the geometry and straightness of modern pieces but pair them with earthy textures like slubby linen. They can also incorporate tweed, boucle, and suede for a more layered approach. The simpler shapes complement the more luxurious fabrics. Organic modern also juxtaposes wood furniture with brass and iron hardware and stone accents, as well as materials like granite and marble in complimentary or contrasting shades. The style also incorporates bamboo, sisal, wicker, and woven seagrass for additional variation.
Like many contemporary decor schemes, the shape of organic modern furniture is sleek and low to the ground, which, when combined with elements like cozy woven rugs and fabrics in rich fabrics, makes the low-slung furniture even more inviting and not as imposing as many other types of popular decor. For instance, the sunken living room pictured above is warmed up by the glorious warm wooden floors and wall paneling, as well as the texture and dynamic patterning of the unique marble fireplace surround.
Color and texture
Followtheflow/Shutterstock
Modern and minimal interiors typically favor neutral design elements like cream, white, and gray tones since these colors make a perfect blend for an organic modern approach. They can even be layered with deeper, warmer shades like taupe, coffee, and chocolate, as well as other nature-inspired hues like sage green or pale blue that reflect the organic world. This layering gives rooms endless dimension and elevates them above modern color palates that stick merely to whites or grays. Scout and Nimble suggests starting with a neutral pallet and adding other nature-hued accent colors. 
Texture plays a huge role in organic modern aesthetics, mainly because it's a touch-centered style focused on material concerns. A great way to add texture to your modern decor is with throw pillows and blankets, rich woven rugs, baskets, handmade pottery, and, of course, actual natural elements like plants, branches, and cuttings. All these elements combine to make spaces sophisticated and modern yet also infinitely cozy and liveable.