The Best Coffee Table Alternative For Your Small Living Room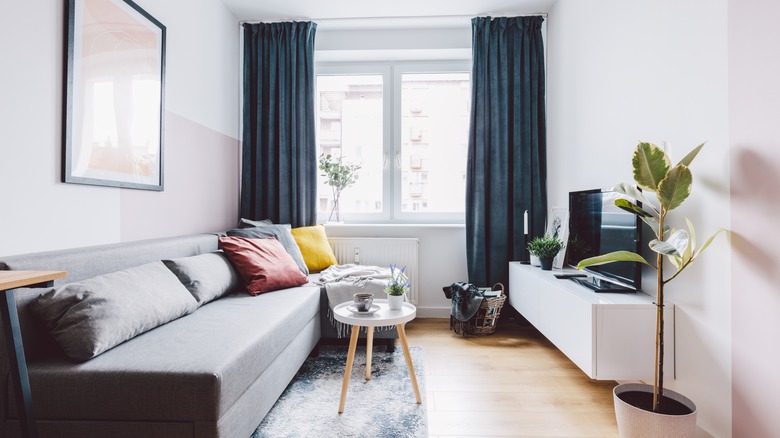 Photo Creo Michal Bednarek/Shutterstock
According to Rent Cafe, apartments across the United States are continuing to shrink in size, despite an overall rise in rent rates. Living in a small space certainly has its perks — it's easier to clean, cheaper, and often cozier than a big floor plan — but it also comes with its own set of struggles. If you're one of the many people working with a tiny apartment or cramped living room, you know how difficult it can be to pare your décor and furniture down to only the essentials. 
After trading in your sectional for a more streamlined sofa and doing what you can to reduce excess clutter, you might find yourself staring down at your coffee table, questioning if you really need an additional roadblock in the middle of your already-tight layout. The answer? Both yes and no. Having a flat, hard surface in the living room is important. Plates, mugs, and glasses need a place to land that isn't plush, and setting your dishes on the floor is a fast track to spills and a temptation for nosy pets. With that being said, however, a large item that only serves one purpose isn't ideal for many living rooms, so it's best to look for an option that provides multiple functions and takes up as little space as possible.
The alternative option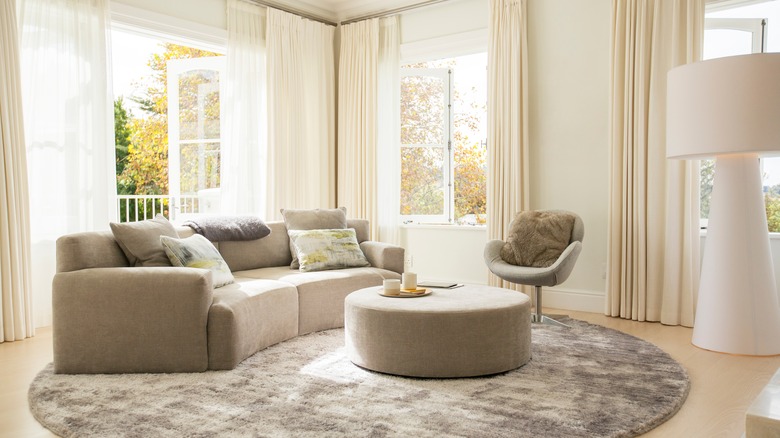 Koto Images/Shutterstock
This is where an ottoman saves the day. Add a serving tray on top for regular use, and then remove it if you find yourself in need of extra seating. Find an option that matches your couch, or opt for something in faux leather if you're worried about spills. If you want to eliminate some clutter while you're at it, look for an ottoman with built-in storage, too. You'll be able to stow away extra blankets and pillows while still keeping them easily accessible.
If a traditional ottoman is still a bit too big, a bohemian pouf can serve the same purpose. They come in just about any size — as small as a throw pillow all the way up to a massive, overstuffed cube — and are usually much lighter than traditional furniture, perfect if you need to move things around frequently. Most are fairly stiff because they're designed to be multi-purpose, but make sure to stay away from anything too plush if you want to ensure your tray has a stable base.