HGTV Star Michel Smith Boyd Advises Homeowners To Keep Design Personal In 2023
Paras Griffin/Getty Images
Michel Smith Boyd, host of the HGTV show "Luxe For Less," asks his clients this question: What is your version of luxury? This is because Boyd knows that everyone's preferences are so different, and what may be ideal for one person may not be the best choice for another. In an interview with Ebony, Boyd explains, "My job is to go in and figure out with our clients what their version of luxury is, make sure they understand that they deserve it, and then figure out a way to deliver it."
However, while Boyd can't visit every one of our homes and create a space according to our styles, that doesn't mean we can't do it ourselves. To that end, Boyd has some crucial tips for creating the home you love in 2023. First, he says that understanding your personal tastes is key so that you can implement them. Then, he suggests making as many changes as you can without hiring outside help in order to save money.
Understanding your personal tastes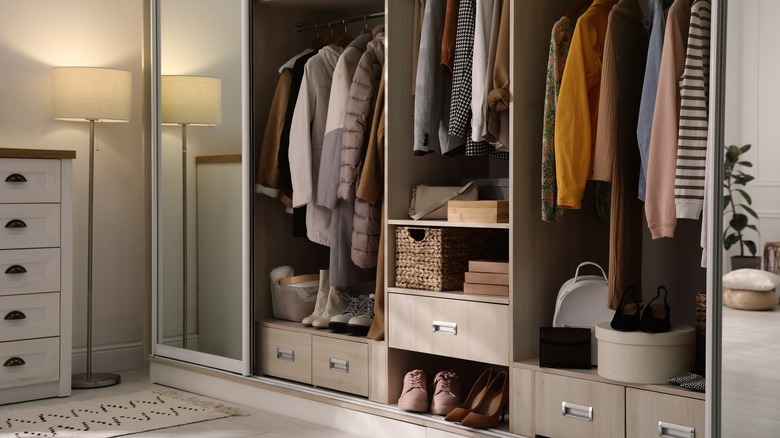 New Africa/Shutterstock
Before you can begin infusing your style into your home, it's essential to understand your tastes, and one way to do this is by taking a peek inside your closet. Michel Smith Boyd believes that your clothes say a lot about the design choices you prefer. If you wear a lot of a certain color, pattern, or fabric, this could be brought into your home to create a design you adore. Boyd also draws inspiration from what his clients love to do or locations they like to visit. For instance, in the first episode of "Luxe for Less," because the client loves the mountains, he includes masculine and natural elements in his office, per Discovery+. According to Realtor.com, customization brings a sense of luxury for Boyd. "I want to feel like it's for me. I want to see my point of view in my home, in my studio, in what I wear. I want to be able to see a little bit of my personality."
According to Boyd, knowing your personal tastes is crucial because "This will help you establish the narrative you want your home to have. I love the idea of getting to know a person while walking through their house. How they designed it, what they used, the color schemes, the finishes, the materials — it's a narrative. And hopefully, the narrative supports who they actually are and what they want to convey to guests in their home," per Ebony.
Updating your home yourself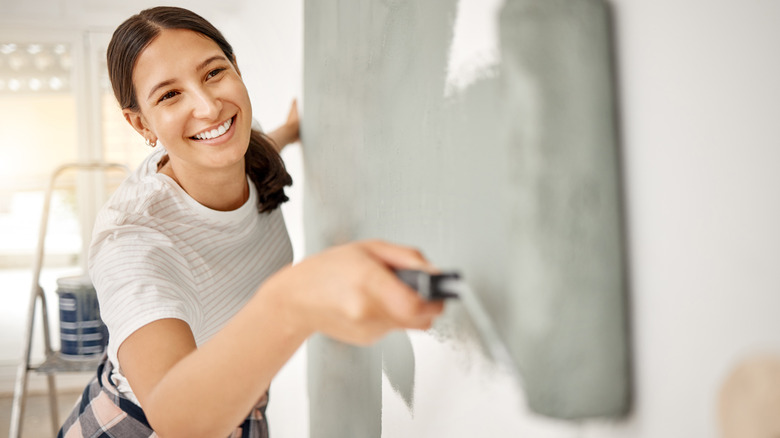 Peopleimages/Getty Images
Another way to ensure things are personalized to your specific tastes is by updating your home yourself. According to Realtor.com, Michel Smith Boyd's top design tip for 2023 is to "Feel empowered to make changes in your own home. If you can paint, or if you can create your own art, or if you can create that gallery wall — I love to see those personal touches, and there's something about that sweat equity at home." Therefore, anything you can DIY will be perfectly in line with your style and feel much more meaningful to you. He adds that you should enjoy updating your home by trusting that the personal changes you make are right for you, even if they don't look like someone else's version of luxury.
According to Ebony, Boyd loves it when clients become interested in the interior design process. He says, "Watching them dig deeper into the process and get more invested couldn't be more gratifying. Seeing them getting excited and feeling really proud of their home, that's amazing to me." Even if you're hiring a professional to complete something in your home, ensure you're still involved in the process so that the end result is exactly what you envisioned.