Mixing Modern Elements With Vintage Pieces Is Going To Be A Huge 2023 Home Trend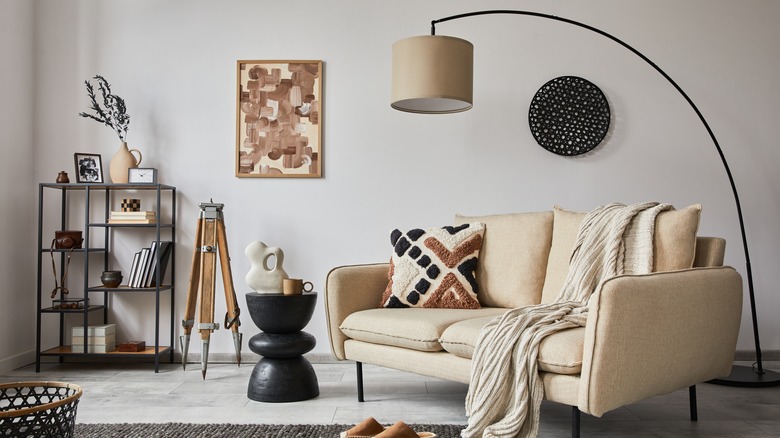 Followtheflow/Shutterstock
When it comes to home decor, there is nothing more classic than the look of vintage items. Whether a bold, floral-patterned couch from the '70s or Tiffany-inspired stained glass lamps, these pieces can take on a new appeal when balanced with your existing style. Although peppering in vintage decor is not necessarily a new trend, it certainly looks like it is here to stay for the coming year. With eco-friendly products widely available and a significant focus on sustainable living, more and more people seem to be ditching the idea of designing their homes with fast furniture and instead are opting for more classic pieces.
Although companies like Ikea have made their name supplying basic furniture for no-nonsense homes, it seems like, for the most part, you get what you pay for. Lower prices may be the initial draw toward these pieces, but that usually means that they are made of less sturdy materials and won't withstand the test of time. This fast furniture then clogs up landfills worldwide, which can be a major environmental hazard (via The New York Times). However, if you want unique items with a new-to-you feel, you may be more interested in searching for gems at your local thrift shop or antique market. But there are other reasons folks will flock toward vintage items for the home in 2023.
What makes vintage items so appealing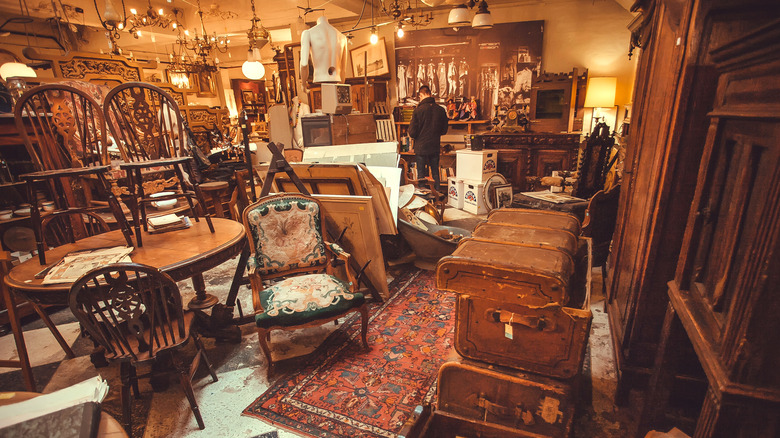 Radiokafka/Shutterstock
Apart from the draw of buying a sustainable piece of decor and being able to do your part in keeping beautiful older items out of landfills, there are other compelling reasons buying vintage is so appealing. As opposed to purchasing new furniture from a big box store or shopping online, the mere act of going out and finding older items can be enough to make the pieces more personal. Instead of a simple unboxing, you have a whole story and memory attached to the day you collected the classic piece that completes your living room.
Also, in a market full of manufactured goods, where hundreds if not thousands of copies may be mass-produced, the items you buy for your home could be the same as many other residences. However, mixing in antique furniture or decorative relics of the past can imbue your home decor with a distinct mystique. Not to mention, furniture from 50 years ago or more was likely made with higher quality craftsmanship and of sterner stuff which could handle more wear and tear than the build-it-yourself items of today. Not to mention, elegant designs and a classic appearance will never go out of style. So your unique finds could be a welcome part of your home's interior design for some time.
The key to blending your vintage items with modern decor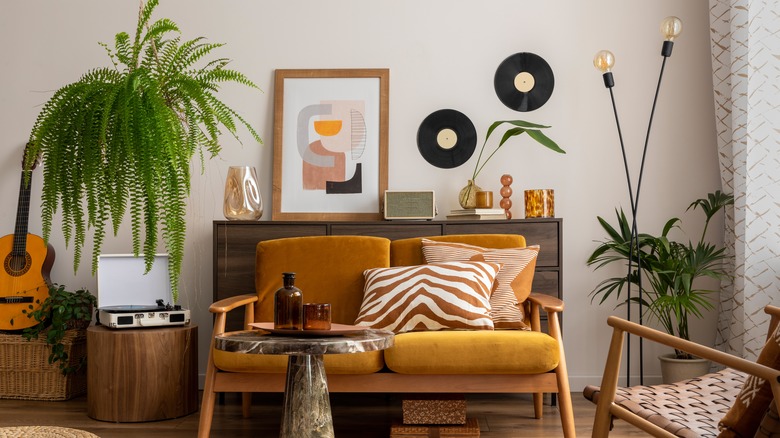 Followtheflow/Shutterstock
When looking to incorporate vintage style into your modern household, there are a few things to consider so that you pull off the perfect aesthetic. First, there is the simple 80/20 design rule. Although this concept can apply to many things, with regard to your decorating sense at home, it means that 80 percent of a room should be decorated with one style. In contrast, the remaining 20 percent is dedicated to an accent style, according to Kimberley Cook. Thus, to make the perfect contrast between vintage and modern decor, take a look at your current collection and decide what theme you want to make the base and what items you want to accentuate and stand out.
Another way to successfully highlight your vintage pieces in a more contemporary setting is to let your more unique items take center stage. Whether it is a rustic antique table or desk, or even a set of classic lamps, allow these quirky components to soak up the limelight. Also, if you are featuring several wooden items, it could be more pleasing to the eye if they remained in the same color or stain, per Ski Country Antiques. This harmony in tone will make the room flow with more ease.