What First Time Homebuyers Need To Know In 2023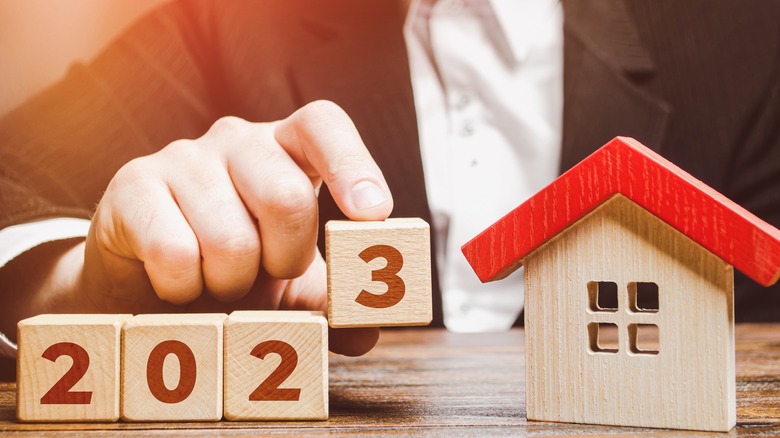 Andrii Yalanskyi/Shutterstock
Happy new year, and happy house hunting! Yes, the 2023 home-buying season is upon us, and if you're shopping around for a new abode, you may have some questions. First-time homebuyers are navigating a market in transition, with a slowly increasing inventory of homes and varying levels of demand depending on the local market. With that, interest rates are currently hovering around 6.5%, and there is no clear indication of where they will go next, as noted by Bankrate. 
Thus, a lot of first-time homebuyers wonder if they should wait or if rates should expect to go down later this year. But for the most motivated of buyers, driven by a change of life circumstances and unmovable timelines, we are here to provide tips for navigating this winter and spring and helping you make the best decision possible. So with that, here are excellent tips for assisting new homebuyers in purchasing their first property.
Consider buydown rates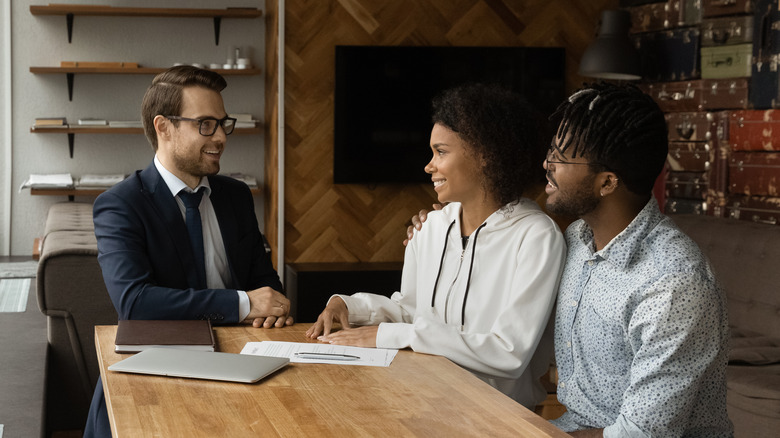 fizkes/Shutterstock
A lesser-known product known as the buydown from the late 1970s and early 1980s is making a tremendous comeback. Back then, buyers were contending with interest rates far more aggressive than the ones we face today. Rocket Mortgage points out that in 1981, interest rates were as high as nearly 17%! To combat these interest rates, homebuyers resorted to a tactic called buydowns. A buydown is a mortgage rate strategy that allows a buyer to temporarily pay a mortgage at a reduced cost before readjusting to a full payment after a designated time frame.
There are several buydown structures, with varying configurations of interest rate point reductions and the amount of time allowed for the reduced payment. Typically, the seller will cover the difference between the buydown payments for the mortgage to be fully paid. This would be part of closing costs in an escrow. NerdWallet spells out one buydown example, known as the 3-2-1. In this scenario, the mortgage interest rate is 3% lower than the first year's standard rate, 2% lower than the second year's rate, and 1% lower than the typical rate in the final year. This could be an attractive option. At any given point during this time, the buyer can refinance altogether if interest rates go back down.
Look at distressed properties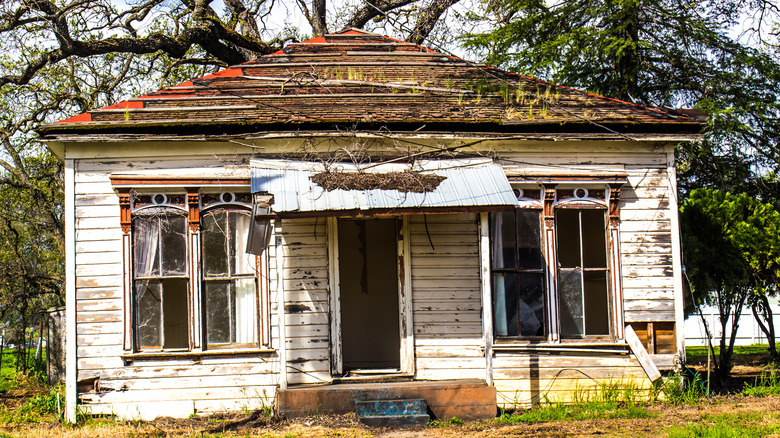 Thomas Bullock/Getty Images
When money is tight, looking at distressed properties can be an excellent option for those with a lower down payment who want to free up or slow down the capital spent on a home. If a homebuyer is okay with making improvements along the way, this can be a great alternative route. In a mid-level home market, a three-bedroom, two-bathroom home of 1,500 square feet can come in many shapes and prices. Let's say that the desired home price in your neighborhood is $600,000. It's a newer build, with appliances, splashy new lighting, luxury vinyl flooring, and a fresh coat of paint. On a conservative 10% down payment, the buyer would be expecting to put down $60,000. 
In that same neighborhood, there is an older property with the same number of bedrooms, bathrooms, and square footage. However, this property has more aged flooring, needs an interior and exterior paint job, the appliances are older, and the bathrooms need a little work. However, it's only $300,000. In this instance, the buyer would only need to put down $30,000 for a 10% down payment, and this $30,000 difference in down payment is substantial. Not to mention, on a monthly payment basis, you would save $2,200 on mortgage. So long as the property is livable and has good bones, you can save money and gradually update and customize the house to your liking while saving money! 
No big purchases during escrow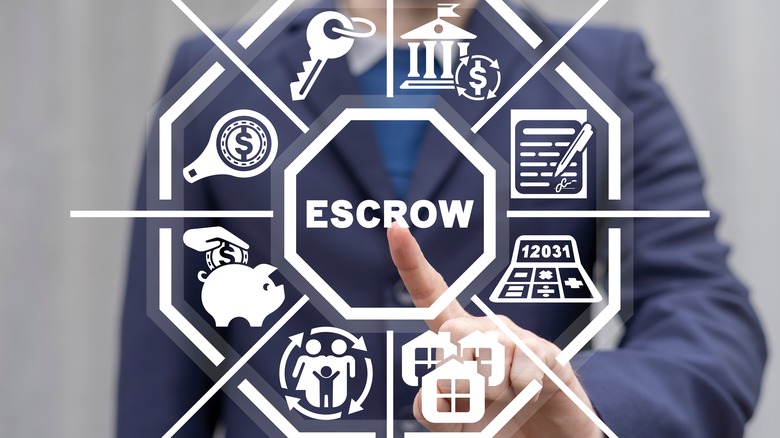 Panchenko Vladimir/Shutterstock
Do not make large purchases during escrow. Opendoor rates this as one of the biggest errors homebuyers make during an escrow, as this can derail the transaction. What does this mean exactly? When a buyer is ready to purchase a home and requires a mortgage, the buyer must be fully underwritten to qualify for the loan from the bank. At the beginning of the home search, most buyers get what is called pre-approved. This means that the lender has looked at your essential financial information and has a solid estimation of how much money you can get approved for from a bank. 
However, a buyer must go from pre-approved to fully approved and underwritten during escrow. While this happens, buyers mustn't make big purchases such as cars, flatscreen TVs, and other items. These can affect your debt-to-income ratio and possibly delay or prevent you from getting fully underwritten and qualified for your mortgage loan.
Work with a proactive realtor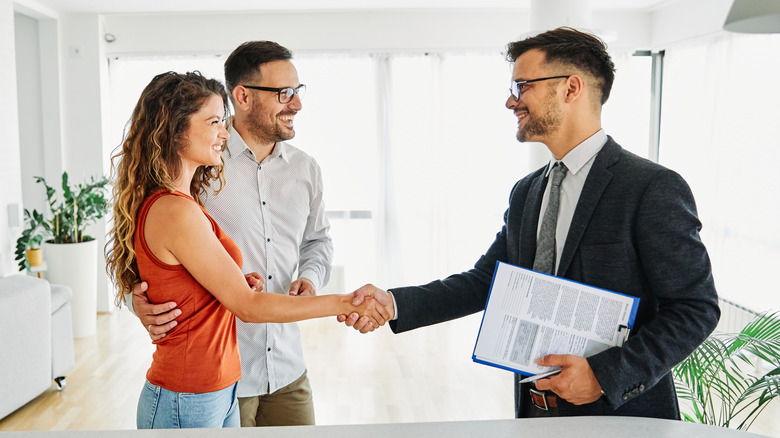 Paperkites/Getty Images
Working with a great real estate agent can make or break a first-time home search. According to The CE Shop, more than four out of five homebuyers agree that the number one role a realtor fills when working with a client is the advisory capacity. They are meant to be the safe harbor for the ship that is your home search. A trustworthy local market agent can offer several resources for making the process as seamless as possible. Firstly, they might have a great lender to connect you with. Secondly, they will be able to give you a clear outline of the buying and escrow process and help put your initial fears to rest.
An exceptional real estate advisor will be up to speed on your local area and have many homes to show you. They may even have access to off-market dwellings unavailable to the general public. While it can be tempting to work with a family friend or a casual referral, taking your time and surveying your options for finding the right person to work with can be beneficial. Your communication styles should be similar, and they should walk you through each stage of the process.
Budget for closing costs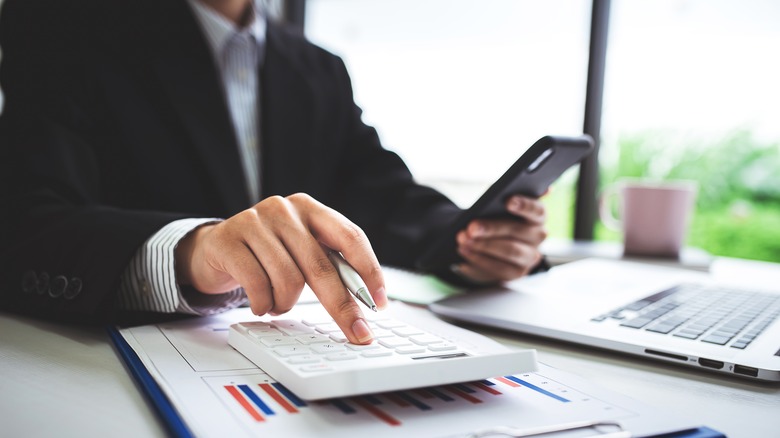 Daenin/Shutterstock
Closing costs are a critical but often overlooked element of real estate transactions, and Bank of America defines closing costs as falling anywhere between 3% and 5% of the loan amount. A variety of matters are covered at this stage, with elements such as lawyer costs, appraisals, taxes, and fees for title insurance falling under the umbrella of closing costs. 
First-time homebuyers often forget to shop for second and third opinions from various lenders. This can be advantageous, and doing so can help you get a sense of what different lenders are charging for their service. Ultimately, however, this is a noteworthy sum of money that can mess up a transaction when not planned out. It would be incredibly tedious to be that far down the line of a deal, only for closing costs to be the final obstacle that prevents the sale from finally closing.