The Bathroom Design Trend That Will Be Everywhere In 2023, According To An Expert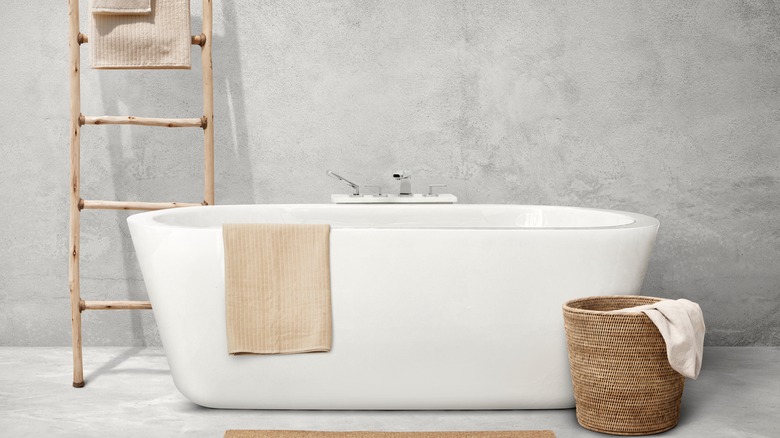 Rawpixel.com/Shutterstock
So you've decided to refresh your home for the new year, but you're not quite sure where to start. The bathroom can be a great place to begin making changes in your home because bathrooms are typically smaller than most other rooms, meaning you'll need less of whatever materials you're looking to switch up (so you can splurge on those truly gorgeous tiles or countertops that may be out of your budget for larger spaces).
As Homes to Love outlines, there are plenty of budget-friendly ways to give your bathroom a new look, such as replacing the vanity or swapping out the fixtures like taps and shower heads in the space. Not to mention, there's always the possibility of splashing on a fresh coat of paint in an eye-catching hue.
If you're looking for inspiration for your bathroom refresh, chances are you may turn to what's trending for 2023 to get some ideas for your own space (and ensure you're not implementing any trends you'd be better off avoiding). In an exclusive interview with House Digest, Cinque Cerra-Saunders, interior designer and host of A&E's tiny dwelling show "Living Smaller," shares one particular bathroom design trend that you'll definitely notice popping up everywhere this year and may want to consider implementing in your own bathroom for a chic, trendy look — especially if you prefer a minimalist, organic aesthetic.
Microcement is on the rise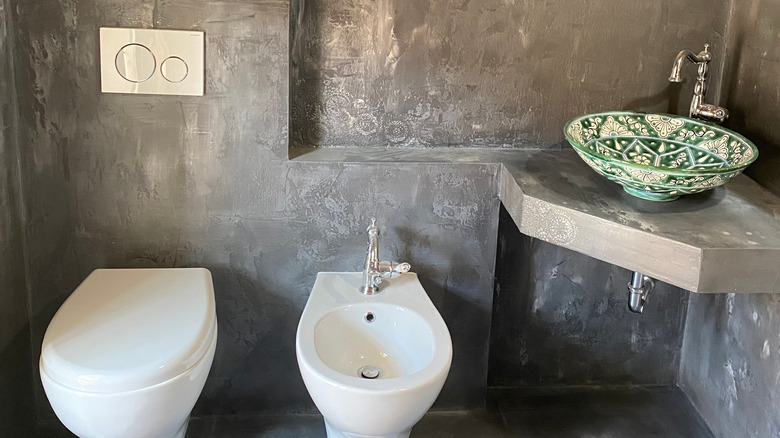 giordano ravazzini/Shutterstock
You want your bathroom to look stunning, but it also has to be functional, with materials that can withstand moisture and humidity. That's precisely why all kinds of tiles crafted from various materials are a go-to for this particular room.
If you've always been a fan of stone or terracotta tiles, preferring that minimalist, organic ambiance in your bathroom space, there's a new design trend that might be the perfect fit for you. Plus, it allows you to bring some of that vibe into other surfaces in your bathroom beyond just the floor — the sky is truly the limit for this material.
"The bathroom design trend that will be everywhere in 2023 is the tileless, textured, bathtub and shower surround made possible by microcement," explains Cinque Cerra-Saunders. "A pillar of the ever-growing Mediterranean trend, the textured wall has given us warm, organic character in many of our spaces."
Fans of the Mediterranean aesthetic may have incorporated similarly textured finishes in other areas of the home but left the glossy tile finishes in the bathroom. Switching up that gloss for a more natural, matte look might be just the ticket for 2023. "Limewash and roman clays have delivered almost everywhere, but have fallen short in wet areas like the bathroom. That's about to change," adds Cerra-Saunders.
Practical and easy to apply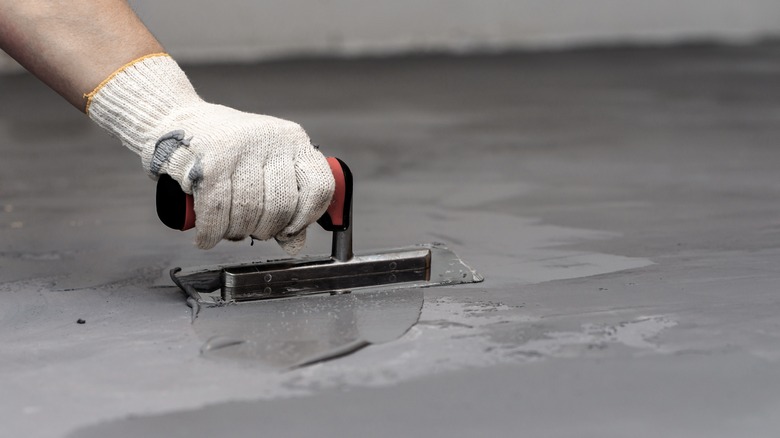 Tatiana Migunova/Shutterstock
When choosing materials for a bathroom, you have to consider the environment — you don't want the moisture and humidity of the space to damage your finishes, and you also don't want to cause a slipping hazard if some finishes become slick when wet. Luckily, microcement is extremely well-suited to the unique environment of the bathroom.
"Not only does it have the movement and texture of the aforementioned decorative finishes — it's actually a practical finish as well," states Cerra-Saunders. "Aside from being visually stunning, it's waterproof, resistant to stains and scuffs, and can be used directly over a number of substrates including drywall, plywood, and tile!"
One thing that will give any homeowner pause when it comes to a bathroom refresh is the ease of application of the material. With materials such as stone or tile, the layout of your particular bathroom may necessitate challenging cuts or calculations to make everything work seamlessly. And, of course, some materials require consideration of what's underneath the material, as they need a specific base for the best results. Microcement is a lot more adaptable and easy to apply.
"This means if you have an out-of-date (but watertight) bathtub or shower surround, you can apply a priming membrane to it and then go directly over the tile with microcement — no need for demolition, hardie board, thinset, or aloof tile guys," explains Cerra-Saunders.
A DIY-friendly choice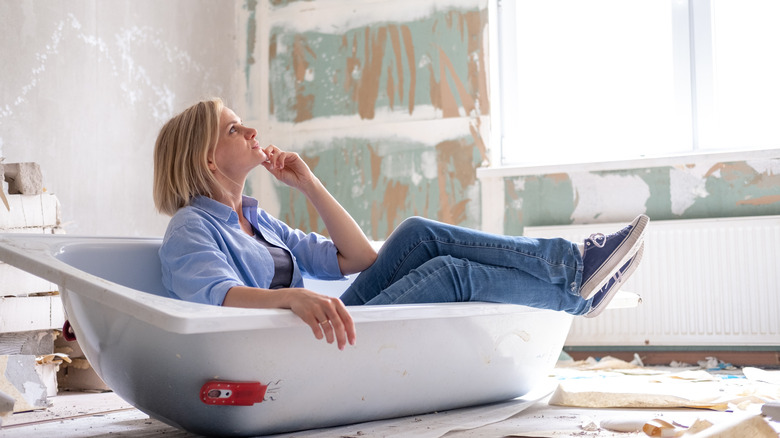 Natali Kuzina/Shutterstock
If you're looking to refresh your space on a budget or would rather splurge on the fixtures and materials than on the labor, finding DIY-friendly options is crucial. As Cerra-Saunders explains, microcement definitely fits the bill in that regard.
"The best part of this trend is that it's very DIY-friendly, and thus cost effective. I am personally tackling my own primary bathroom in a few weeks with this technique," he says. If you've never tackled any DIY projects and are reluctant to try, Cerra-Saunders merely suggests, "If you do decide to hire a professional make sure they are a drywall finisher, or a stucco or plaster expert."
While microcement is easy to apply and doesn't require the same careful cuts or calculations as most other bathroom materials do, you may want to follow some best practices that Cerra-Saunders outlines. First, as he recommends, "When applying microcement don't stop at the typical tub or shower demarcation — swath your entire bathroom, including the ceiling, with texture."
To finish your bathroom refresh, you might also want to consider making a few additional changes to allow the trending, textured microcement to shine. "Pair the organic austerity of your tileless walls with an arched vanity mirror and statement floor tile (think faux terrazzo or bold geometric) and you'll be transported to Cannes, Palermo, Santorini or Tangier," Cerra-Saunders comments. "The simplicity and clean lines of this look are swoon-worthy."