How To Transform A Small Bathroom On A Budget, According To An Expert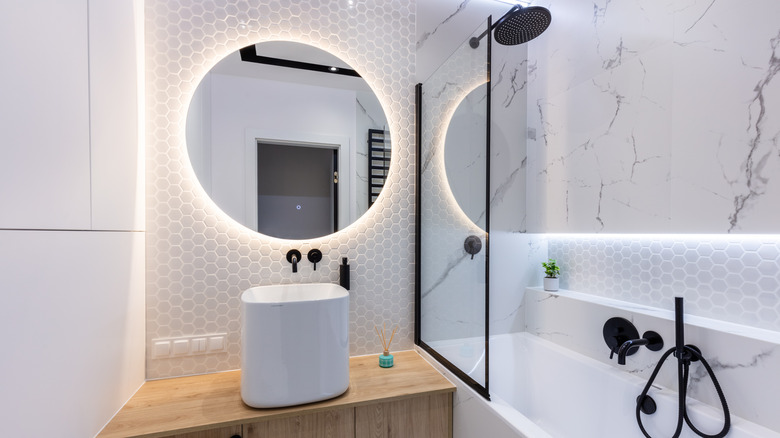 PHOTOCREO Michal Bednarek/Shutterstock
The dingy tile, outdated vanity, and poor lighting are making your bathroom less appealing than ever, but you're worried about the cost of upgrading and remodeling. It can definitely be expensive to take on a full renovation; data from Fixr shows the national average for a bathroom remodel ranges from $4,500 to $9,000, though that's dependent upon the type of work you do and how many changes you make. If that's simply out of line with your budget, don't give up just yet. Instead, tackle only what needs to be done in order to create an impressive look.
There's a slew of excellent ways to get the new feel you want in the bathroom without spending a lot of money. To help get you started, Leah Tuttleman, Allied member of the American Society of Interior Designers, and corporate designer for Re-Bath, offers some strategies for achieving an affordable and fantastic bathroom refresher in an exclusive interview with House Digest. Pick and choose the specific changes best suited for your bathroom without taking a strong hit to your budget.
Add floating shelves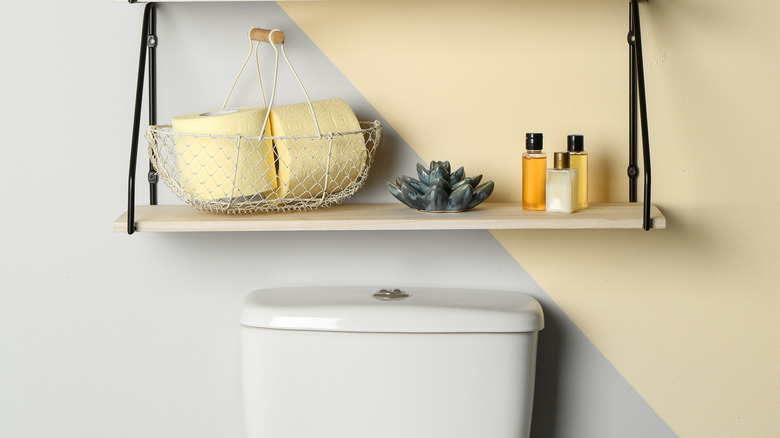 New Africa/Shutterstock
Are your countertops so filled with clutter that there's no place to add a few nice trinkets and candles? It's not uncommon for this to limit the comfort of a bathroom. Leah Tuttleman shares an interesting tip for improving this situation. "Add inexpensive floating over-the-toilet shelves on the wall. Not only does this provide a space for extra storage for essentials, but you can also stage the shelves with neatly rolled towels and potted plants to complete the look," she suggests.
Select the right color scheme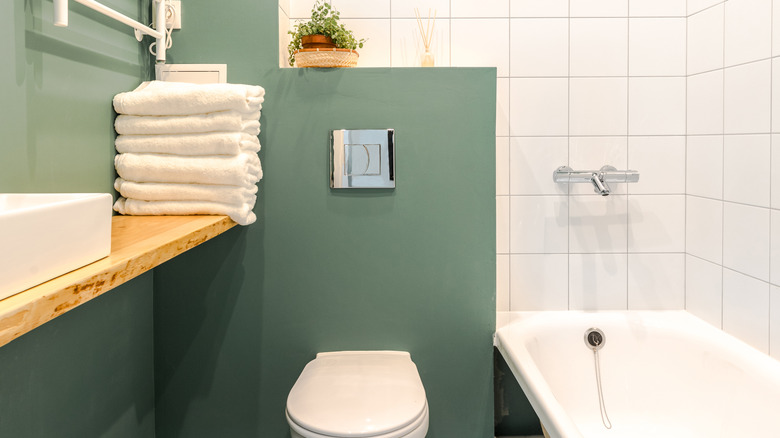 Polina Strelkova/Getty Images
Color sets the tone for any room, but outdated hues or areas where the walls are discolored from dirty fingerprints take away from the aesthetics in the bathroom. Use the right palette for your space, recommends Leah Tuttleman. "To make a small bathroom feel larger, choose a calming and refreshing color scheme. Choose soft colors such as a green hue in combination with white to help visually expand the space."
Add a glass shower door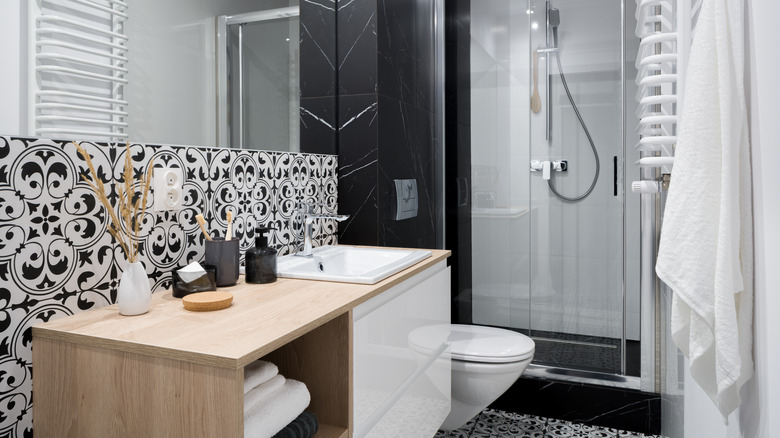 Dariusz Jarzabek/Shutterstock
Updating the shower curtain with a new pattern is a simple trick that sometimes works. This time, think about a more significant change that offers a bigger impact. "Replace your shower curtain with a clear glass shower door; this adds a clean, sleek look to the space. And, the glass [allows] natural light... to pass through the room, making it appear larger and brighter," notes Leah Tuttleman. That's certainly going to set a refreshed tone for the space.
Mount a modern mirror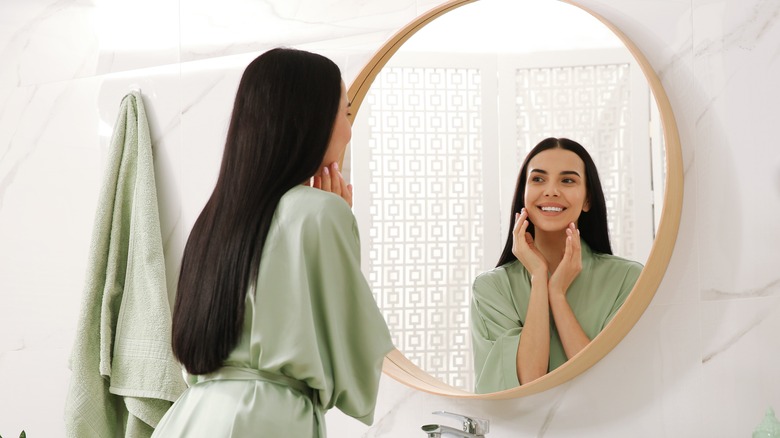 New Africa/Shutterstock
When you first walk into the bathroom, what's one of the first things you see? It's likely the original mirror and all of those crusty toothpaste spatters. When was the last time you thought about updating the whole thing? "Counter-to-ceiling bathroom mirrors instantly date your bathroom," shares Leah Tuttleman. If it's time for a mirror upgrade, consider her advice. "A new one can easily give the vanity a makeover. Opt for a larger, modern mirror with a geometric frame adding both character and light to the small space."
Splurge on the floors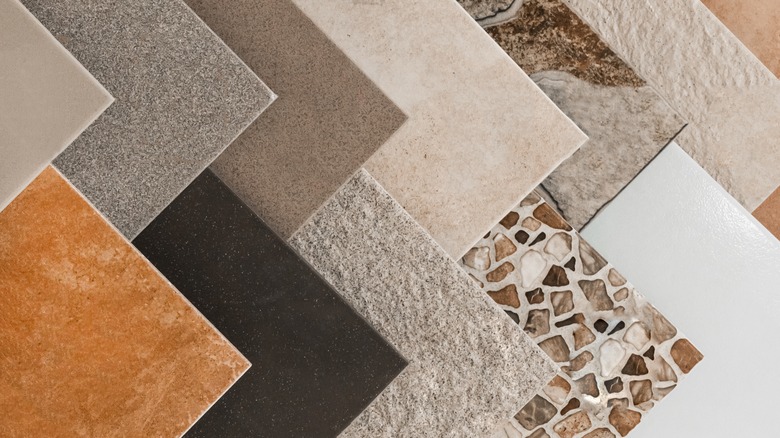 AYDO8/Shutterstock
In the bathroom, your floors take a beating from splashes of water and heavy foot traffic. An upgrade may seem impossible to complete because it feels like a big job. However, Leah Tuttleman shares that this is where you want to put your money and effort. "The space is small, so take the opportunity to opt for high-quality tile in your color palette. This one upgrade alone will make your small bathroom space feel luxurious." Also look for newer products, like vinyl or laminate flooring, that have a premium look for less.
Repurpose an old table or a nightstand for a vanity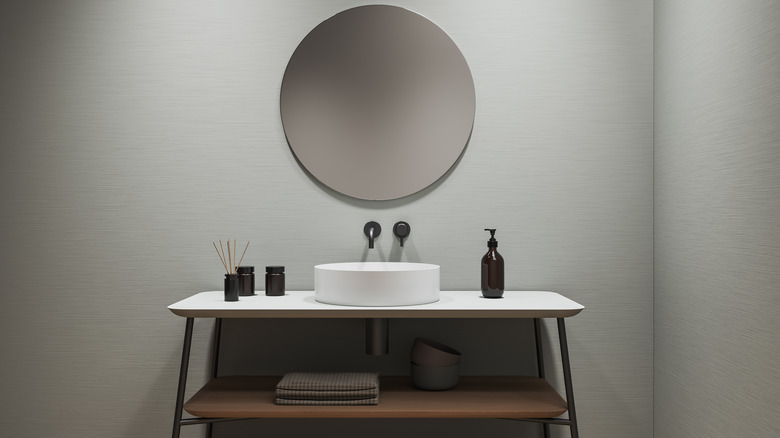 Ismagilov/Getty Images
Most bathrooms rely on the vanity for storage, but vanities also play a big role in the bathroom's overall style. You may think upgrading them is too hard or expensive, yet that's often not the case, reveals Leah Tuttleman, who recommends using a table instead of the traditional store-bought vanity. "It's a sophisticated alternative to a stock vanity, and offers a one-of-a-kind look," says the designer.
Change out the hardware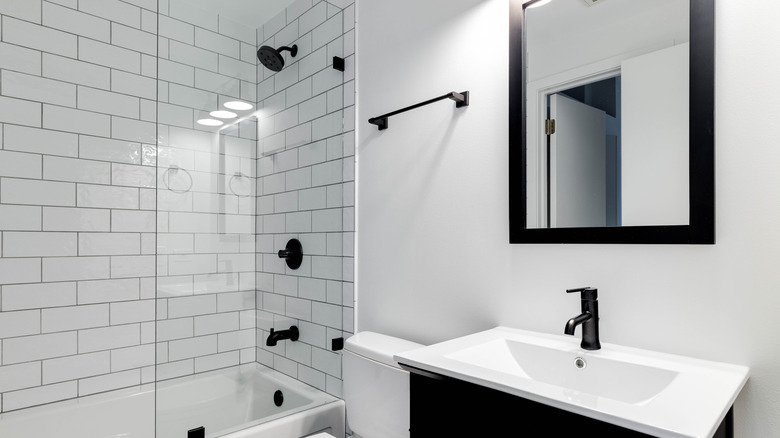 Hendrickson Photography/Shutterstock
If the vanity, shower, and other features are still in good shape, Leah Tuttleman advises you to focus on the hardware to make a noticeable change to your bathroom design. "This is an area [where] DIYers can save on labor costs with just a couple of handy tools. Doorknobs, cabinet knobs, light switch covers, towel hooks, towel racks, and toilet paper holders can date a bathroom as trends in these items change almost yearly."