How To Decorate Your Nursery Like HGTV Star Christina Hall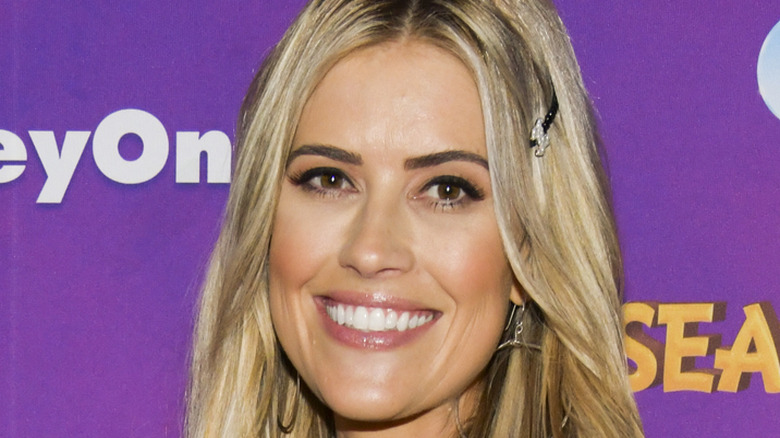 Rodin Eckenroth/Getty Images
One of the most exciting parts of having a baby is decorating the nursery. When you see that spare room transform into the room you'll bring your baby home to, it can make it all feel real. However, making decisions prior to that transformation can be overwhelming. You want the nursery to be beneficial to your baby but also match your overall home aesthetic. Christina Hall from HGTV's "Christina on the Coast" masterfully created an engaging nursery that also fit with her coastal aesthetic. She brought in relaxing colors and natural contrast without forgetting the comforting elements.
For newborn babies, contrasting patterns and shapes rather than colors are better for visual stimulation, reports Consumer Affairs. The Dr. Sears Wellness Institute says that black and white sends signals that help brain growth and visual development. Try incorporating spots, stripes, and geometric shapes. At three months, more colors can be introduced to help brain growth and development. Opt for calming colors like soft shades of blue, greens, pinks, and purples, as well as earth-inspired tones, suggests Medley Home. Get inspired by Christina Hall's calming nursery for ways to incorporate the details in your own baby's space.
Nature-inspired accents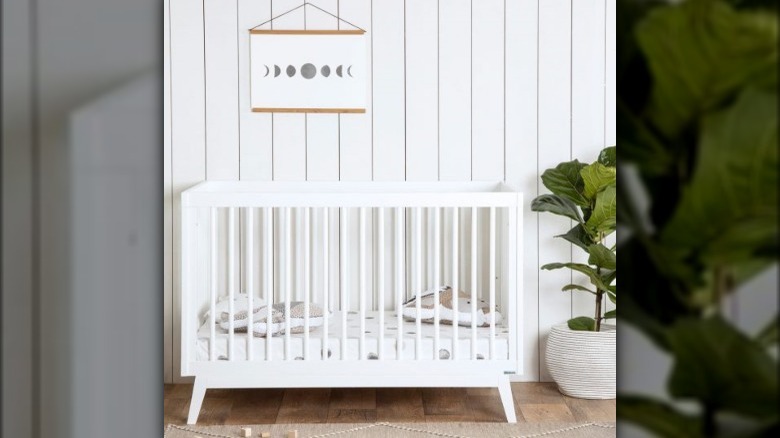 The Tot
Christina Hall's style brings in the relaxing nature of the California coast by utilizing lots of natural elements, textures, and colors. Her design philosophy and overall aesthetic flow seamlessly into her baby's nursery. The room features sleek white shiplap walls and is accented by natural wood tones and natural textures throughout, per HGTV. A jute rug and woven baskets bring plenty of texture in soft natural tans. Macrame wall hangings add a bohemian touch without making the décor too busy, and incorporating a hanging mobile will help lull the baby into a trance-like sleep. The addition of plants adds a touch of greenery to the corner. Together these pieces create a bohemian dream.
Using nature-inspired elements is a great way to add character while keeping a design timeless. Earth-toned and natural neutrals will remain in style for years to come, which allows you to use pieces from the nursery in multiple iterations of your child's bedroom even as they age. They'll pair well no matter what colors or motifs you choose to redecorate with and will always add a grounding detail.
Mix practical and aesthetic for storage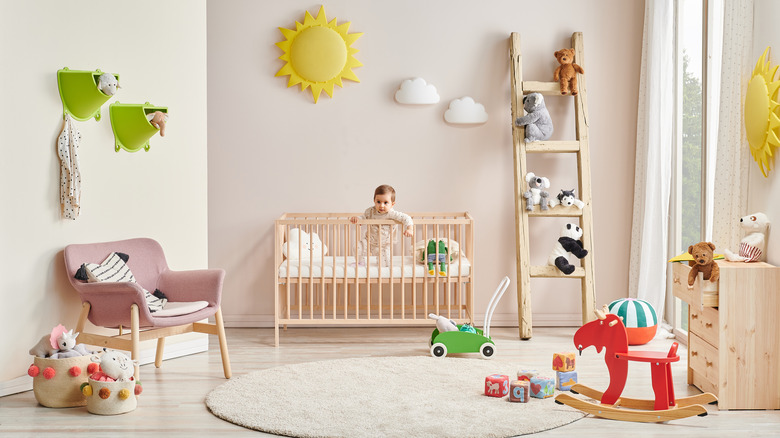 united photo studio/Shutterstock
Any parent knows that babies come with a lot of things. From clothes to diapers, it's easy to quickly be overrun with everything a baby needs. Christina Hall prioritized storage in her baby's nursery but didn't give up the aesthetic. She opted to find furniture and décor that can pull double duty, providing both storage and decoration. She has shelves above the changing table, plus a changing table with drawers, bins, and baskets to keep all the baby's needs hidden away but in close proximity.
Creating zones is one of the best ways to organize your nursery and allows you to maximize your storage. Nursery Design Studio suggests having separate zones for sleeping, diaper changing, nursing, and play. Each of these areas can have storage specific to what's needed. For example, in the diaper changing area, clothes, wipes, ointments, and diapers should all be within arm's reach, like on shelves or in a storage cart. Using drawer separators and closet organizers can help make finding exactly what you need more convenient.