Good Bones Star Mina Starsiak Hawk On Thinking Outside The Box On Basement Design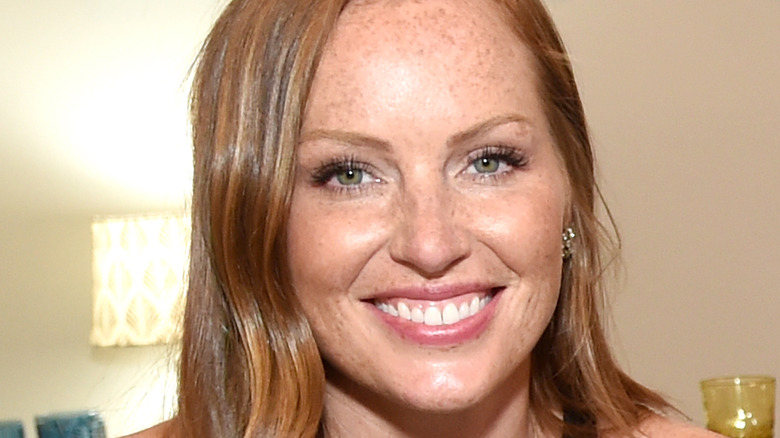 Michael Kovac/Getty Images
When renovating a small home, it's important to utilize every square inch available. A good example of this would be extending kitchen cabinets up to the ceiling to make use of all the vertical space. When deciding upon the layout of the home, knocking down walls for an open floor plan may also create more usable square footage. 
Along with this advice, Mina Starsiak Hawk of the HGTV show "Good Bones" also recommends designing every single room to its fullest potential. While the living room, kitchen, and bathrooms often get the most attention, equal care should be given to closets, attics, and basements. And when it comes to getting creative with an unfinished basement, even if you don't have the budget to upgrade the whole space, you can still make your home stand out by including a unique element. Because Hawk has lots of experience renovating basements, she's got sold solid advice on how to design this often unused room into something extra special. 
More than just storage
Typically, basements are used for either storage or recreation, but Mina Starsiak Hawk likes to think outside the box and transform them into something more unique. For instance, during one home renovation on "Good Bones," Hawk knows they don't have enough in the budget to fix up the entire basement, but they can inexpensively transform a corner of it into a wine cellar by installing simple DIY wooden racks, wineglass holders, and a few barrels, per Realtor.com. This cheap and easy change makes all the difference in how potential buyers see a space.
In another incredible renovation on her show "Good Bones: Risky Business," Hawk and her team convert the old basement of the Charlotte Hall building into the dark, moody bar with wine storage and exposed brick pictured above. Noting that it's her favorite basement renovation yet, she describes the room as "a cool space where you could just come down... and have a glass of wine, like a speakeasy" (via Realtor.com). Anyone with an empty basement can get excited about the potential to transform it into whatever they desire. If the space is quite large, consider keeping some of the storage space and converting one area with a unique and fun element. Some ideas include adding a theater room, home gym, or sophisticated lounge.