This Simple Design Feature Is The Key To Making Your Living Room Look Expensive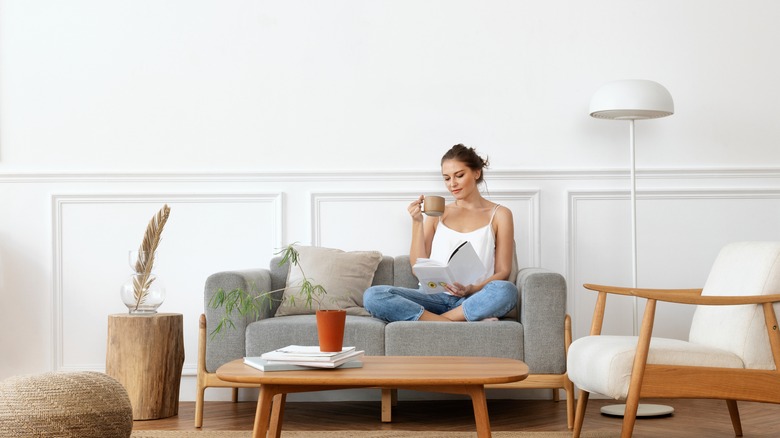 Rawpixel.com/Shutterstock
There has been a surge in creating a more custom design in the home. More homeowners are adding features to upgrade their rooms from the standard, builder-grade design. For many people, identifying the details that elevate the home and implementing them can be quite difficult. But with an average cost of $100 to $200 an hour, according to Forbes, hiring an interior designer may not be possible. The trick is to take inspiration from older homes that have tons of character. Historic homes were built and decorated with attention to detail, and bringing in the vibe of these spaces can make a modern home look more thought-out and classy.
There is one detail that has been making a comeback in interior design. If you've been looking for inspiration for living room designs, you may have already spotted it. Fortunately, this simple feature can make your home look more expensive without breaking the bank. Plus, it can be an easy DIY project that most homeowners can tackle over a weekend.
Paneling and molding look elegant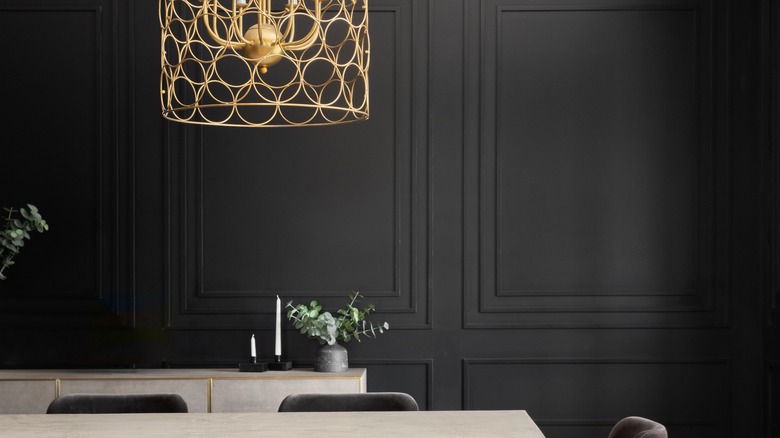 Hendrickson Photography/Shutterstock
Wall paneling and molding are often features of older and historic homes. These details add dimension to the wall and can serve as an elegant and luxurious feature in any given room. It's a simple detail that has proved to be timeless as well. Many are making paneling and molding look more modern by painting them, using them to highlight art, or adding details like wall sconces and picture lights.
What draws people to add these wood features to the wall is that they're an easy and inexpensive upgrade. According to Home Serve, the average cost of material for wainscoting is $13.20 per square foot. Trim molding, used for creating picture frame molding, can cost, on average, $1.01 per square foot, per Porch. Both of these projects are ones that homeowners can undertake themselves with a miter saw and brad nailer, says Julie Blanner. The easy DIY project will only take you a few hours to a few days and will instantly add charm and elegance to the living room.
Types of paneling and molding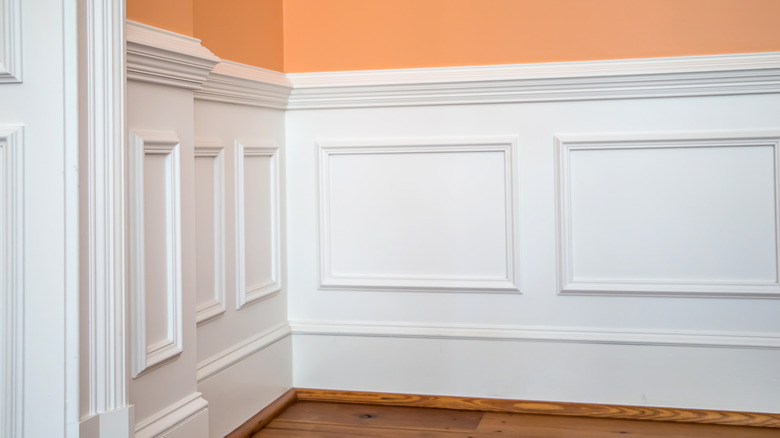 Ursula Page/Shutterstock
Paneling and molding is an overarching term for various wood wall treatments. Board and batten, wainscoting, and shiplap are among the most popular forms of paneling. Most wainscoting takes up the lower half of the wall, while board and batten and shiplap are commonly featured across the entire wall. For years, shiplap has been a common feature for homes that have a farmhouse aesthetic, but the style can work in a variety of home interiors. Wainscoting and board and batten both err on the traditional side of interior styles. Picture frame molding, as well, is more traditional. However, no matter what you choose, you can modernize the feature with accessories or by painting.
You can also use the idea of classic molding and bring it into the modern age. Decorating Centre Online suggests geo-wood paneling, which uses strips of plywood to add abstract or geometric designs as a feature. This is a great option for an accent wall that will make your home look more custom.