Fleece Or Quilt? House Digest Survey Reveals The Most Popular Type Of Throw Blanket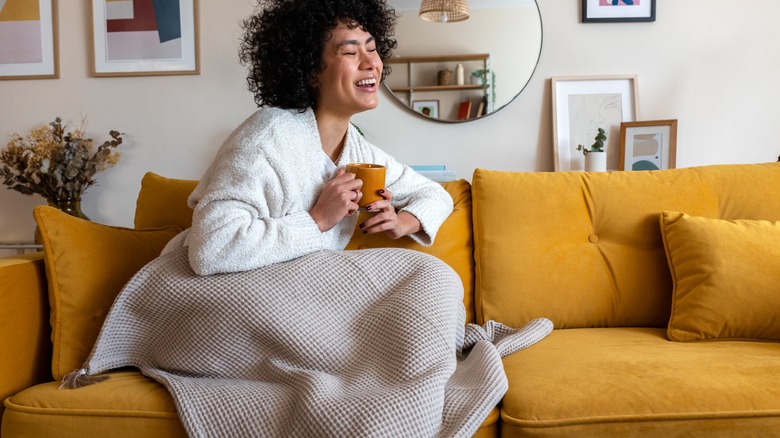 Daniel Hoz/Shutterstock
When it comes to designing a cozy living room, it can appear incomplete until we toss in a few decorative accents. We're talking about coffee table accessories, stylish items on the fireplace mantle, and some cute pillows and throw blankets on the sofa. Utilizing pillows and blankets as décor is one of the most affordable ways to give a room a splash of stylish flare, notes A Pretty Fix. And you can place them anywhere, whether it's a chair, bench, bed, or basket.
In order to achieve the comforting effects of these accessories, it's important to choose the right type of material. So, House Digest conducted a survey asking participants which style of throw blanket they would prefer to have on their couch. We gave them six options: fleece, quilted, cashmere, faux fur, knitted, and wool. We'll reveal which options received the most votes and what it was about their characteristics that may have led to their popularity.
A durable and cozy option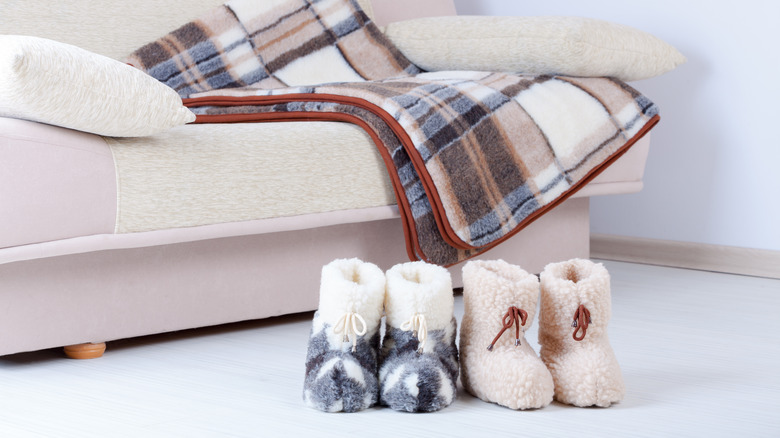 Humonia/Getty Images
Out of 629 respondents, 33% (206 people) chose fleece as the style of throw blanket they prefer most, according to our survey. Made to offer consumers a lightweight alternative to wool, fleece blankets are typically made from cotton or polyester, and they'll offer warmth during those cold winter nights. Budget Blankets adds that this type of material is not only comfortable but durable as well. If the material of your couch is not suited for rowdy children or pets, covering the cushions with a fleece throw will allow it to absorb some of the potential damage of rips and tears. Washing a fleece blanket is easy with a quick run through the washing machine.
In addition to comfort and warmth, fleece throws dry quickly and maintain their color and shape after several cleaning cycles. This type of throw blanket is also easy to embellish, so those who enjoy embroidery can have fun using it to create a personalized gift.
A stylish and versatile choice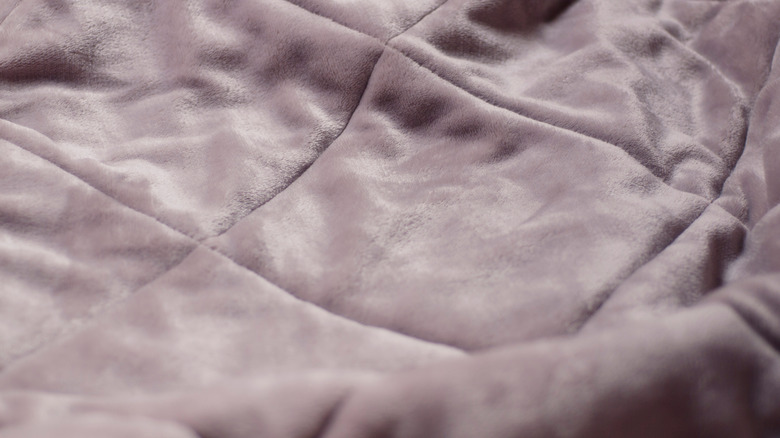 Dario Pena/Shutterstock
Our survey also revealed that the second most popular type of throw blanket is quilted, with 21% of respondents (132 people) preferring this option for their couch. According to Parachute, quilted blankets are a great option for those who want to introduce stylish material into a space. These blankets are typically created with three layers; an insulation of batting is placed between two layers of interlaced fabric. The top layer is where the decorative pattern shines, and, of course, there are styles to satisfy both modern and traditional tastes. Quilts are also made out of a variety of materials, such as velvet, silk, tulle, polyester, microfiber, and cotton, which is the most common option (via Casper). Then there are hand- or machine-stitched options available.
As for the rest of the blanket types included in the survey, cashmere earned 117 votes (19%), faux fur had 73 votes (12%), knitted received 60 votes (9%), and wool came in last with just 41 votes (6%).