The Perfect Color For Your Entryway, According To HGTV's Leanne Ford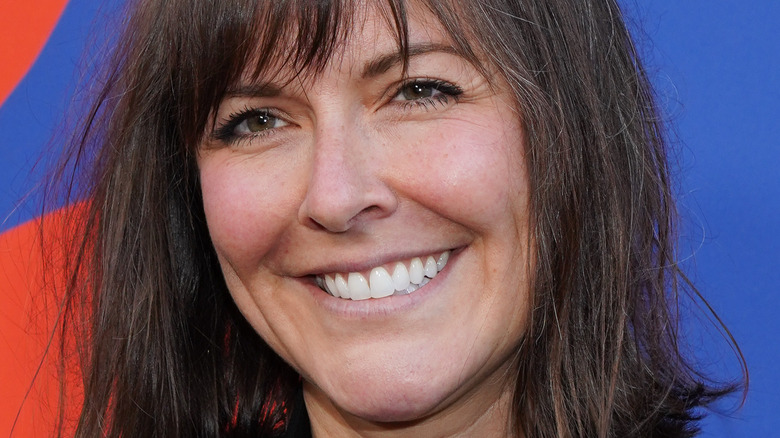 Rachel Luna/Getty Images
The entryway is the first impression into your home, and it introduces your decorating style as soon as guests walk through the door. As much as this room makes an aesthetic statement, though, it should be functional as well. Adding a bench gives you a comfortable place to put on and remove shoes. A console table with storage offers a designated area to place your keys, and a mirror allows you to give yourself a quick once over before leaving the house.
Leanne Ford knows the importance of creating a statement inside. "The biggest thing I encourage people to think about is that beauty and function can coexist," Leanne Ford explains to Home and Gardens. With this in mind, she strives to incorporate an individual's lifestyle as she designs room to look beautiful and work well. Since her HGTV shows "Restored by the Fords" and "Home Again With the Fords" have become undeniable hits, many fans have wanted to steal her style for their own homes. Here, the star designer provides insight into the best color to use to transform your entryway.
Heavenly white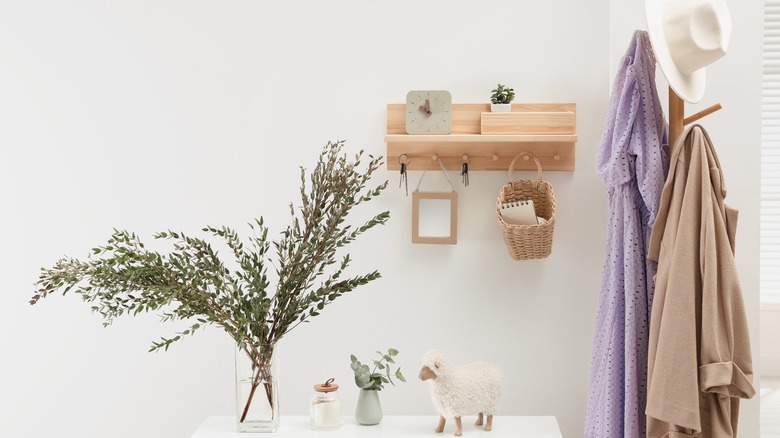 New Africa/Shutterstock
With a quick look at Leanne Ford's signature designs, it's easy to understand her go-to color palette. "The [style] that I like the most is 'easy minimalism,' which means clean and simple lines, but warm," Leanne Ford explains to Coveteur. "I keep pretty neutral, which makes it feel minimalist on its own, but really easy and warm and welcoming." Ford prefers a neutral color palette throughout her designs, but they're anything but flat or boring. For her, white brightens up an entryway. She says, "It feels so heavenly to walk into a light box. Everything and everyone looks good" (via Home and Gardens). You may worry that an all-white room will feel sterile, but there's a way to warm it up and give the space personality.
"I love mixing wood tones for a warm and natural feeling in your space," continues Ford in Homes and Gardens. "I almost always create white or creamy warm white rooms for these mixed tones to live in so the wood doesn't get too heavy." The keys to creating an area that's visually interesting are using variations in texture and playing with style so that things don't start to feel too modern or old. Wood invites in a natural element. Other natural materials that can be used to increase texture include cotton, linen, and jute.
The perfect white paint
You may be surprised about all of the options for white paint. Depending on the undertones, whites can have different amounts of depth. Leanne Ford prefers a warmer white that's closer to cream because it adds a cozy feel to the spaces she designs. According to Home and Gardens, Ford often uses Behr's Ultra Pure White, which has hints of green. But, when it comes to her favorite shades, she relies on hues from PPG and Sherwin-Williams. "My favorite perfect, crisp, dreamy white is PPG Timeless Pure White, and I like Sherwin-Williams Shoji White. Then I like to play with creams and how they live together," Ford tells Coveteur.
Understanding the role of undertones will help you land on the perfect shade of white for your home. For a cohesive look, the undertones within the paint and should match those found in the décor. For a warmer color palette like Leanne Ford's, look for white paint with hints of reds, oranges, yellows, or pinks. You'll also want to test how the paint looks in the room and how it reflects natural light. Be sure to look at the test swatches multiple times to see how they look in the morning, afternoon, and evening light, as well as with artificial lights from lamps or chandeliers.