20 Eat-In Kitchen Ideas For A More Sociable Dining Space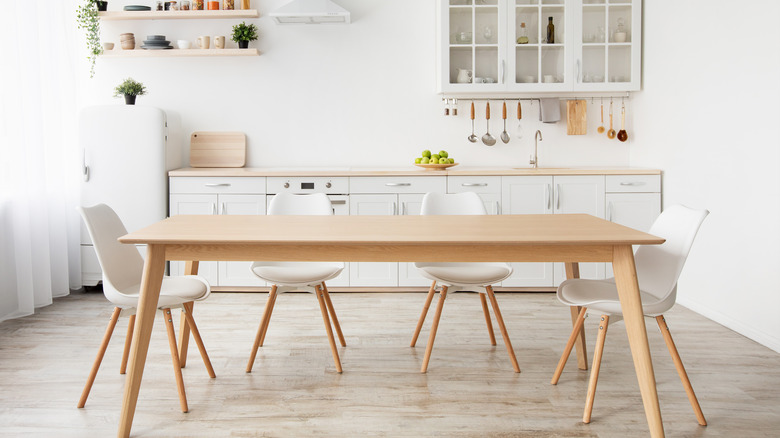 Prostock-studio/Shutterstock
If your home has a formal dining space, how often do you use it? Perhaps only over the holidays, or maybe never at all. If this is the case for you, know that you're not alone, as most people don't use this room as much as they used to. Instead, many are placing their tables inside the kitchen. This can be beneficial for those who often have guests over, as everyone typically gathers in the kitchen anyways. It can also make mealtimes feel less formal and more enjoyable. Practically, when the table is placed where the food is cooked, it's easier and faster to prepare meals. 
Eat-in kitchens are slightly different than just breakfast nooks or islands with seating, as these spaces typically feature a full dining table. While the table could replace the island, it doesn't don't have to. It could also completely replace your formal dining room, but this doesn't have to be the case, either. If you're contemplating creating a social dining space in your kitchen, below are 20 inspiring examples.
1. Limited floor space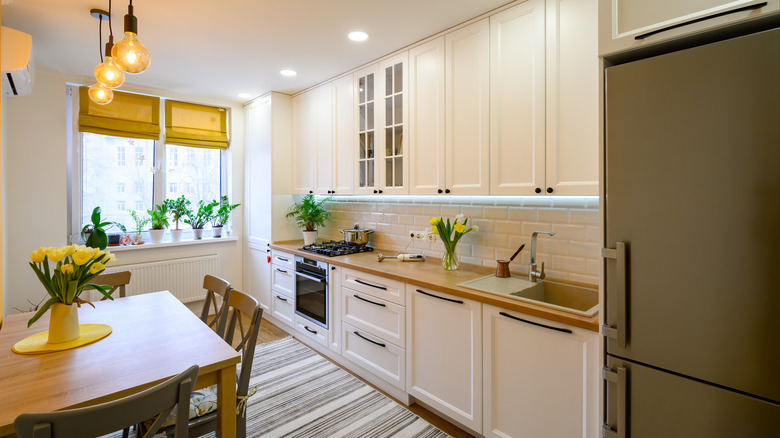 Serghei Starus/Shutterstock
Even if your kitchen is quite small, you can still create an eating area in the space. However, it would probably be wise to replace the island with the table instead of trying to include both. 
2. Adding wood tones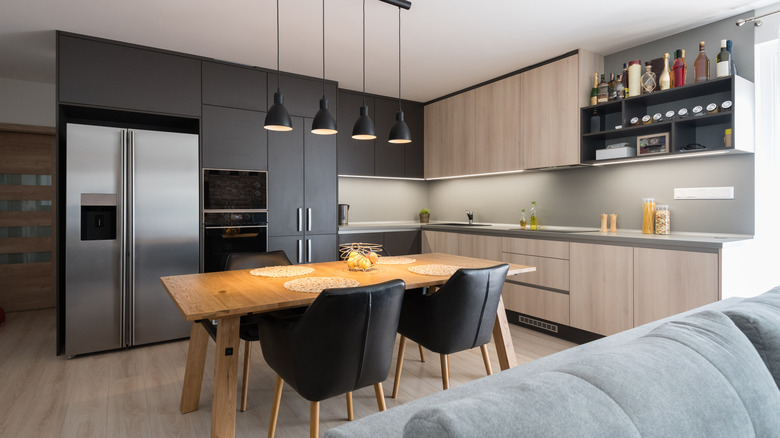 Ventura/Shutterstock
While some may want a table that perfectly matches their countertops, this doesn't have to be the case. In fact, choosing a table that brings in a complementary but different material, such as warm wood in a room with gray and beige cabinets, could provide interest. 
3. With the island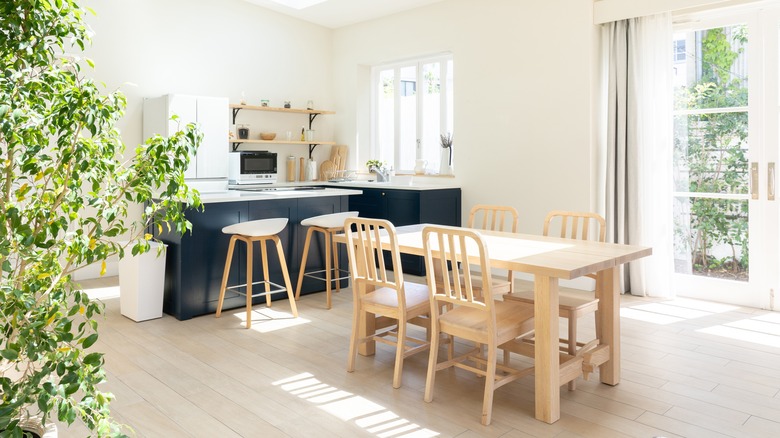 polkadot_photo/Shutterstock
As stated, you don't have to choose between an island or a kitchen table, as long as your space is large enough to accommodate both. 
4. Lots of seating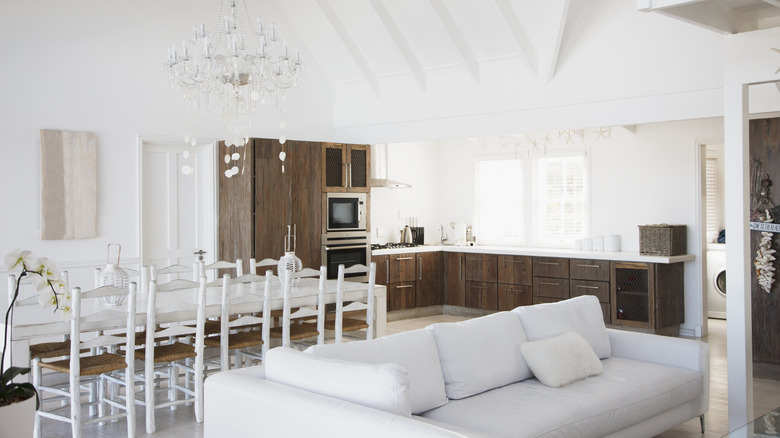 Tom Merton/Getty Images
Those who have large families or often entertain may desire to include a long table with many chairs, which could extend from the kitchen into the dining space. Further, if you want to give your home a clean look, only place the chairs on either side and not on the ends. 
5. Statement seating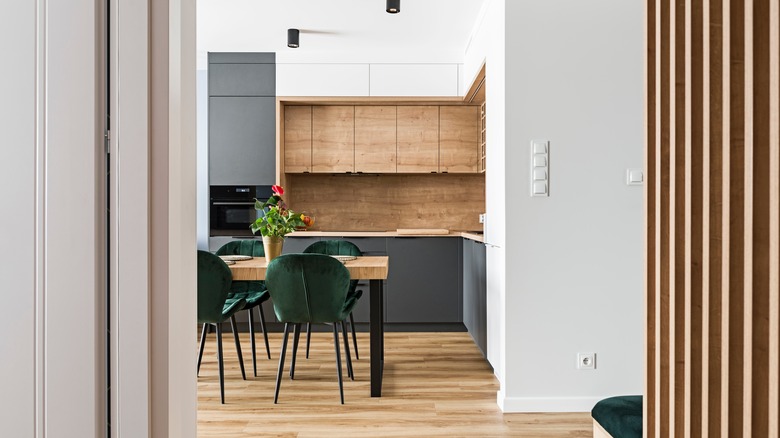 ErFishOn/Shutterstock
To make a statement in your casual kitchen, choose chairs that really pop, like the green velvet ones above. While the rest of the space is neutral, the seating choice really makes the design look unique and thoughtful. 
6. Outdoor kitchen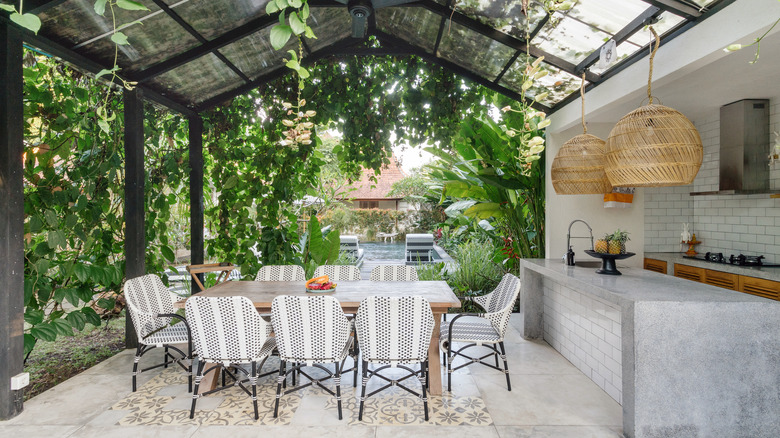 brizmaker/Shutterstock
Eat-in kitchens don't have to be confined to the indoors. If you have an outdoor kitchen, include a large dining table inside it. This could be the perfect place to throw parties and entertain guests. 
7. Modern feel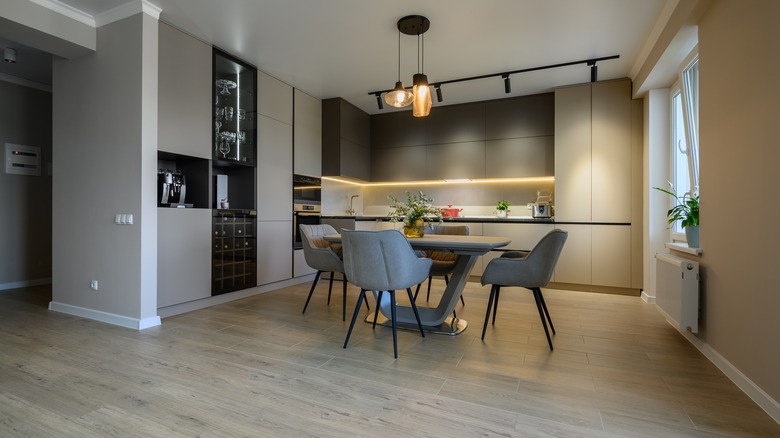 Serghei Starus/Shutterstock
If your home has a modern feel, choose pieces that are neutral but architecturally interesting. For example, the above table has a unique base, and the light fixture adds a contemporary feel as well. 
8. Open floor plan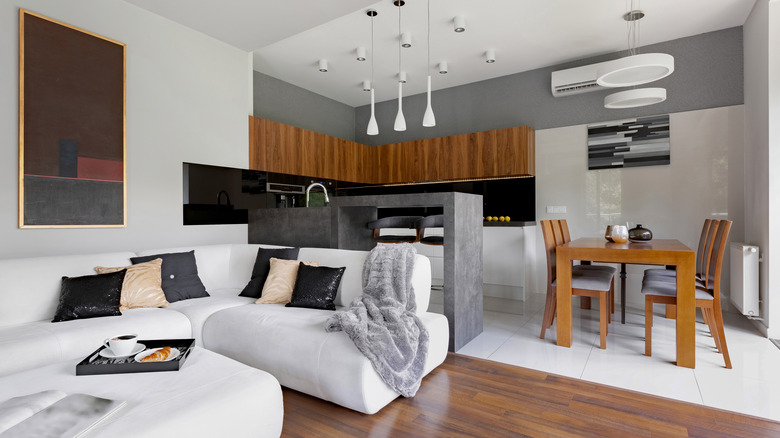 Dariusz Jarzabek/Shutterstock
Those who have a completely open floor plan could easily place their eating area next to the kitchen to create a more social dining experience. This layout usually makes the most sense, as many people don't want to carry their food into another room before meals. 
9. Round-edged table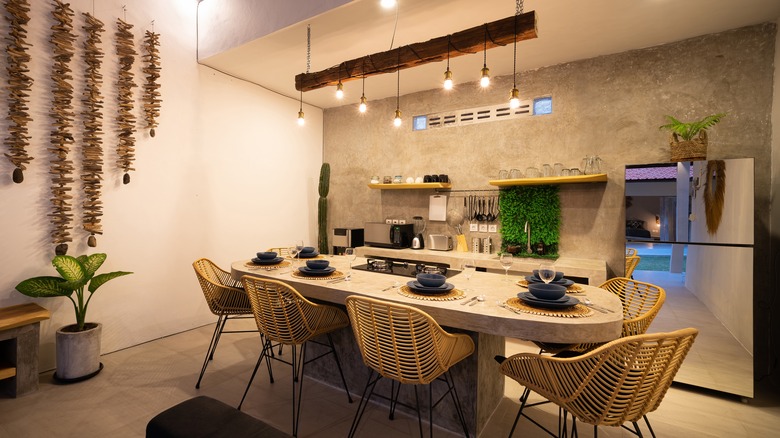 Sanatana/Shutterstock
To give your room a softer and more welcoming feel, choose a table with rounded edges and chairs with organic lines. This could also be further emphasized by using natural elements like plants and wood. 
10. Mixing white with wood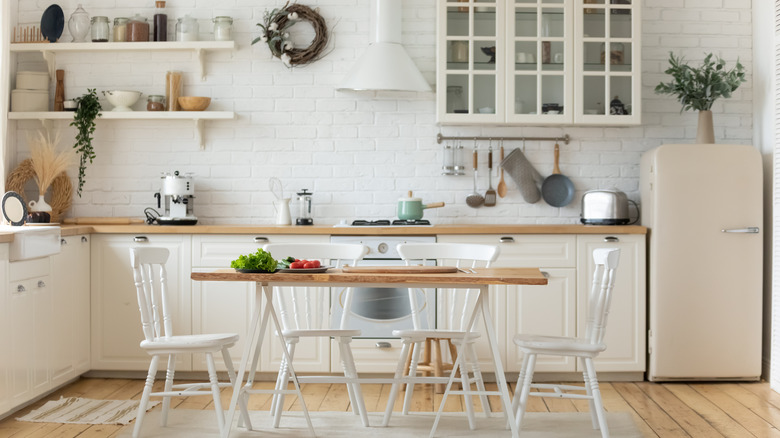 fizkes/Shutterstock
A classic choice is warm wood with bright white, and this pairing looks especially great in the kitchen. If you're stumped on which colors to choose, consider this simple but elegant choice. 
11. Lots of empty space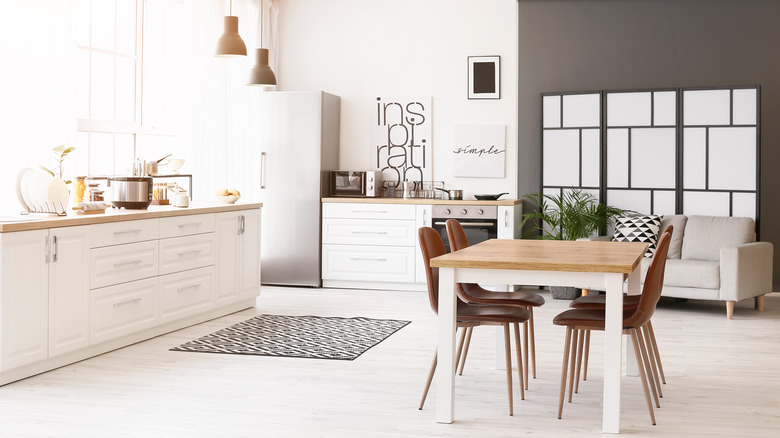 Pixel-Shot/Shutterstock
If you have a small family, choosing a table that seats a limited number of people, even if you have lots of floor space, will make your kitchen feel more open and airy. While the above space could easily accommodate a larger table or an island, these elements could also make the room feel more cramped. 
12. Skinny, tall table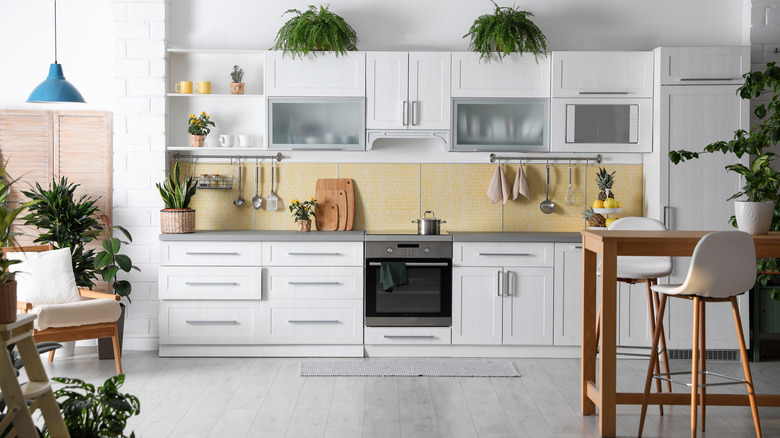 New Africa/Shutterstock
To provide an extra casual eating arrangement, choose to include a high, skinny table with tall stools. This could also save space in a tiny kitchen, as you could place one side of the table against the wall. 
13. Two benches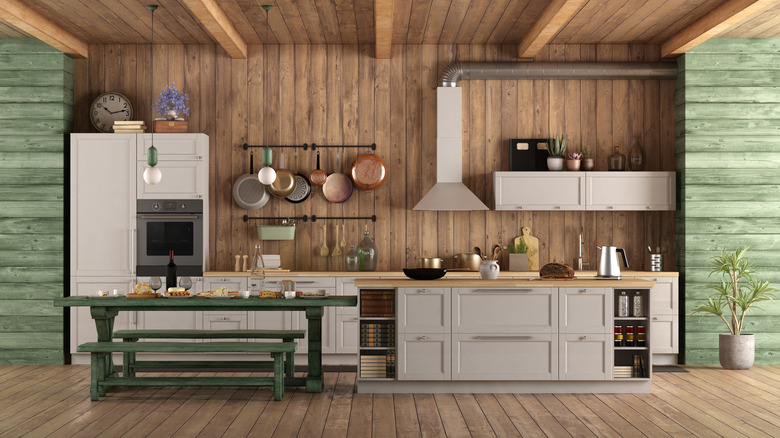 Archideaphoto/Getty Images
Another way to save floor space is by choosing to use benches instead of chairs or stools. Because the benches can be fully pushed underneath the table, they allow for a larger walkway. 
14. Separating living spaces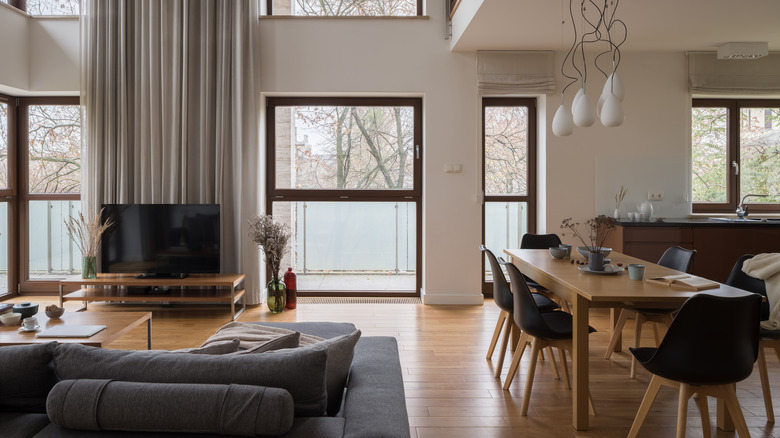 Dariusz Jarzabek/Shutterstock
A long table, when placed between two rooms in an open floor space, will separate these areas from one another. This is typically done between the living room and the kitchen. 
15. In the island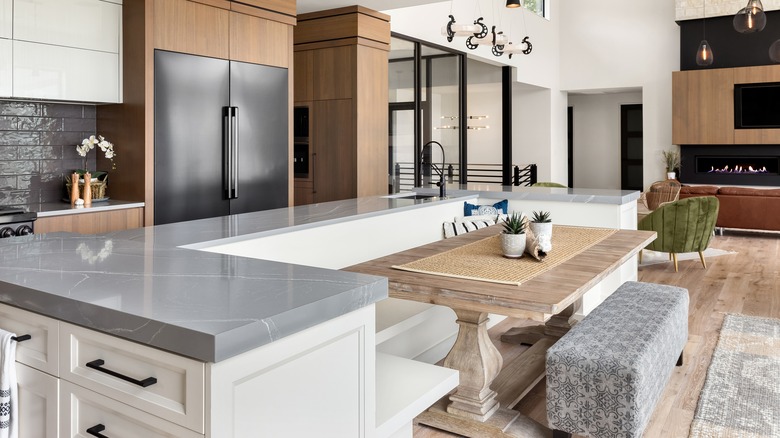 Justin_Krug/Shutterstock
A unique way to include a table in your kitchen is by literally placing it inside your island, with built-in seating on one side and a bench on the other. This will contribute to an extra cozy and cohesive eating arrangement. 
16. Two options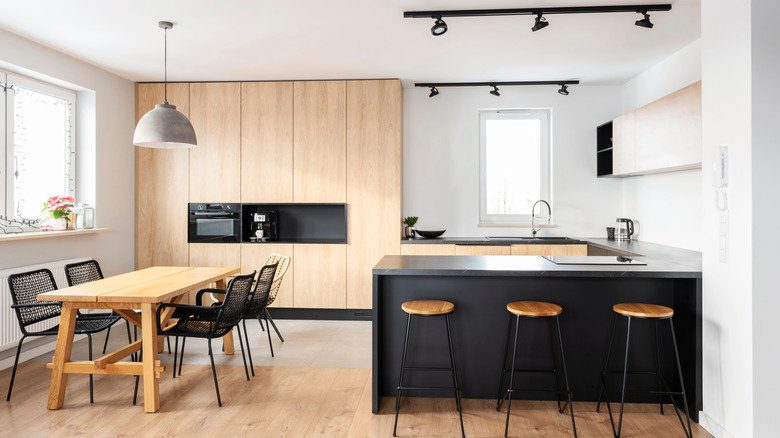 liloon/Shutterstock
Even if your kitchen already has island seating, adding a table could still be in your best interest. Not only will this accommodate more people but it will also allow you to choose between eating quickly at the bar and taking your time at the table. 
17. Next to the island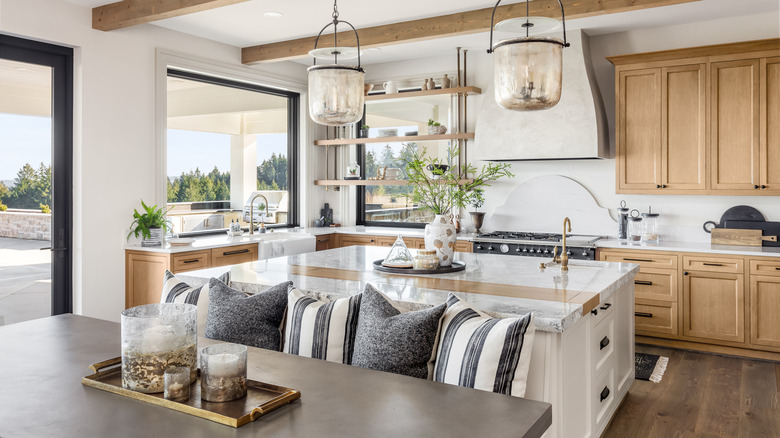 Justin_Krug/Shutterstock
Some kitchens essentially have two separate islands separated by a bench, where one is used to prepare the food and the other is used for eating. This can really blur the line between your kitchen and your dining area. 
18. Connected to the island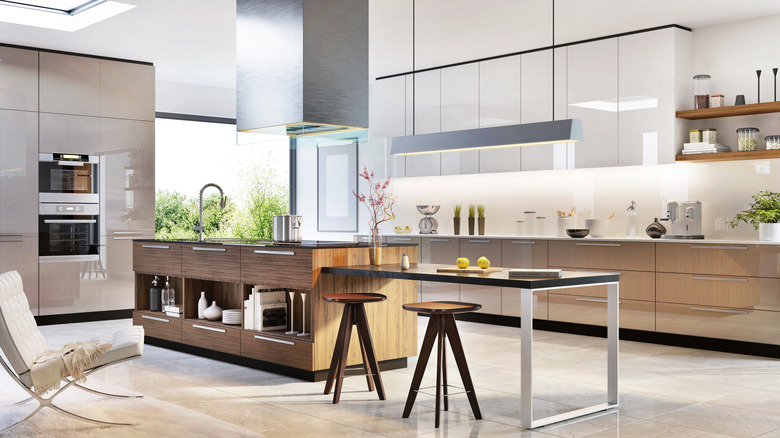 Sl-f/Getty Images
Similarly, here's another example of how you could connect an island to a table. The difference between seating at the island versus something like the above image is that there are dedicated spaces for both the preparation and the eating of the meal. 
19. Continued cabinets
Justin_Krug/Shutterstock
Continuing your kitchen cabinets into your dining space can make these two rooms seamlessly flow together, which will allow for a more social and casual atmosphere. The best place to install this may be along the back wall of your kitchen and dining area. 
20. Turn the island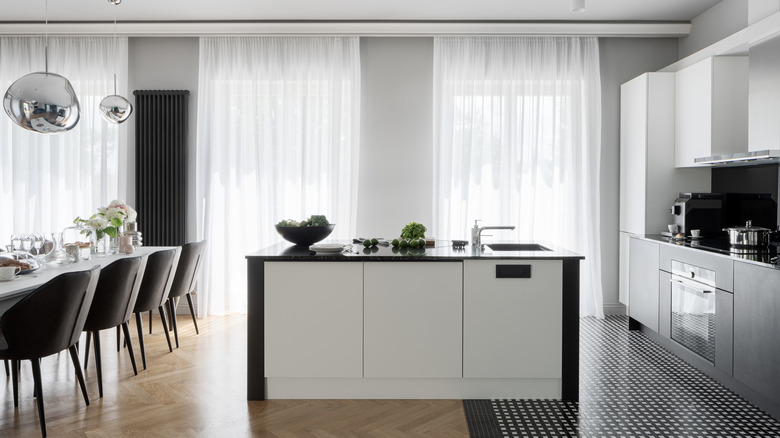 Dariusz Jarzabek/Shutterstock
If you look at the flooring in the above image, you can see that the island is in both the kitchen and the dining area. Turning your island perpendicular to the kitchen counters will emphasize how your eating and cooking spaces have been combined.