What Is Anti-Mold Primer?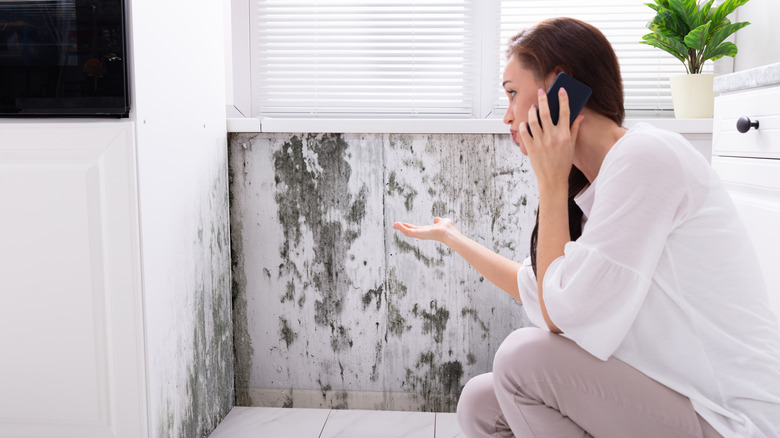 Andrey_Popov/Shutterstock
We may receive a commission on purchases made from links.
During a renovation, you'll likely come across mold in different rooms throughout your home. It's a pesky type of fungi that continuously appears in the same locations if handled incorrectly. According to the CDC, mold tends to grow in areas with plenty of moisture it can fester in. You'll likely spot it on the roof, windows, carpets, and furniture upholstery. And if not handled quickly, it can cause those sensitive to fungus to experience various symptoms, such as a stuffy nose, wheezing, and itchy eyes or skin.
For this reason, home improvement stores have various products available to help homeowners combat different types of mold. For example, anti-mold primer is currently available on the market and is something we believe all families will find useful. When it comes to painting interior or exterior walls, there is a list of steps to follow to ensure the end results are stunning. And in certain situations, anti-mold primer can be a lifesaver. Never heard of it? We'll give you a rundown of all you need to know.
How it works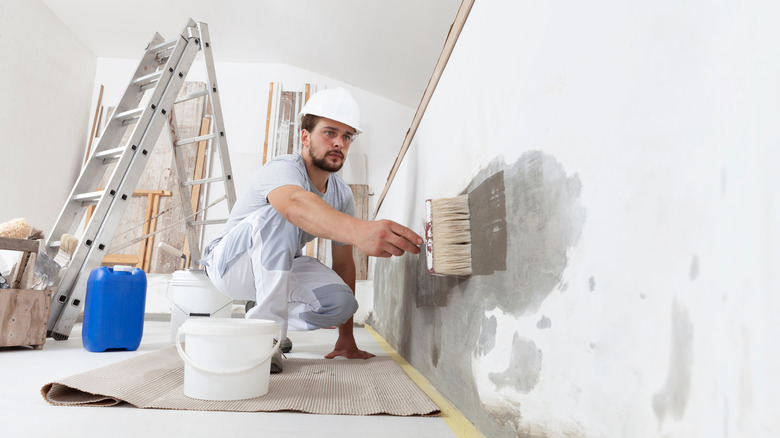 amedeoemaja/Shutterstock
If you've got a wall with mold growing on the surface, your first instinct may not be to paint. However, slathering on a coat of mold-killing primer may be the solution you've been looking for. According to Rust-Oleum, by painting on a coat of this specialized primer, you can eliminate all the mold, mildew, moss, and fungi it comes in contact with. Not only does it get rid of your fungal mess, but it also prevents it from growing back. However, it is only meant to be used on non-porous interior surfaces and exterior walls.
This water-based product can also completely cover up fungal stains, providing homeowners with a clear surface to apply a fresh new coat of paint. This quality is especially important to prevent mold from bleeding through the paint and ruining your entire renovation. Rust-Oleum also notes that it's not necessary to thoroughly clean all the mold or mildew before applying the primer, but it is important to repair any moisture damage beforehand.
What people are saying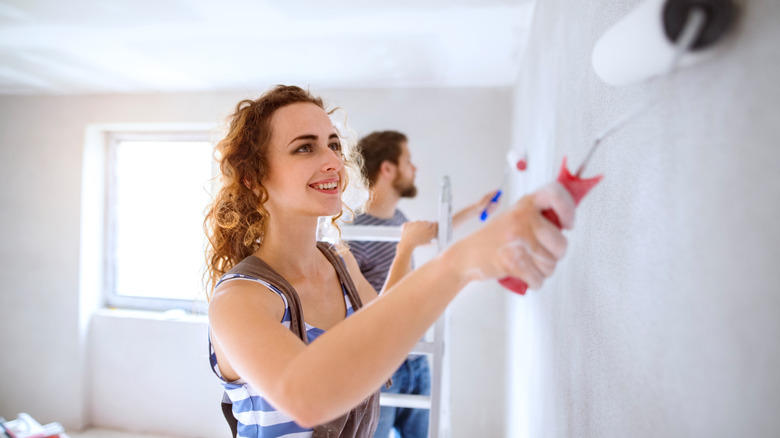 Halfpoint/Getty Images
If you're still wary about using an anti-mold primer, there are hundreds of reviews that validate its mold-eliminating abilities. For example, Zinsser's Mold Killing Interior/Exterior Primer currently has a 4.6-star rating out of 539 reviews, per Home Depot. Many of the reviewers left comments detailing their satisfaction. "After a week of applying this on the wall I can't see any sign of mildew coming back," Gaby2020 said. Others, such as WC Painter, were happy with this product's ability to work well in a bathroom with poor ventilation. "So far, it's doing a great job," the reviewer said. 
On other sites, the reviews are very similar. The Kilz Mold & Mildew Primer Sealer & Stain Blocker currently has a 4.6-star rating out of 119 reviews, per Amazon. Similar to the previous product, it seems like this product did not disappoint. "I had a smelly stain in my subfloor in one corner," Mark said. "I used this to paint over it, and the odor is gone."