The Most Walkable Neighborhood In Chicago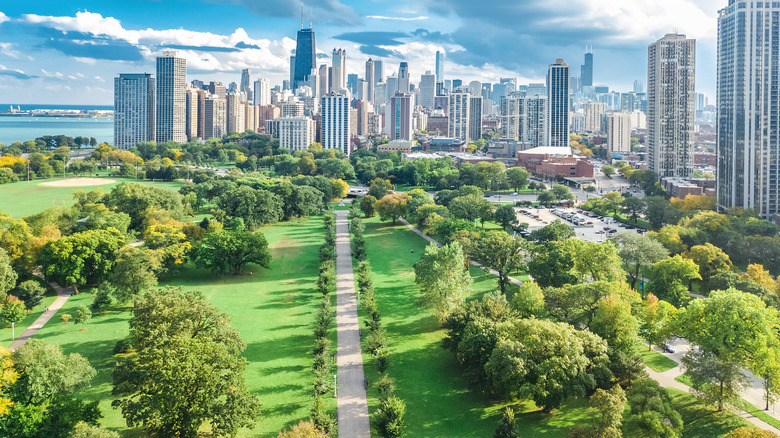 JaySi/Shutterstock
From the Magnificent Mile and the Loop in downtown Chicago to the village life of Oak Park to the art scene of River North, to say there's a lot to see in the Windy City is an understatement. This massive city is a wonder to explore, and what's more, you can do so easily on foot.
Chicago's 77 neighborhoods (and counting; 78 Chicago is on its way) weave together the tapestry of a city that's both towering and ultra-modern, but also dedicated to keeping things rooted to the earth. Chicago's motto, after all, is "urbs in horto," Latin for "city in a garden," a vision Chicago's founders had in 1837 and one the city has realized.
Walking Chicago affords you the opportunity to discover the city's history, innovation, and beauty at your own pace. Each neighborhood has something to offer, from world-class dining to eateries only the locals know about to historic landmarks and famed architectural masterpieces that draw tens of thousands each year (Note: The Frank Lloyd Wright Home and Studio is located right in Oak Park).
To get started exploring the "Chicago 77" on foot, though, we have one neighborhood in mind. This highly walkable neighborhood is located in the West Town area of Chicago, northwest of the Loop, and is known for its eclectic vibe.
Wicker Park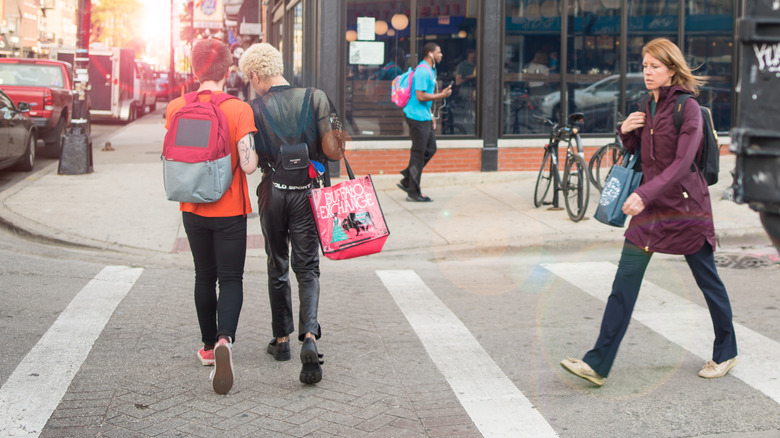 Page Light Studios/Shutterstock
With a Walk Score of 96 out of 100, Wicker Park in Chicago's West Town is, in our opinion, the most walkable neighborhood in Chicago. While Chicago, overall, is very walkable, and is in fact known for its walkability — along with the likes of San Francisco, New York, and Boston — we know you have to begin your exploration of the Second City somewhere, and we feel Wicker Park offers that great starting point.
Chicago's official tourism website, Choose Chicago, calls Wicker Park the "hippest and most eclectic" of Chicago's 77 neighborhoods, thanks to its unique retail shops, chic restaurants, hip coffee shops, and bars (like Emporium Wicker Park, an arcade bar). There's also, however, Wicker Park's own 4.03-acre urban park of the same name, which offers greenery and respite.
Compass, meanwhile, also categorizes Wicker Park as "trendy," "artsy," and "eclectic." Walking around this neighborhood is by far the best way to soak in its atmosphere, and that's what you'll find the neighborhood's some 23,700 residents (via Niche) doing so on a daily basis.
As PODS notes, those who move to Wicker Park don't need a car to navigate the neighborhood or the city of Chicago itself. Beyond walking, you could bike or take the subway to get around. In fact, public transportation is key to Chicago life, with the Chicago Transit Authority operating the second-largest public transit system in the nation. In other words, most residents don't rely on cars. (To get to Wicker Park's L-train stop, take a walk to the Damen Blue Line).