Are New Construction Homes Always A More Expensive Option?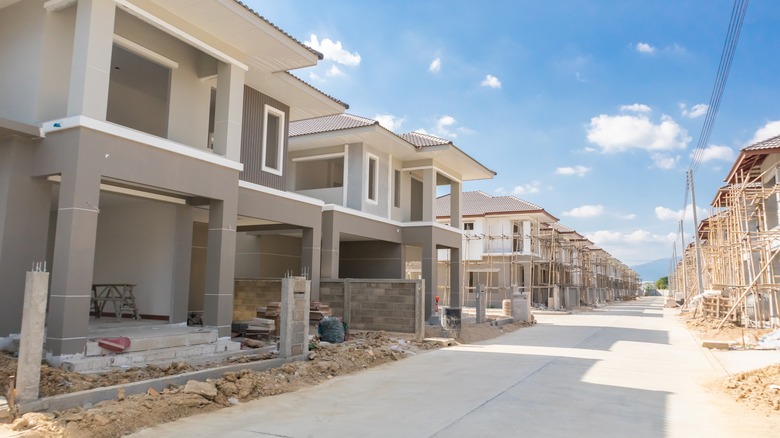 Kwangmoozaa/Shutterstock
Homebuyers in the market for a new home may be searching through a huge volume of listings. Finding the perfect space to call home can be incredibly challenging: You'll first need to identify an area that serves your needs, then build out a list of features the house must incorporate. There's a lot that can make a property the wrong one, and it can seem like an uphill battle to locate and then succeed in acquiring the right home.
This is perhaps where new build properties come into play. K. Hovnanian Companies notes that new construction homes often have better energy efficiency ratings than older properties, they are designed with the latest trending styles in mind, and are built within a community of other newly built homes that will likely be inhabited by like-minded individuals. New construction properties sound like a great deal, but many buyers worry that they will cost more, reducing the buying power that can be wielded while searching the market for a new house. Realtor reports that a newly constructed home is typically going to cost a bit more than an older home, but this isn't the whole story when it comes to understanding the costs of ownership.
New builds are typically more expensive upfront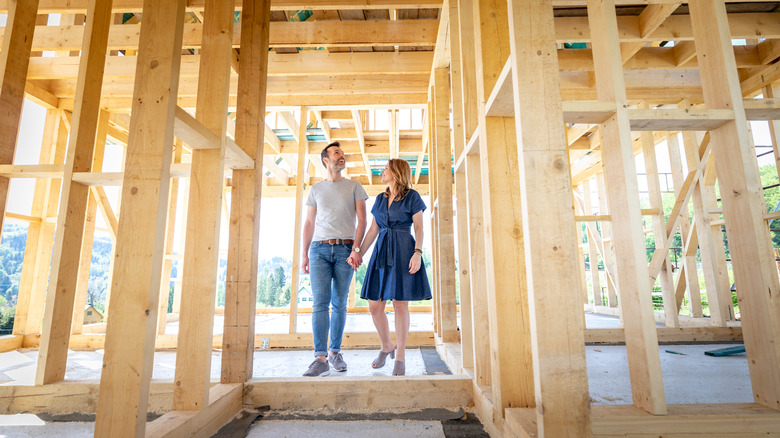 Leszek Glasner/Shutterstock
It's undeniable that a newly built property is typically going to cost more. But the sale price is only one aspect of the opportunity. Realtor discussed the tradeoffs that exist within this decision with a home builder at the start of 2023. Stephen Haines, the president of Artisan Built Communities, notes that new construction is often a great opportunity for homebuyers, even if the asking price is somewhat higher. "It's true, on the average, that new homes of similar sizes historically outprice pre-owned by about 16%," says Haines. "But since homes don't possess a clear odometer on them, like one would use to evaluate a used car, buyers need to consider all the costs of purchasing to understand their total cost of ownership."
It's also worth noting that mortgage lenders may be able to move faster on a new construction than a more traditional real estate purchase as a result of batch title searches and favorable relationships between builders and lenders in your area. You may find the financials of the transaction to be a breeze, which is entirely uncommon for home buyers looking in the existing market for a new property. You're paying a heightened price for a home but the premium covers a number of bases that might add to the total cost of a regular purchase, winding up as a wash.
A range of factors play a role in long term financial calculations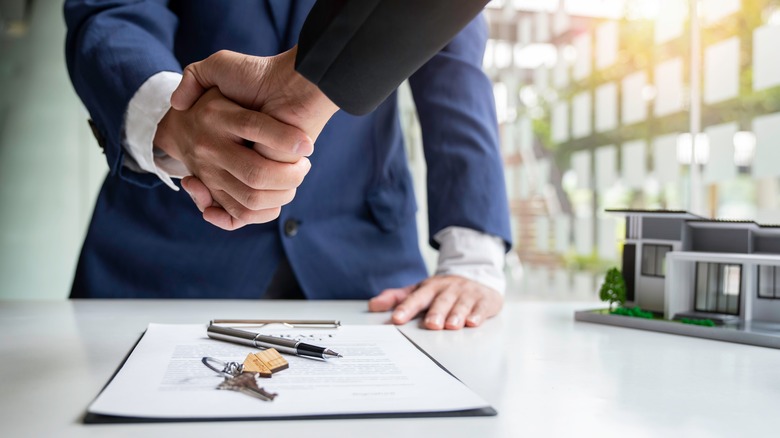 CrizzyStudio/Shutterstock
It's clear that the purchase price isn't the only factor to consider when thinking about buying a new construction home. These communities are often placed near newly built retail and entertainment amenities, and they often cater to families, so school zoning is also a crucial factor. 
Still, when focusing on just the financial aspects of the purchase, a newly built home brings a number of benefits to bear. A new property is one that includes all new amenities, appliances, and construction materials. Like anything that might fit within your home, there is a natural lifespan that comes into play. For instance, the roof on any home needs replacing after roughly 20 years (depending on the construction material and your area's luck with severe weather). The closer a home gets to a major refit of a costly appliance, feature, or other essential, the lower the buying price will necessarily become. With a new build, you're paying for luxurious amenities, but also for the peace of mind of knowing that your home won't need any structural repairs for a long time. 
"Depending on the age of the pre-owned homes, one should understand the remaining life expectancy of these components," says Stephen Haines (via Realtor). "One must look closer to total cost of ownership to understand the truth."