The One Must-Have Feature Your Outdoor Space Needs, According To An Expert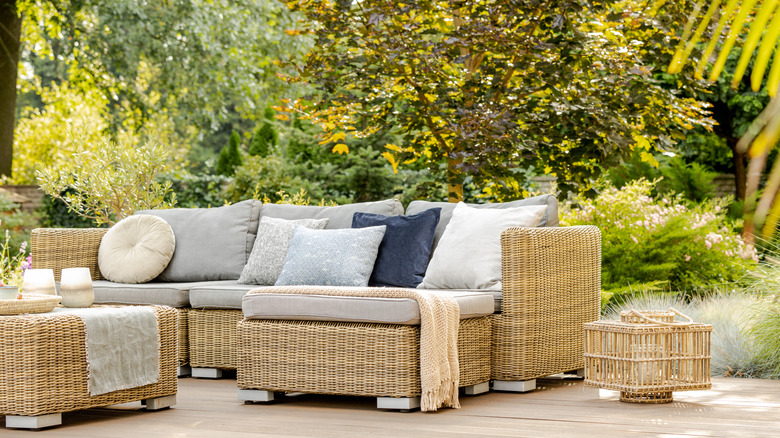 Ground Picture/Shutterstock
Entertaining friends and family on a sunny day, roasting marshmallows in the crisp night air... there are many activities that make outside the best place to be. To get the most out of a backyard, creating an extension of your living space is ideal. By adding a deck or patio, you increase the usable square footage of your home, which may boast about an 83% return on your investment when it comes time to sell, according to Lawn Starter. But to truly enjoy your outdoor area, you can't stop at simply building that space.
No one wants to stand around an empty patio, especially if it's an area where you want friends and family to gather. In an exclusive interview with House Digest, Chad Chapman, owner of Brookfield Lawn Care & Landscaping, says there's one feature that all homeowners should add to their outdoor space. Luckily, this one necessity is easy to incorporate and it won't require completing a huge renovation or spending a ton of money. Furthermore, there's a design that will work in any sized backyard. Simply put, an outdoor seating area is a must-have, no matter how you're planning to use your deck.
Benefits of an outdoor seating area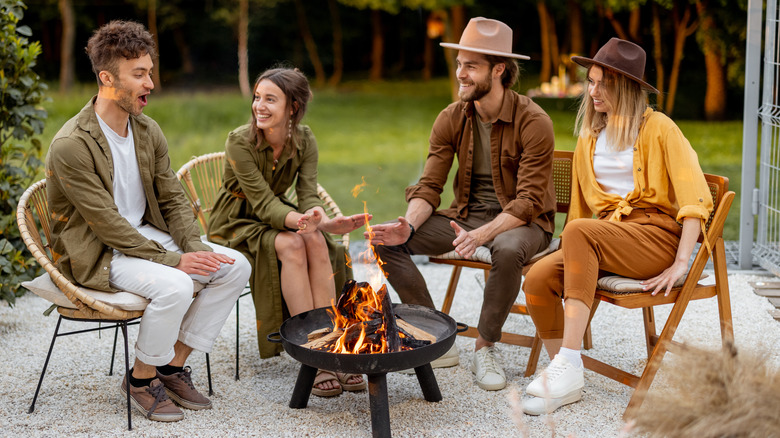 RossHelen/Shutterstock
Any backyard can be improved with the addition of an outdoor seating area. "Whether you're hosting a summer barbecue or a cozy bonfire, having an inviting and stylish seating area provides your guests with the perfect spot to sit, relax, and enjoy the evening," says Chad Chapman. As you create your outdoor living space, you'll want to consider how you plan to use it. "With the right furniture, you can create different areas in your landscape to accommodate different needs," explains Chapman. "For example, a small sitting area with benches can be perfect for entertaining and conversing while a larger one with lounge chairs can be used for lounging in the sun or reading a book."
And if you're thinking about renovations to make before selling a home, Chapman points out that cozying up an outdoor space might be an area you want to focus on. "Since it creates additional living space," he says, "potential buyers are more likely to be interested in your property if they know they can enjoy the outdoors with comfortable furniture."
How to create an outdoor seating area in your yard
Klem Mitch/Shutterstock
Creating an outdoor seating area is a customized project, so you can make it work in most backyards. "For small areas, a conversation set may be best, whereas for larger spaces, an outdoor sofa or sectional can create multiple seating options," Chad Chapman suggests. "If you're looking to entertain, opt for furniture with space for guests and a place to set food and drinks." Outdoor sofas, chaises, armchairs, and poufs will provide a variety of seating options. Side tables and coffee tables provide a flat surface for food and drinks.
When selecting furniture, you also should consider the look and material. "If you want a classic look, wicker furniture or wrought iron pieces may be best," Chapman says. "For a more modern feel, look for sleek metal designs or colorful accents. Opt for furniture that is comfortable and weather-resistant." Durable materials that stand up to the elements ensure that you'll be able to enjoy your outdoor space for years to come.
"Finally, create a theme within your seating area to tie the design together," Chapman explains. "This can be done through the use of outdoor rugs, pillows, and other decorative elements such as planters or light fixtures." Just as they would indoors, the right details will help make the outdoors feel like home.