The TikTok Hack That Will Make Cleaning Your Mirrors So Much Easier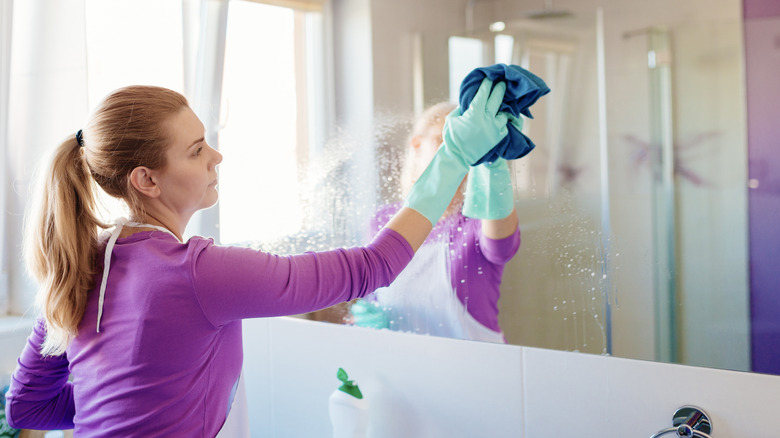 Djedzura/Getty Images
There's no doubt that TikTok has made our home lives easier in the cleaning department, from finding out a brilliant hack for sweeping floors to a tip that keeps our garbage cans from smelling. Beyond discovering new ways to clean your floors and garbage cans via the popular app, another area in your home that gets dirty quickly is your windows and mirrors — and TikTok has the tips to get them sparkly once again. 
If you find them looking dirty or foggy, Minneapolis-based company Custom Glass and Screen says build-up or residue could be the culprit; however, they shared that most glass cleaners can do the trick to get them shining again. As far as how often you should clean them can vary. Mirrors Direct suggests giving your mirrors and reflective surfaces a scrub at least once a week or every two weeks, which they say takes up to 20 minutes. Thankfully, a brilliant TikTok trick will help you clean your mirrors and windows in just minutes for a streak-free shine you can be proud to show off to your family and visitors. Keep scrolling to find out what it is!
Get streak-free mirrors in your home with this trick
Procreators/Shutterstock
TikTok user @maizimmy demonstrated a smart way to ensure your mirrors look beautiful with a hack you'll want to make a note of. The influencer shared with more than 250,000 followers, saying, "This window and mirror cleaning hack is the best! All you need is a Swiffer mop, the glass cleaner of your choice, and a microfiber polishing cloth."
As for the steps, make sure that your counter is free from any items, spray the entire mirror with the glass cleaner, connect the microfiber cloth to the Swiffer mop and get to work cleaning. Then move your mop up and down until there are absolutely no streaks. It's no wonder why this hack works so well. If you live in a city highrise, it's precisely the same way the pros do it. Reviewers raved in the comments, with SayItScents sharing, "I've been using my Swiffer wrong the whole time." Another user, Bailey, said, "WHAT?!? I've been climbing on the counter for how many years?!?"
If you're out of glass cleaner, use this product instead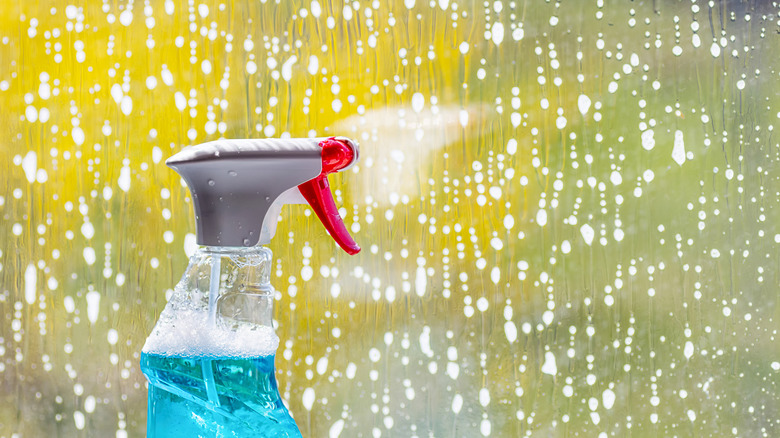 Elena_Gr/Shutterstock
While TikTok user @maizimmy used a well-known foam glass cleaner from Sprayway and shared that any cleaning agent would work, user @myaa.nic says you don't have to use traditional glass cleaner. She recommends Dawn dish soap for your windows or mirrors instead, which is a smart alternative if you are out of glass cleaner and in a pinch to clean up, especially before guests arrive. 
She simply filled a sponge with an attached soap dispenser — you likely already have one in your kitchen — and slathered her mirrors completely with the soap before getting a squeegee to wipe away dirt and grime from the surface for a streak-free shine. This trick would also work well using your Swiffer mop! Whether you're cleaning your mirror in the bathroom or the windows throughout your home, these TikTok hacks will have your house shining brightly in no time.