What Is The Right Size For Your Bathroom Mirror?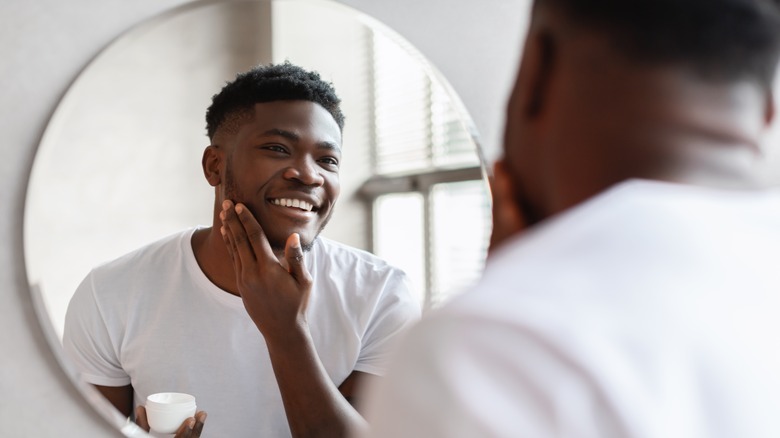 Prostock-studio/Shutterstock
During a new bathroom installation or renovation, you might be wondering how to pick the ideal sizes for everything from your sink and vanity to the mirror you hang. While it comes down to personal choice in the end, there are some helpful tips and tricks to use when picking out these important elements. Mirrors actually offer a variety of benefits to your powder room, according to Modern Bathroom, including bringing in more light, creating visual interest, and brightening up otherwise flat areas.
Choosing what size to implement can be tricky, though. Small mirrors can look great if you're going for minimalistic or simple designs, but they can also make it difficult for getting ready. Larger mirrors definitely add dimension and drama, but using one that is too big could throw off the proportions of the room. So how do you decide what the right size is for your bathroom? 
The measuring rule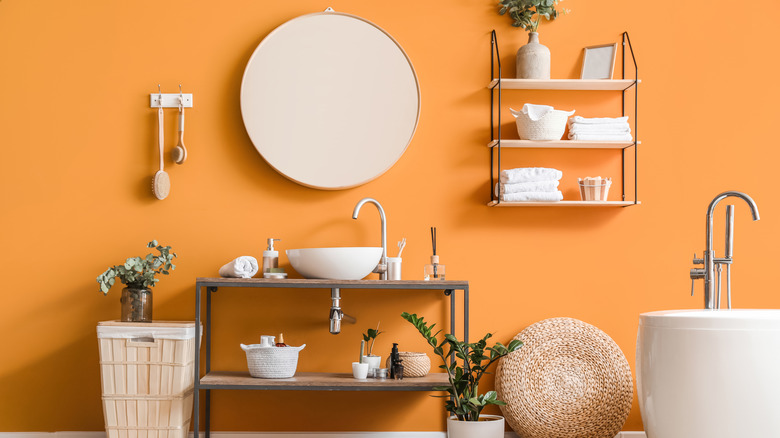 Pixel-Shot/Shutterstock
One of the easiest ways to determine what mirror size is best for your washroom is to start by measuring your vanity and countertop. This piece will serve as a determining factor for everything else around it because the counter is one of the main focal points in the bathroom. Depending on how wide this surface is, you can then use it as a guiding tool for your mirror.
Once your countertop is set, the best practice, according to Living Luxury Direct, is to find a mirror that is between 1 and 2 inches shorter than the vanity. This provides the room with scale and dimension, making everything appear more palatable and engaging. This rule isn't the final say, however, and some spaces look good with a mirror that measures the same distance across as the length of the counter. It mainly comes down to personal preference, but this tip provides a jumping-off point for measurements.
Height, size, and other options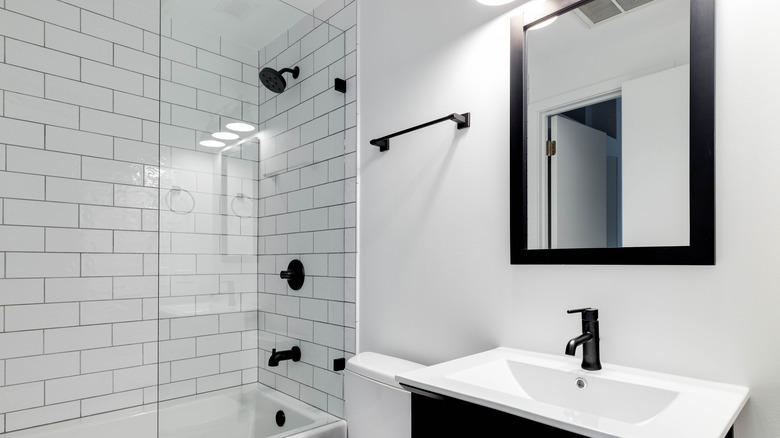 Hendrickson Photography/Shutterstock
If you have twin sinks in the vanity, it may be better to install more than one mirror. Adding two mirrors above a single sink station might throw off the balance, but with two, the same rule as above can be applied. While smaller mirrors can work well in a bathroom, you want to think about what the mirror is going to be used for before committing to one that is too small for use. Half baths can benefit from smaller reflections because they are mainly used for short visits, but full baths will usually require more visual space.
The last thing to think about is the height of your mirror — it shouldn't cut off the top of anyone's reflection. Room Hints recommends hanging it at least 5 to 10 inches above where the countertop sits, so there is plenty of space for taller and shorter people to see themselves. The best spot for a mirror is nestled between the lighting fixture, which is generally placed directly above the sink, too.