Should You Paint Your Dining Room A Dark Or A Light Color? An Expert Weighs In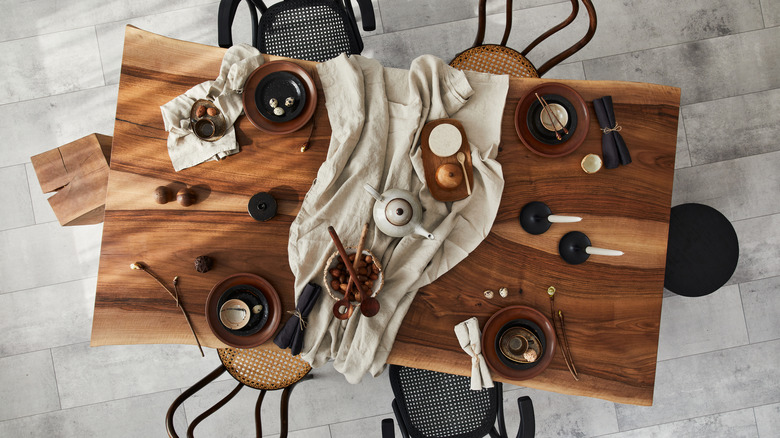 Followtheflow/Shutterstock
If you're thinking about revamping your dining room, one of the foundational elements you'll need to consider is the color of the walls. According to Shoreline Painting & Drywall, different paint colors will provide various impressions in the space. While a lighter tone would make your dining room feel more expansive, a darker shade will make it feel more cozy and sophisticated. It's also important to consider the undertones of the color you choose, as a bright, warm shade will create a high-energy environment, while a cool color will create a more peaceful vibe. When making this decision, some may simply choose the color they most enjoy, but this may not be the right choice.
In an exclusive interview with House Digest, interior designer Kelly Kuehn of Floor360 shared if a light or a dark paint color was better for the dining room. This decision was based on the most popular colors used throughout the interior design world right now.
The colors on trend in 2023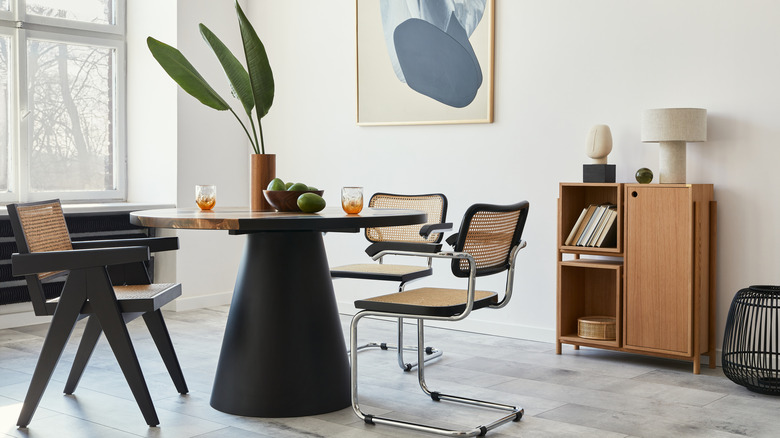 Followtheflow/Shutterstock
According to Kelly Kuehn, "Design trends are moving away from dark colored walls. New trends embrace saturated and bold colors like magenta that make a statement and soft palettes reflective of nature." To create a design that's really on trend, you'll also need to choose the right furniture and decorations. "Consider painting your dining room in light earth tones to contrast with darker furniture, enhance lighting with an elaborate chandelier, and incorporate luxurious touches like an animal pattern rug, fringed window treatments, or detailed woodwork."
If you're stumped on what paint color to use, Kuehn provides some options. For those who want to embrace the trends, "An earthy pink or mauve is now considered part of the neutral palette and growing in use and popularity." Or, to provide a more timeless and neutral base, she suggests, "Rich warm cream works with a traditional or transitional look." Those who desire a relaxed and nature-inspired space could go with blue or green. Kuehn explains, "Light and airy blue or green will compliment a traditional, farmhouse, or Scandinavian style."
How to get the look in your space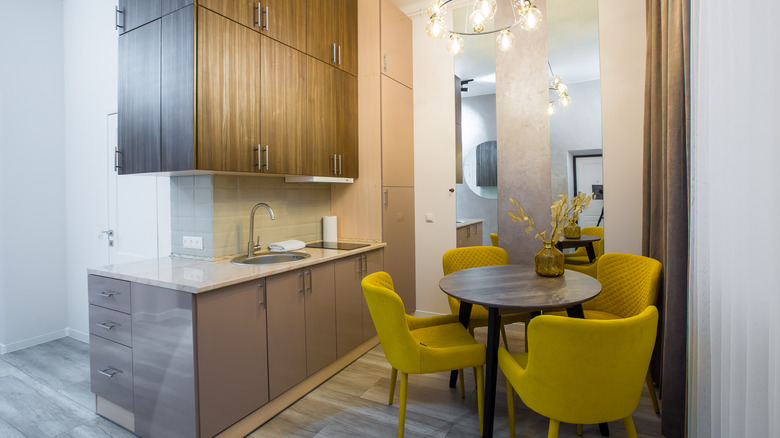 voronaman/Shutterstock
Kelly Kuehn also discusses three ways to create an on-trend dining room, and each of them combines wall paint, furniture, and decorations to create a cohesive space. Kuehn explains the first option by saying, "Create a natural and relaxed aesthetic with dark wood furnishings, light earth-toned walls, and textured natural materials such as linen table runners and jute rugs." In contrast, the second option adds more energy to the dining space using color. "Alternatively, make a statement with vibrant colors. Saturate the walls and ceiling in fuchsia to highlight metallic lighting, flatware and accessory pieces." 
Finally, "If this is too drastic," Kuehn says, "accent a room with bold colors in patterned rugs, upholstery, accessories, and table linens." In this design, vibrant colors are used sparingly and paired with light neutral wall paint, such as warm cream, which will tone down the decorations.