Are Curtains Going Out Of Style In 2023?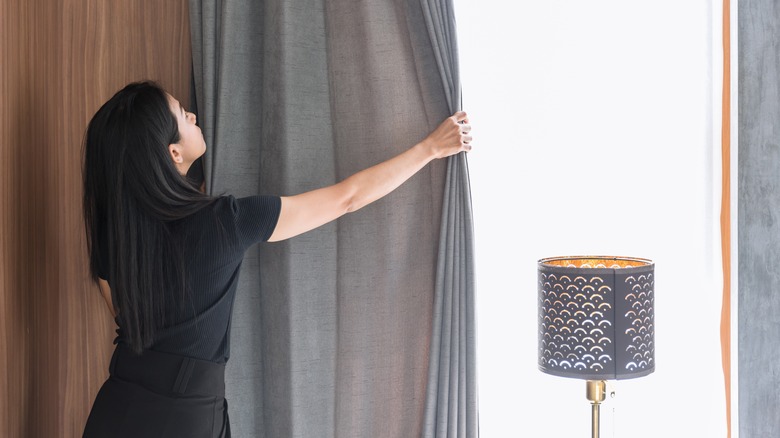 Quality Stock Arts/Shutterstock
When deciding whether or not curtains are in style, many argue that their usefulness proves that they are still widely popular. This includes Home Stratosphere, who says that their number of practical uses, including that they provide privacy, help regulate the temperature in a room, can make a room look larger, and block out noise and natural light, shows that they are still stylish. Some also argue that, since they are one of the cheapest window coverings, they'll always be well-liked.
However, just because something is useful doesn't mean it's still in style, as there are plenty of other window coverings, including shutters, blinds, and shades, that provide the same benefits, and affordability doesn't prove that many still use them, either. For something to be in vogue, the appearance of the feature must still be favored by the public. The question is, is this true for curtains in 2023, or have they been replaced by other window coverings?
Are they still in style?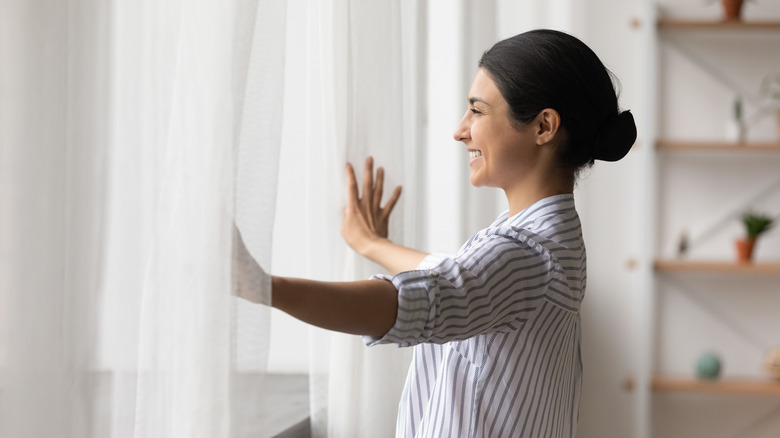 fizkes/Shutterstock
Just about everyone agrees that curtains are still in style, but not just because they are useful and affordable. According to Livingetc, curtains add texture and coziness to a space, something other window coverings like blinds and shutters cannot do. While this doesn't mean that the other types aren't also widely used and loved, it does mean that curtains stand out against the others. Further, because curtains have stood the test of time, as they've been used throughout history, they'll most likely always be a staple in many homes.
At the same time, curtain designs have evolved drastically, and some of the most common looks of the past are no longer popular. Ultimately, while there is some debate, most agree that designs that are too dramatic, formal, or heavy are out — think velvet or silk fabrics, swooping styles, and intricate frills. These have been replaced with more casual and simple appearances that don't draw too much attention.
Trend predictions for 2023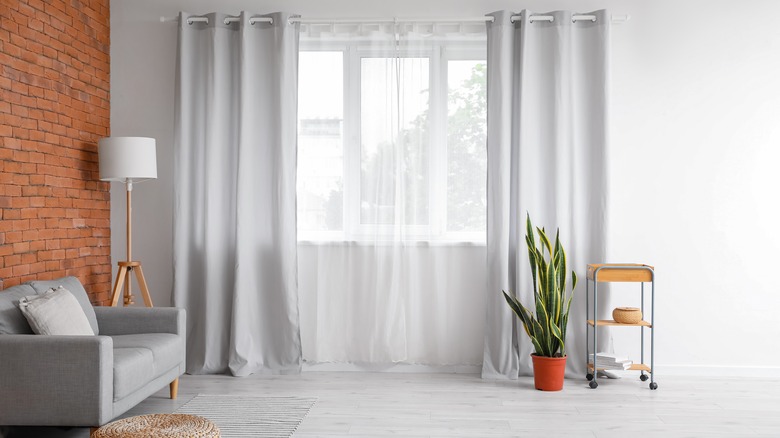 Pixel-Shot/Shutterstock
There are three main ways to categorize the curtain trends we're likely to see in 2023 — by color/pattern, material, and how they're styled. To begin with color, many believe that this year will see a shift from cool tones to warmer ones, such as replacing white with beige or cream, per New Decor Trends. They also believe that light tones like peach, blue-gray, or dusty pink will be widely used. Select Blinds adds that green, black, and gray are also popular, and if there's any pattern, it's very subtle and usually abstract, geometric, or floral.
When it comes to materials, lightweight types are in — think cotton, bamboo, and linen, per Livingetc. This is because these fabrics are not overbearing but allow the light to filter in. Finally, more and more people are hanging their curtains closer to the ceiling, as this makes the window and the room feel larger. Another trend is layering multiple sheer panels, which adds extra texture, per Curtain Library. Many are also choosing curtains that fall right to the floor instead of having them puddle or end at the edge of the window.