The Best Time Of Year To Buy Outdoor Furniture, According To An Expert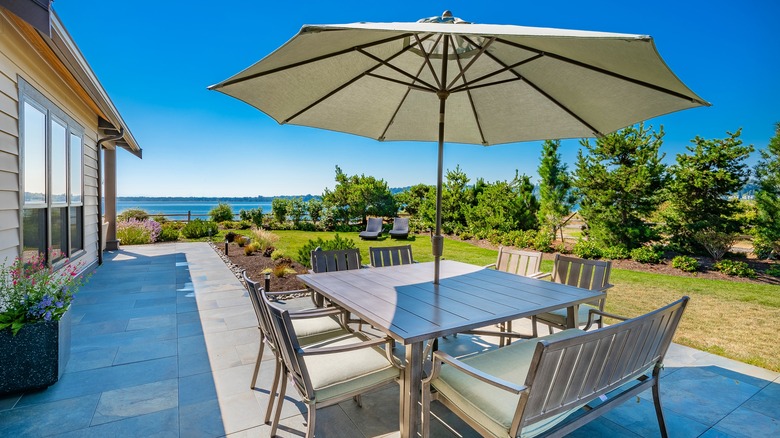 Sheila Say/Shutterstock
Gathering together on an outdoor patio is a wonderful way to create special memories with family and friends. Whether it's hosting a weekend barbecue or winding down on a weeknight with a glass of wine as the sun sets, spending time outdoors is refreshing and relaxing. Outdoor living spaces have seen a rise in popularity over recent years, as homeowners are showing more interest in incorporating these areas into their properties. Furnishing outdoor spaces with comfortable and stylish seating arrangements has become a booming business as a result. In 2020, the global outdoor furniture market had an estimated value of $15.3 billion, and it is estimated to increase to $25.1 billion by 2028, per Yahoo Finance.
As you shop for furniture to decorate your deck or patio, it can be helpful to know when to find the best value for your money. In an exclusive interview with House Digest, Chad Chapman, owner of Brookfield Lawn Care & Landscaping, has some suggestions for exactly when to head to the store. Here's what this expert recommends for anyone on the hunt for a fantastic bargain.
During end of season sales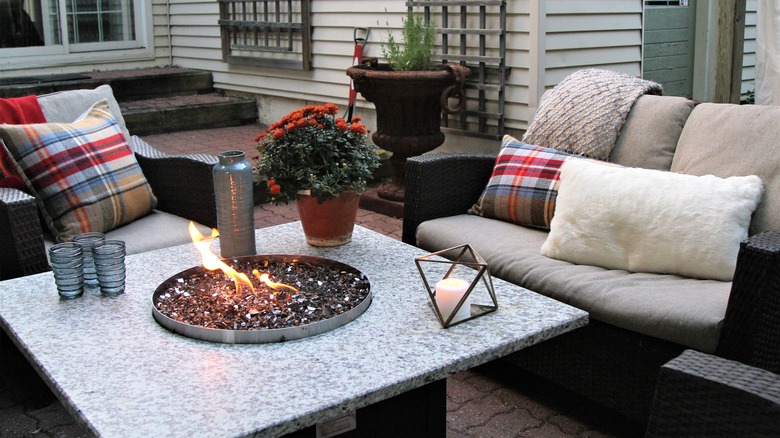 N. Mitchell/Shutterstock
There are various times of the year when discounts become available on outdoor furniture, but Chapman's first suggestion is to look for deals when the weather begins to turn cool. "One of the best times to buy outdoor furniture is during end-of-season sales," he explains. "This can be especially true in areas where there are distinct winters, as retailers tend to put their outdoor furniture on clearance at the end of summer and begin stocking winter items like sleds and snow shovels." Shoppers looking for deals for the patio can really benefit from this period of turnover when the new seasonal items arrive and the summer items have got to go. Motivated retailers may begin offering significant price reductions, Chapman claims. "You can get quality pieces for discounts of up to 50% off or more."
One strategy to consider is taking advantage of these deep discounts by focusing on the opportunity to purchase bigger items. For example, if you love to entertain, a year-end sale is a great time to purchase a sectional sofa or a table with room for plenty of seating. An oversized rug, a storage ottoman, or even a gazebo are examples of larger items that will become much more affordable with a deep discount at the end of the season.  
During holidays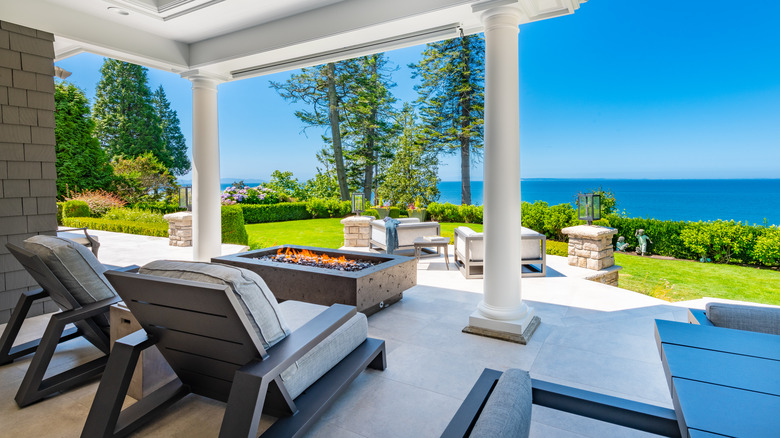 Sheila Say/Shutterstock
Chapman advises that you don't have to wait until the end of summer for specials. "Holidays are also a popular time for retailers to offer discounts on outdoor furniture. Look out for special deals around Memorial Day, Fourth of July, and other popular holidays that generally have discounted prices," he says. The benefit of these sales is that you're able to enjoy the furniture right away instead of storing it the shed until the following season. Chapman recommends paying attention to the specifics of each sale advertised around this time because some stores offer unique incentives for purchases. He says, "It's also a great time to find bundle deals or special promotions like free shipping or gifts with purchase." 
Keep in mind that warm weather specials often begin in early spring or even late winter, so it's not too early to beginning planning that outdoor kitchen renovation project while there's still snow on the ground. Speaking of snow, it's important to look for furniture that is weatherproof and won't deteriorate with changes in the weather. Choosing furniture made of solid materials that can withstand the elements means that your investment will last for many seasons to come.
During year-round specials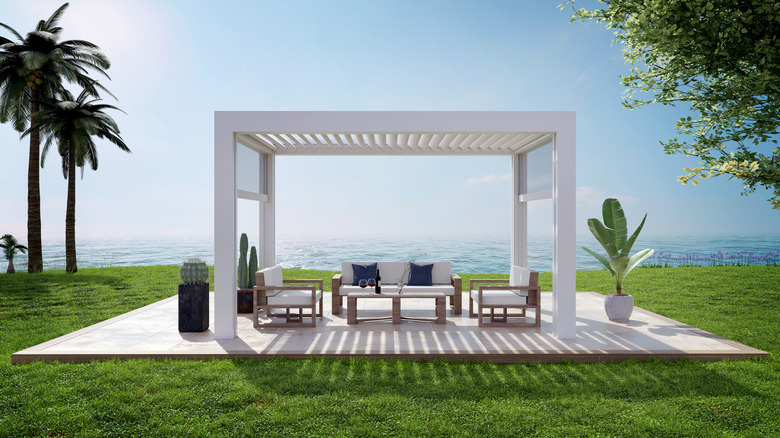 Karelnoppe/Getty Images
Sometimes it may not be possible to benefit from a seasonal sale if you need to furnish your deck or patio right away for an upcoming event. "If you can't wait until holidays or end-of-season sales," notes Chapman, "you can still save money by looking out for year-round specials and promotions." One great tip that he offers is to consider ordering furniture from a company's website and not just from its showroom. "Many online stores offer seasonal discounts throughout the year, such as an additional percentage off already reduced prices or exclusive deals for members only," he mentions. Wayfair, Walmart, home improvement stores, and even Amazon have outdoor furniture available online and offer savings that can really add up and extend your budget. In addition, online inventory is usually much larger than what is available when shopping in person. 
Lastly Chad Chapman adds, "Don't forget about Labor Day weekend sales either — there are always plenty of bargains available then too." Take advantage of this September sale to add a poolside chaise and bar cart to your Labor Day festivities, then enjoy the cooler weather with friends and a drink in your hand. With these tips in mind, a stylish and relaxing backyard patio is a dream that is well within reach.