Are The Towels At Macy's Worth Buying?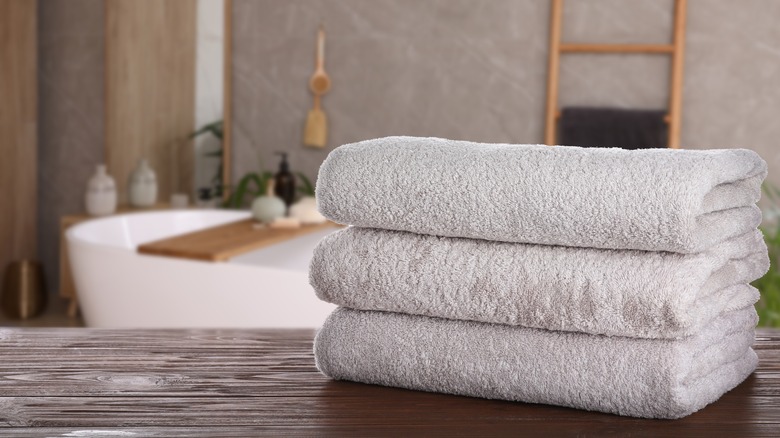 New Africa/Shutterstock
When determining if certain towels are worth buying, it pays to focus on three characteristics (via Real Simple): material, thickness, and weave. Most agree that those made out of 100% cotton are the best types. To determine whether they're thick enough, you'll need to consider your needs: If you want something that's fast drying, a thinner cloth may be better, but thicker ones are usually softer and more absorbent. The weave should also be chosen according to your specific wants: Those who desire a fast-drying product may benefit from a Turkish weave, while terry cloth types are more absorbent and take longer to dry. They also point out that just because something is higher in price doesn't mean it's better quality, as great towels can be purchased at low prices.
Perhaps you're wondering if quality bath towels can be purchased from Macy's, and how much money you'll have to spend to buy new towels for your home. To determine this, we will first look at what others say, then take a close look at two of the most popular products sold by this retailer. 
What others think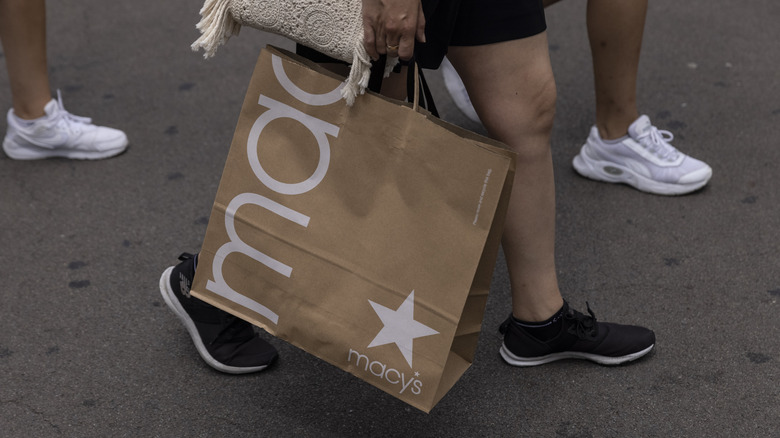 Bloomberg/Getty Images
According to Sara Skirboll of RetailMeNot, towels are one of the best things to purchase from Macy's because the retailer "has a variety of offerings, thread counts and brands on everything you need from sheets and duvets to towels and bath mats." (via Insider). With over 1,500 towel options, Macy's does have quite the selection, and to find exactly what you're looking for, you can sort online results by color, size, brand, price, or fabric. Additionally, their website allows you to read and filter user reviews to determine what people think about a particular product's quality. 
Further, others say that certain towels only sold at Macy's are some of the best on the market. For instance, Reviewed says their Hotel Collection set is warm and luxurious. In addition, Today lauds offerings from the highly-rated Martha Stewart collection due to their appealing look and luxurious feel. These are the two towels we will scrutinize below.
Our determination: Are they worth the money?
The Hotel Collection towels are made of 100% cotton, and with over 2,000 reviews, they have a solid 4.2-star rating. Many agree that they are thick, soft, and absorbent, but they may pill or shed after a wash. This collection has many size options, including a hand size, bath size, washcloth, bath sheet, and a full set. Each bath towel is typically sold for about $16, but you can snag smaller-sized offerings for less. 
Similarly, Martha Stewart Quick–Dry Reversible towels are also made of cotton, and with over 3,500 reviews, they have a 4.3-star rating. They come in hand towels, bath towels, and washcloths; each washcloth costs $10, but all sizes are currently on sale for considerably less. These items feature a terry cloth weave on one side, known for being absorbent, but they're also lightweight to allow them to dry faster. Many agree that they are soft and durable, and some reviewers mentioned that they could also be used to dry dishes in the kitchen. However, they may fray or fade in the wash. Because both these popular options have such great reviews, are made of cotton, and are described as absorbent and of high quality, we believe Macy's towels are worth the money.