35 Backsplash Ideas To Spice Up Your Farmhouse Kitchen
Sheila Say/Shutterstock
When designing your farmhouse kitchen, there are probably certain design elements you'll choose, such as wooden floors, white cabinets or walls, and a large sink. These features are so commonly used in farmhouse designs that they've become staples of this style. However, things are a bit more flexible when it comes to other elements. This is true with lighting, countertops, shelving, and the backsplash. 
While the backsplash may not feel that important, the material and color you choose will make a massive difference in the space. You could always keep it simple by painting the walls above your countertops white, which creates a clean feel and emphasizes the other elements in the room, as demonstrated in the image above. However, perhaps you want to be a bit more daring; maybe you want to draw attention to a certain feature in your kitchen, or perhaps you'd like to include a modern or rustic feel. If so, allow the following 35 images to inspire you.
1. Simple white subway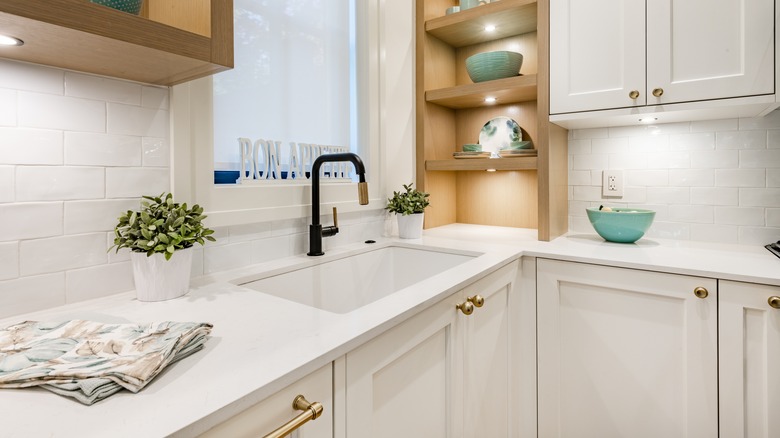 Sheila Say/Shutterstock
Subway tiles are perhaps the most popular backsplash you can find, and they're usually arranged horizontally in a running bond pattern. White ones will match just about any color cabinet or countertop and add subtle interest to an all-white kitchen. 
2. Versatile gray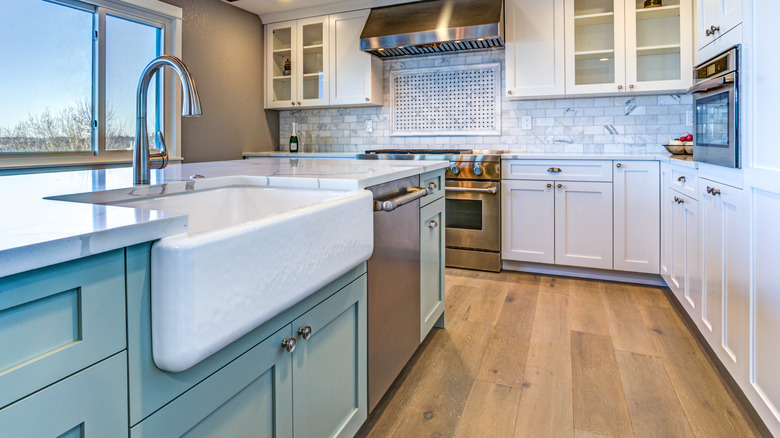 Alabn/Getty Images
To give your space a modern feel, choose gray and white subway tiles. Gray is also very versatile and could work with either neutral or colored cabinets. 
3. Adding warmth to all white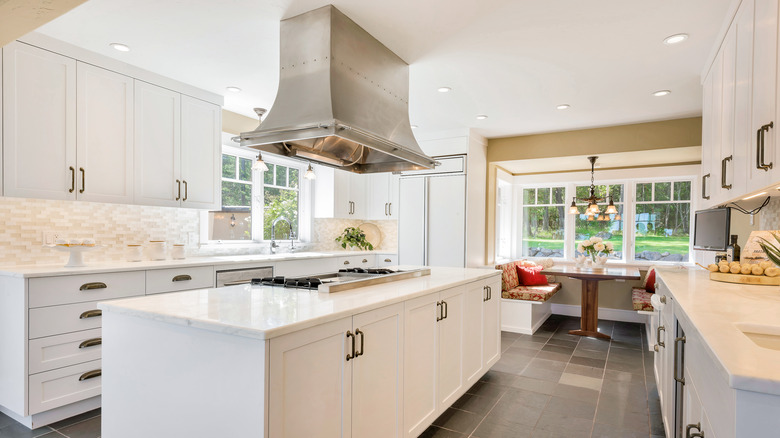 Sheila Say/Shutterstock
If you have an all-white farmhouse kitchen, add warmth by choosing a backsplash with a warm-toned color like cream or beige. 
4. Mixing two tiles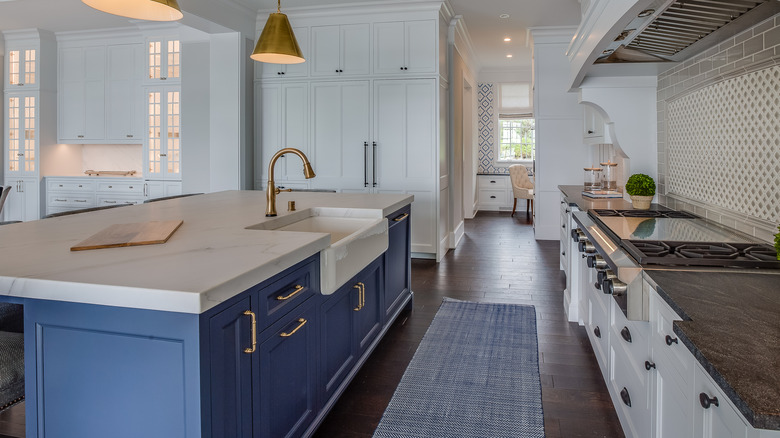 Pc Photography/Getty Images
If you're stuck between two different kinds of tiles, consider using both of them by bordering one with the other. For instance, you could border a small pattern with gray subway tiles. 
5. Herringbone above the stove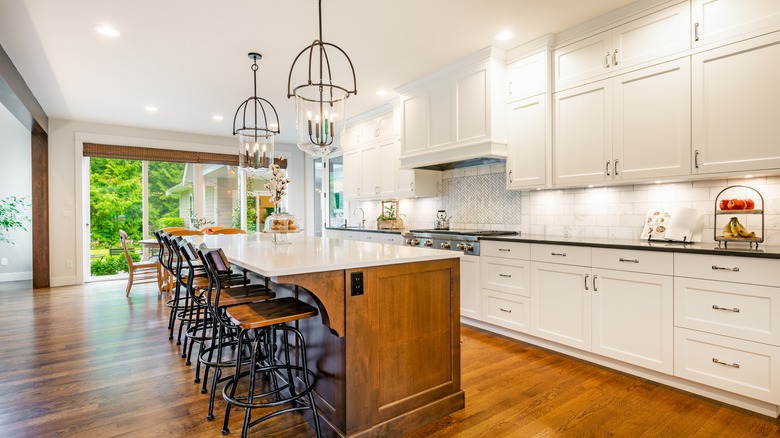 Sheila Say/Shutterstock
Here's another example of how to use two different tiles in one kitchen. These homeowners mostly used simple white subway tiles but added more interest by including a small section of gray herringbone above the stove, which draws attention to this appliance. 
6. Speckled tiles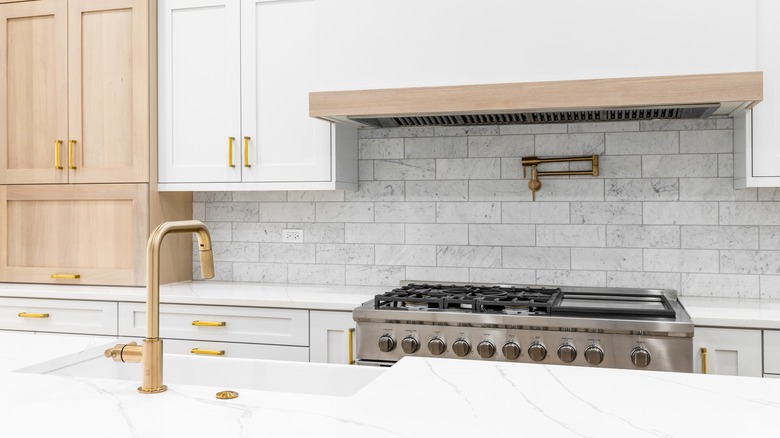 Hendrickson Photography/Shutterstock
Speckled tiles can give a kitchen character and make the design feel more organic. This space is an extra modern farmhouse paired with white and wooden cabinets and gold accents. 
7. Textured wall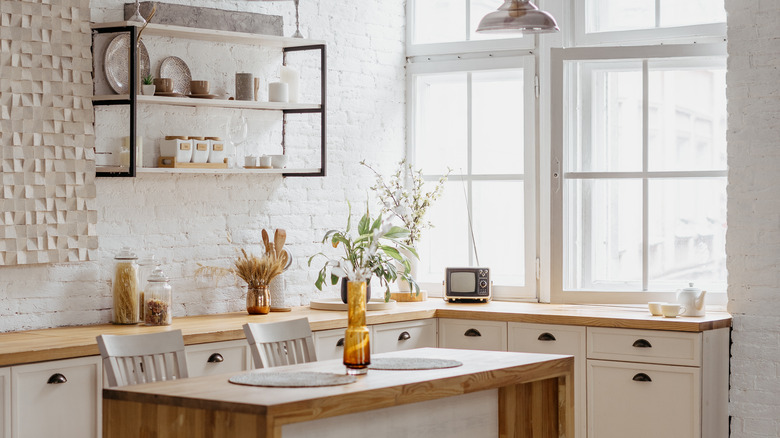 Brizmaker/Getty Images
To include more texture and an earthy feel in your space, paint a brick backsplash white or another neutral tone. 
8. White brick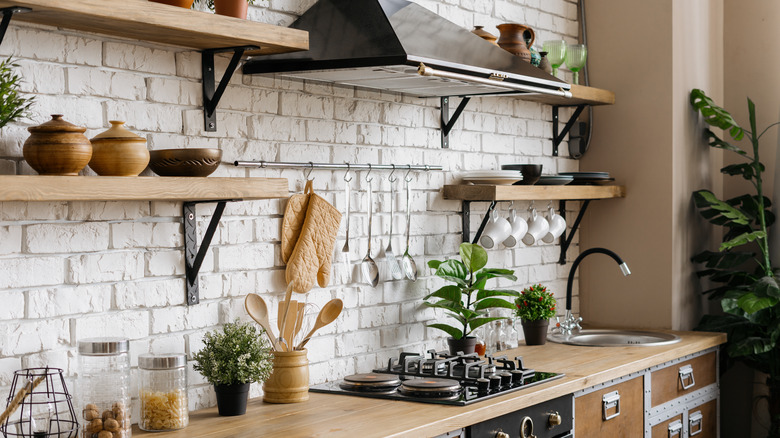 brizmaker/Shutterstock
Here's another example of how white brick can provide lots of interest. Because these bricks are more pronounced, they make more of a statement. 
9. Rustic red brick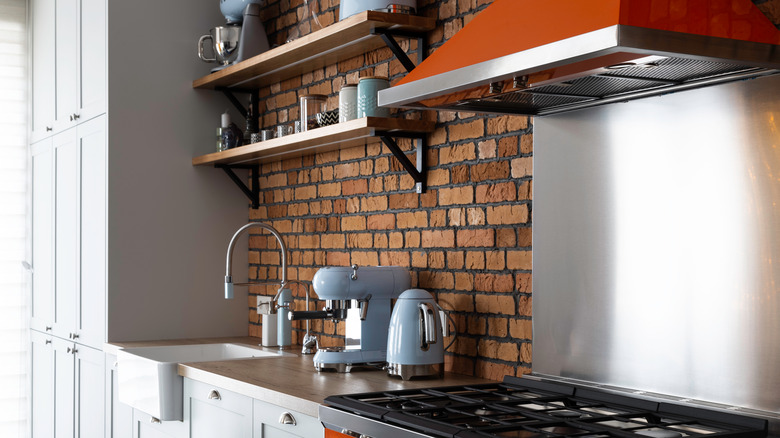 Raisa Suprun/Shutterstock
To make your farmhouse kitchen feel more rustic or industrial, keep the brick red and include wooden open shelves, which will play into all the styles in the space. 
10. Honeycomb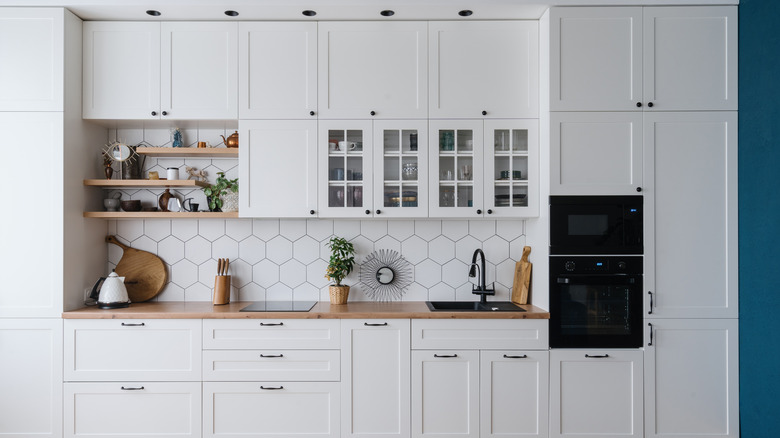 Brizmaker/Getty Images
Honeycomb or hexagonal tiles add dimension and a unique shape to the kitchen. If you want the backsplash to blend in, keep everything in the space white or wood. 
11. Contrasting tones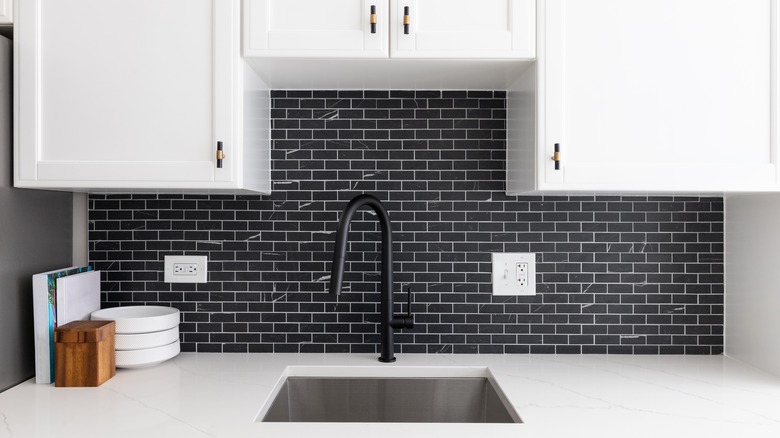 Hendrickson Photography/Shutterstock
Those who want to create a bit of contrast and add a modern feel could choose black tiles, which would really pop against white cabinets. 
12. Dark blue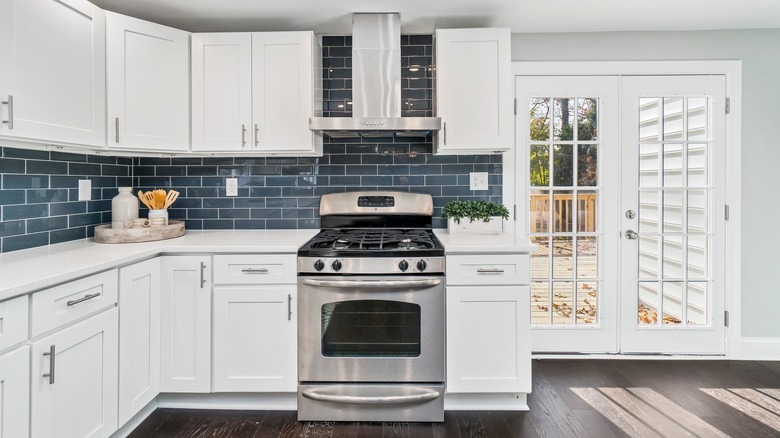 home sales/Shutterstock
Just like black, dark blue contrasts nicely with white cabinets. This could be a great way to make an all-white kitchen more interesting. 
13. Subtle gold detaling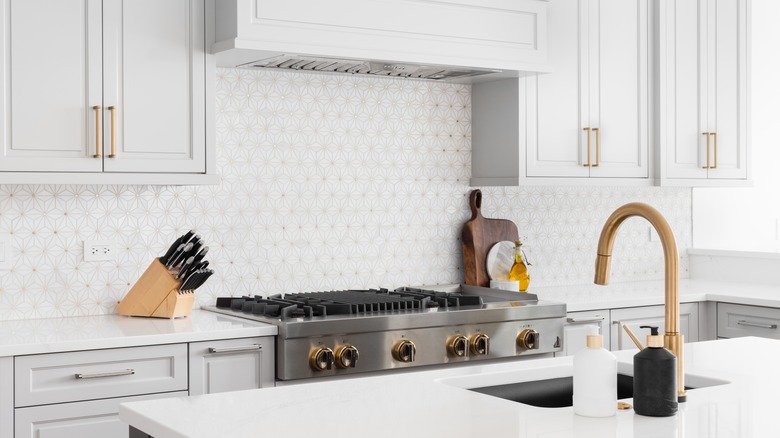 Hendrickson Photography/Shutterstock
Gold will always make a room feel more luxurious. If you want to include a bit of gold in your backdrop, you could choose a subtle honeycomb-patterned tile like the one above. 
14. Gray herringbone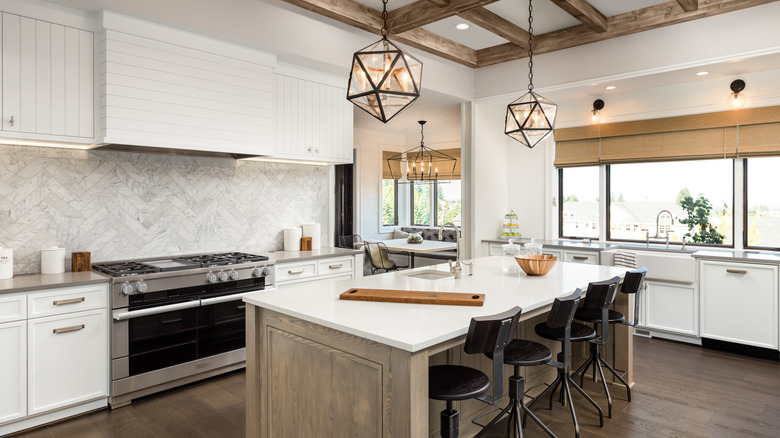 Hikesterson/Getty Images
Gray herringbone tiles will add an interesting pattern and could make your conventional farmhouse space appear much more modern. 
15. Unique square tiles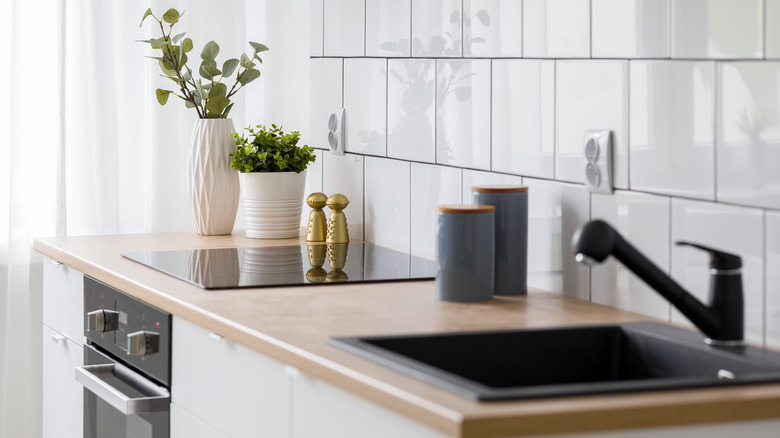 In4mal/Getty Images
While uncommon, some choose to use square tiles and arrange them in a running bond pattern. While this would provide a unique look, it may also make your backsplash appear shorter in length. 
16. Daring tiles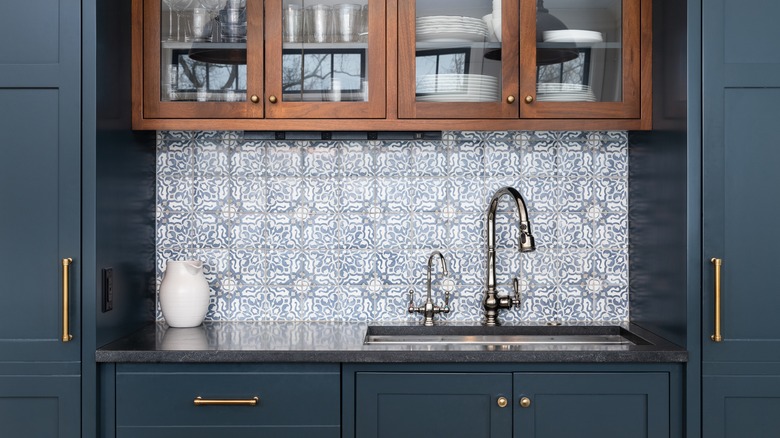 Hendrickson Photography/Shutterstock
Those who have a small surface area to cover or who want to be a bit daring could choose a patterned tile. This will especially make a statement if your cabinets are painted a bold color. 
17. Isolated bold pattern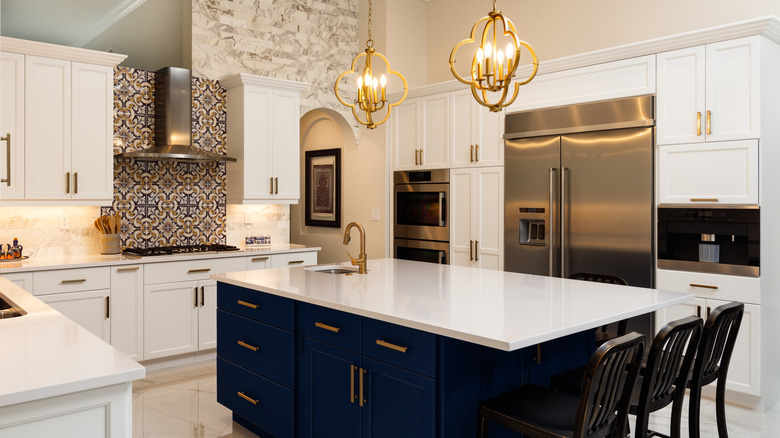 Fotoluminate LLC/Shutterstock
However, even if you have a large area to cover, you can still use a bold pattern. You could either isolate it to one space and cover the rest of the backsplash with a neutral tile or go all out.
18. Modern marble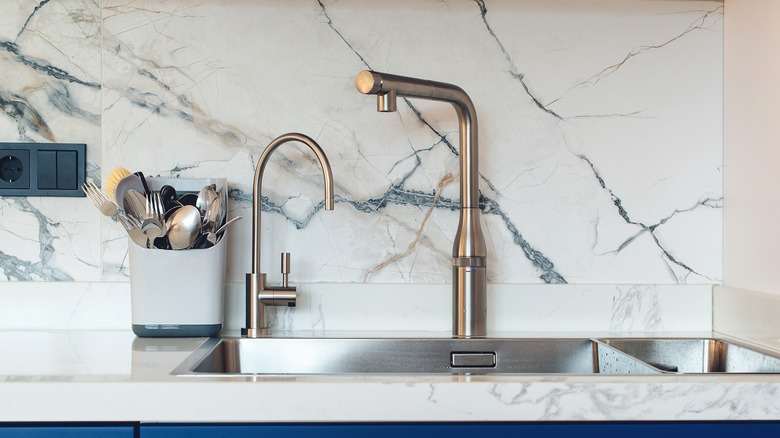 Volurol/Shutterstock
Marble will always make your kitchen appear more modern. If you want your farmhouse style to have a glamorous flare, choose this material for your backsplash. 
19. Nature-inspired
Joe Ferrer/Shutterstock
Green tiles in any shade, either light or dark, can make a farmhouse kitchen feel inspired by nature, especially when paired with warm-toned wooden cabinets. 
20. Only above the stove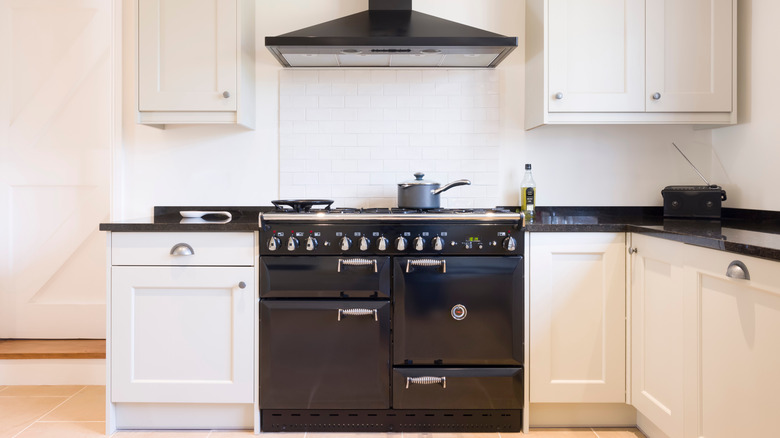 Paul Maguire/Shutterstock
Those on a strict budget or who love the look of their bare walls but want just a bit of interest could install white subway tiles only above their stove.
21. Modern gray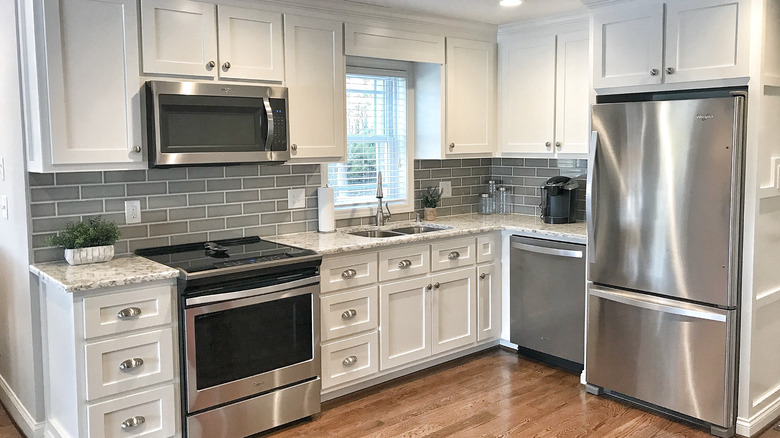 ocwarfford/Shutterstock
Gray tiles will add a modern feel to your kitchen. To ensure the farmhouse style still comes through, add some warm wooden elements, such as the flooring in the image above. 
22. Full wall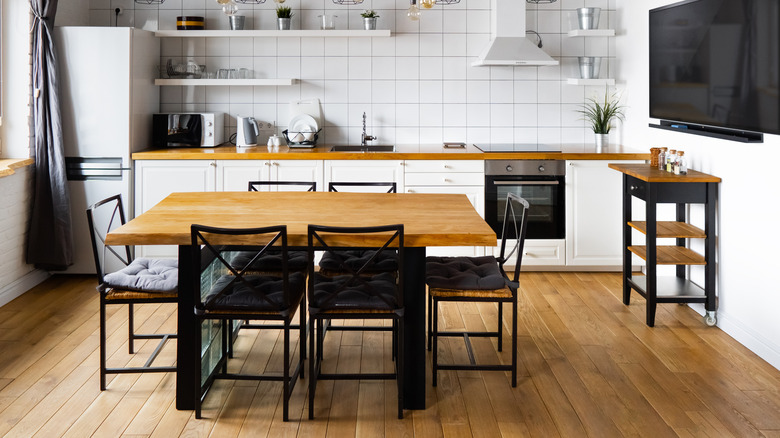 Yevhenii Podshyvalov/Getty Images
Covering an entire wall in white tiles will make your space feel more luxurious. This is also a great idea for those who have open shelving, as it will create a lovely backdrop. 
23. Marble to the ceiling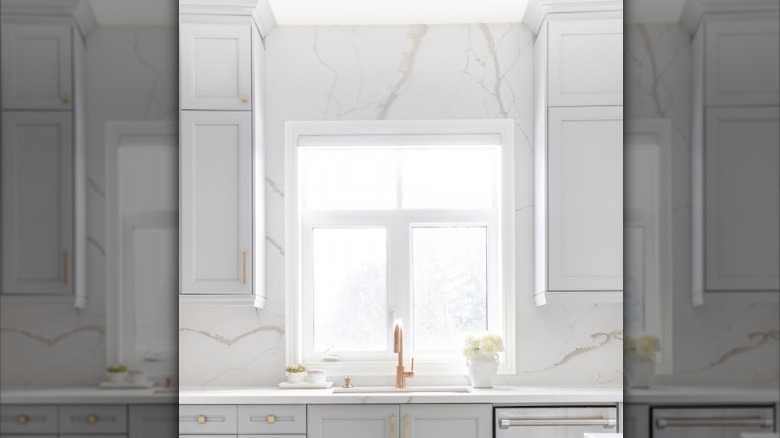 Xi Bai/Shutterstock
Here's another example of how covering an entire wall can give a farmhouse room a more glamorous feel, especially when using marble. Further, extending the tile upwards will draw the eye towards the ceiling and make your kitchen look larger. 
24. Part of the wall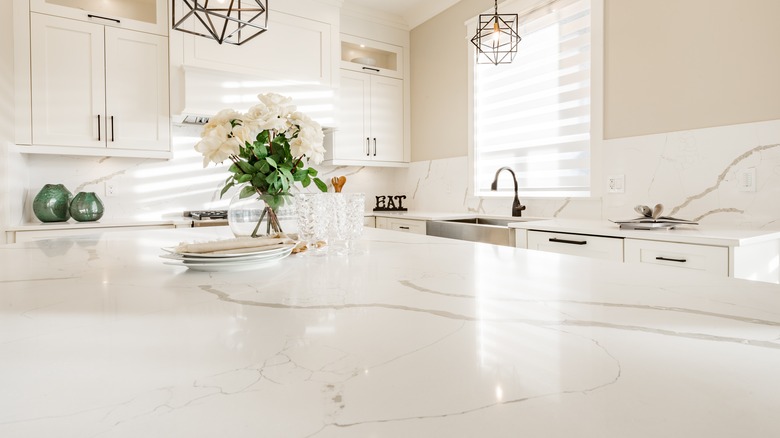 Sheila Say/Shutterstock
At the same time, some may not have the budget or the desire to carry their backsplash up to the ceiling. If so, they could end it at the edge of the cabinet and keep the rest of the wall bare. 
25. Simplistic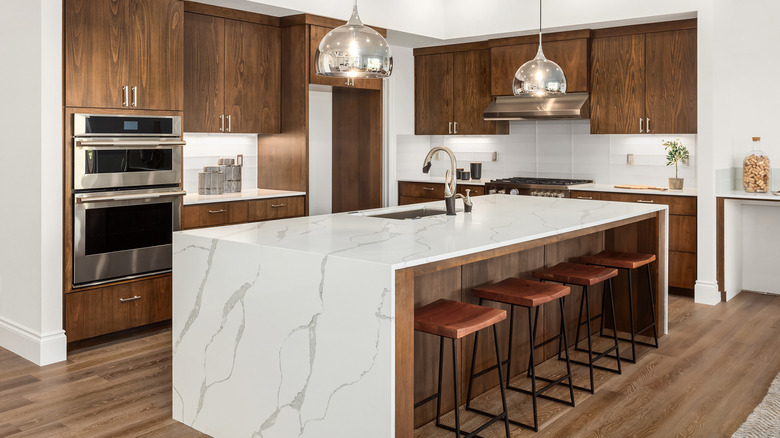 Justin_Krug/Shutterstock
Those who want to emphasize the appearance of their cabinets or countertops should choose an extra simple backsplash tile, such as the horizontally stacked subway tiles in the kitchen above. 
26. Vertical and horizontal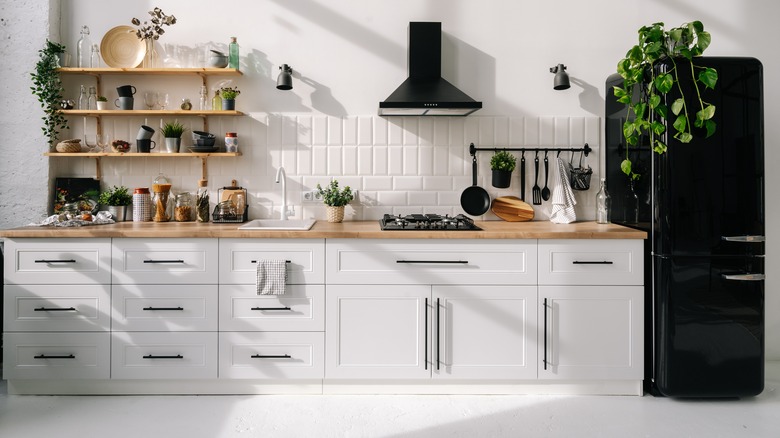 brizmaker/Shutterstock
If you've settled upon white subway tiles but want to make their pattern a bit more interesting, you could face them in different directions by installing some of them horizontally and others vertically.  
27. Rustic look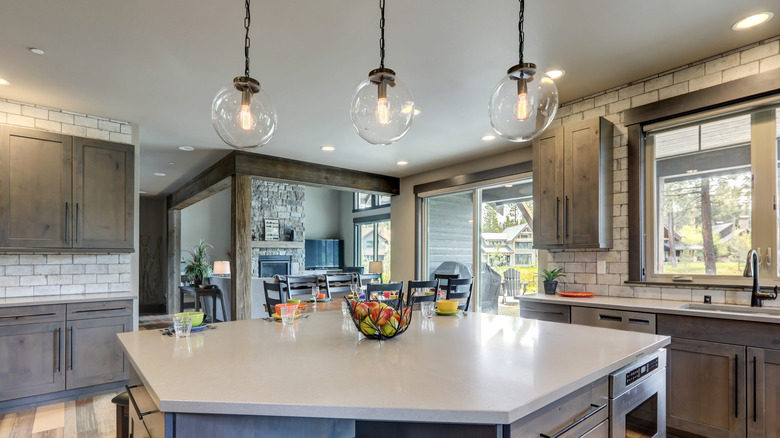 Artazum/Shutterstock
To give your space a rustic or industrial look, choose tiles that look like bricks and use a dark grout color. This would look especially earthy when paired with wooden cabinets. 
28. Cabin vibes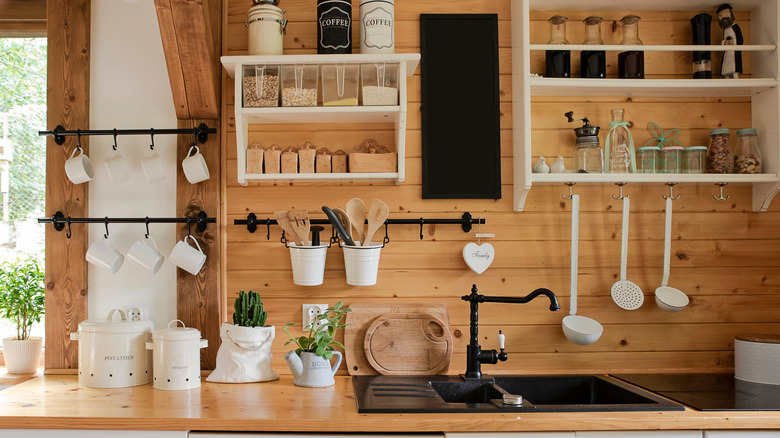 liloon/Shutterstock
For a cabin-like feel, instead of choosing a tile, stone, or brick, cover the wall in wooden planks. These will add lots of warmth and could look great with wooden flooring, countertops, or ceiling beams. 
29. Quintessential farmhouse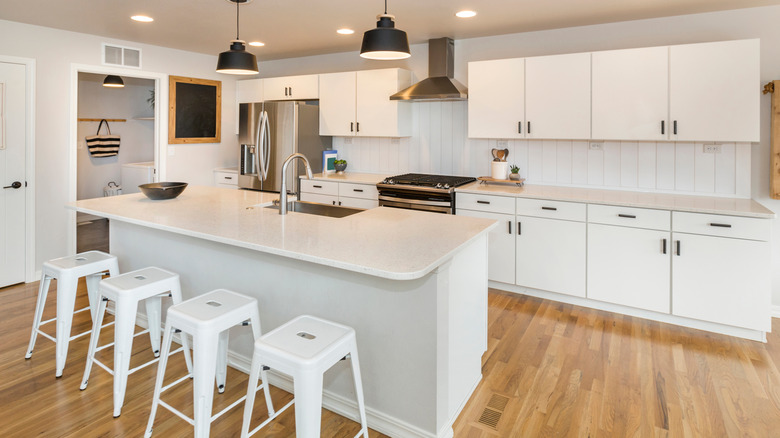 Neil Podoll/Shutterstock
While shiplap isn't as popular as it once was, that doesn't mean you can't use it if you still enjoy it. White shiplap will give your kitchen a classic farmhouse feel.  
30. Dash of color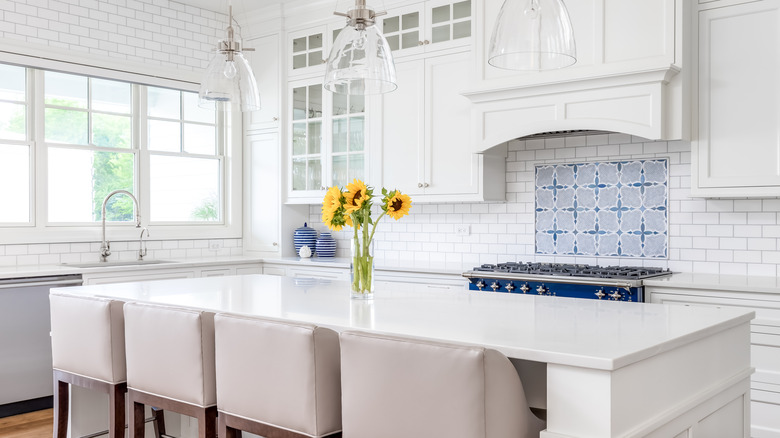 Hendrickson Photography/Shutterstock
Perhaps your farmhouse kitchen has an accent color. If so, you could cover most of the backsplash with basic white subway tiles but leave a section for tiles in the shade of your choosing. 
31. Herringbone red brick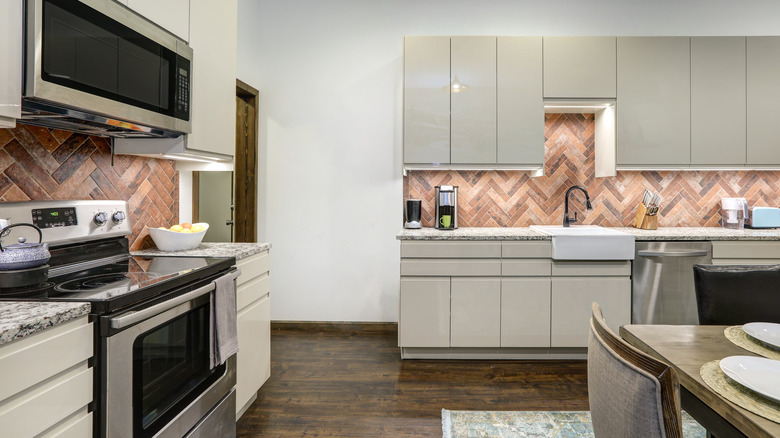 Artazum/Shutterstock
If you love the rustic look of brick but want to take it a step further, arrange them in a herringbone pattern. 
32. Italian flare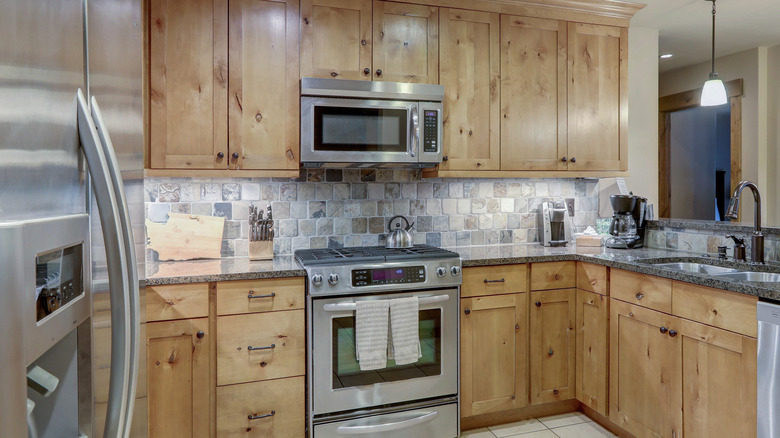 Artazum/Shutterstock
Multicolored square stones arranged in a running bond pattern along a backsplash will add an Italian flare and a rustic charm. 
33. Subtle metallic appearance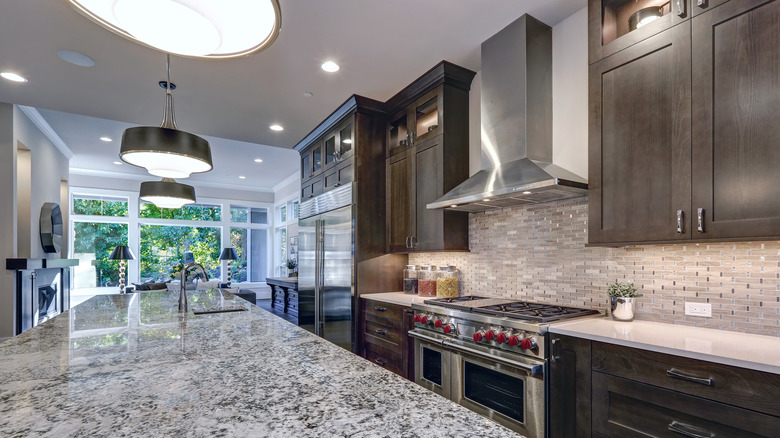 Artazum/Shutterstock
To give a farmhouse kitchen a bit of glitz and glam, include small metallic tiles between neutral ones, which will add subtle interest. 
34. Adding interest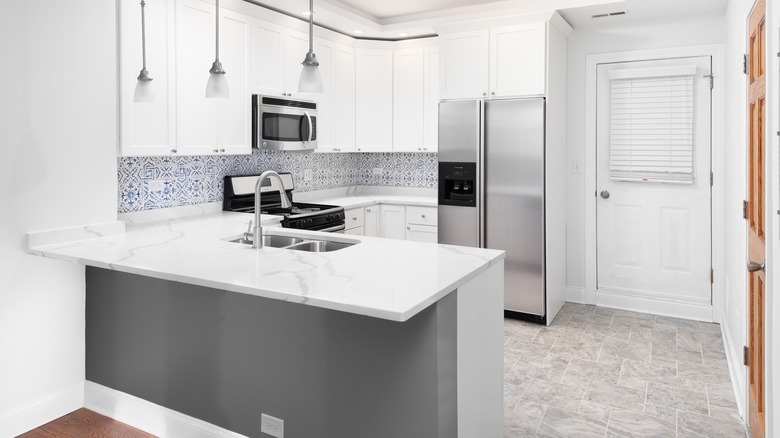 Hendrickson Photography/Shutterstock
If your kitchen looks too white or boring, liven up the design by adding a colored and patterned tile along your entire backsplash. 
35. Mixing tile and brick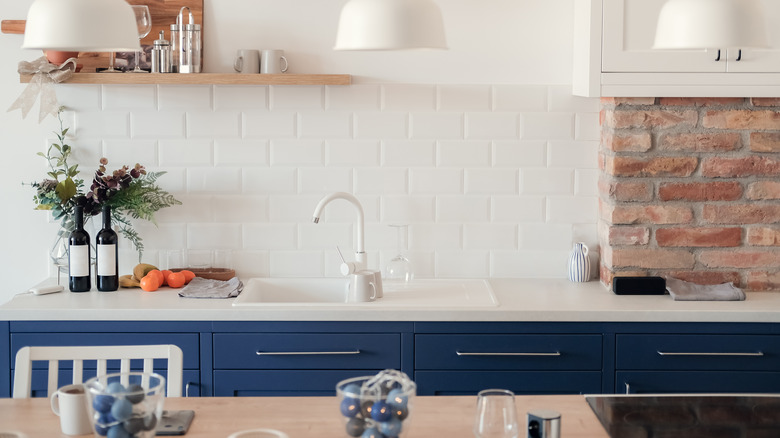 Space_cat/Getty Images
Mixing white subway tiles with red brick will give you the best of both worlds — a classic feel mixed with a slightly rustic appearance.