Blinds Vs. Shutters: Which Window Treatment Is Right For Your Home?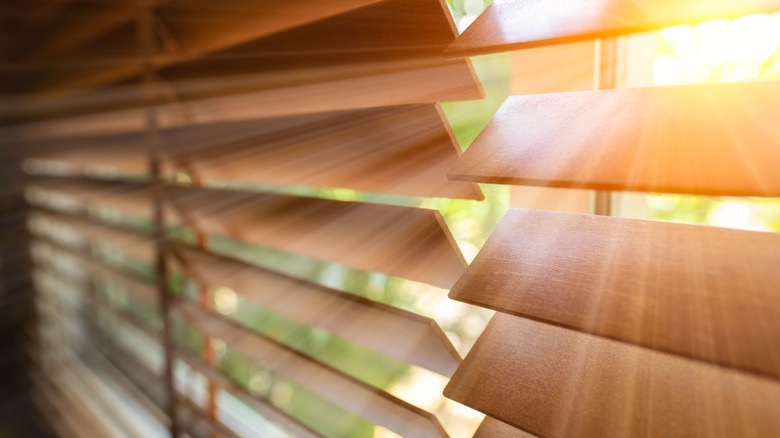 Tee11/Shutterstock
Windows are unique because they're the one home feature that impacts the interior and exterior of your home. Because of this, it's essential to consider how different window treatments will look indoors and outdoors. But these are not only accessories to dress up your windows; they also have functional aspects. Window treatments can give your home privacy from anyone passing by the home. They also help energy efficiency by preventing heat loss through windows, says Total Window, and offer protection from the sun's harmful UV rays.
With window treatments, you can also control how much natural light comes into your home, which can be beneficial if you have houseplants or want to sleep in on a Saturday morning. But different window treatments will offer diverse levels of these factors. While there is no definitive answer to whether blinds are better than shutters or vice versa, there is a right choice for your home, depending on your lifestyle, aesthetics, and needs.
Blinds provide a lot of control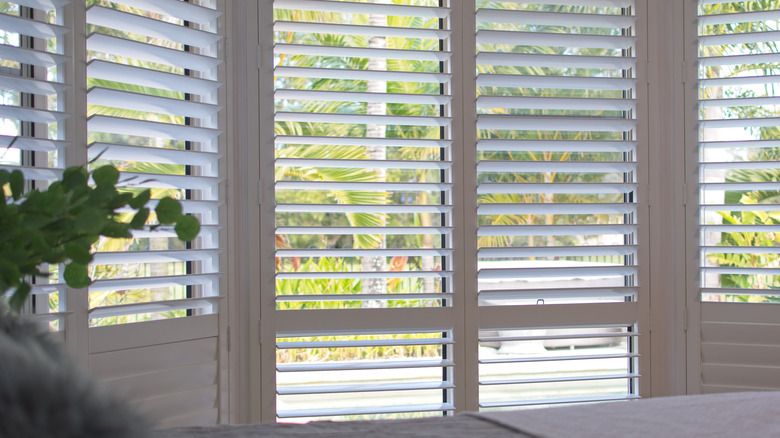 A.Flassig/Shutterstock
Blinds are one of the most common window treatments. They're installed at the top of the window and have overlapping slats that can be raised or lowered and opened or closed. Blinds allow you to customize how much light they bring in, opening or closing the slats to the desired amounts. This also has the benefit of controlling the heat and UV rays in the room, according to Thompson Creek Window Company. Blinds can block excess heat and UV rays on sunny days, protecting furniture and carpets from fading.
Because of the customization aspect, blinds are great in bedrooms, home offices, and living rooms, where you'll want to control how much light comes into the space. Blinds also have the benefit of coming in a variety of materials and styles, including aluminum, bamboo, plastic, and wood. You can choose the finish to match other aspects of your home décor, allowing details of the room to blend seamlessly. They can also be custom-made to fit any window size.
Shutters offer sophistication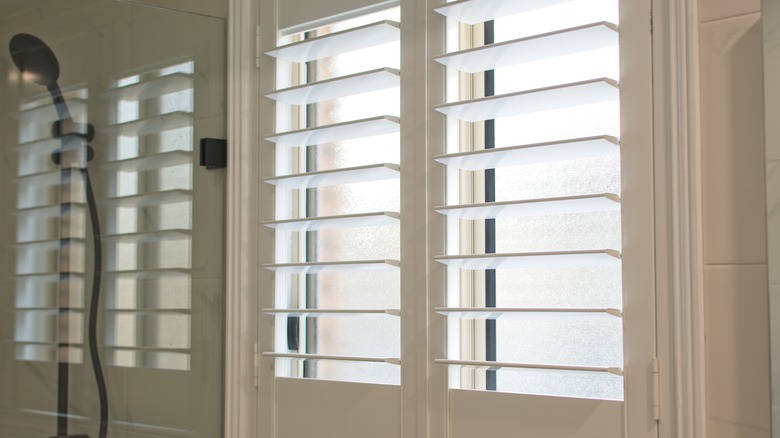 Anett Flassig /Getty Images
Shutters are similar to blinds in that they open and close to allow or block sunlight. Where shutters differ from blinds is that they are affixed to the inside of the window trim or mounted to the wall around the window. Shutters come in standard sizes, but can also be custom-made to fit any window size or shape, including arches and octagons, says American Blinds. These window treatments offer similar benefits as blinds in providing privacy and regulating natural light.
However, because they are affixed to the wall, they typically do not raise, which means you might not get as much natural light or have an unobstructed view. Because of this, shutters may be best in sunnier spaces to receive most of the light the window might receive. Shutters are also more expensive than other window treatments, including blinds. Style tends to be why homeowners choose shutters — they have elegance and charm, particularly in traditional aesthetics.