The Best Tile For Your Kitchen Floor, According To Experts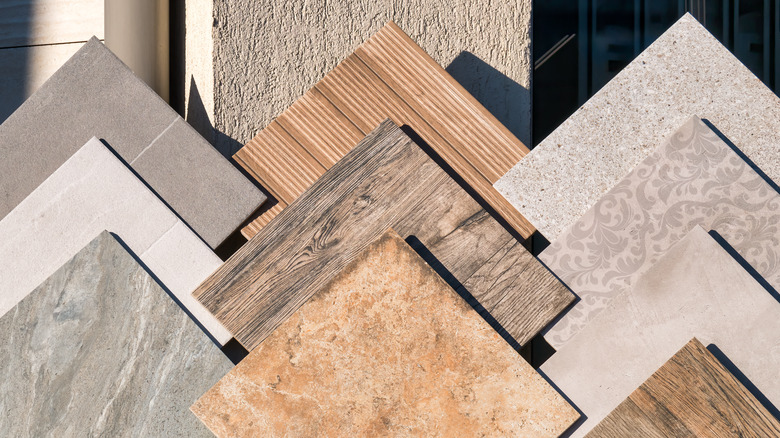 Cristi Croitoru/Shutterstock
Are you building or remodeling your kitchen soon? Not sure which kind of flooring to choose for beautiful and timeless results? Some of the most popular types of kitchen flooring include vinyl, porcelain, and ceramic tile, according to Home Advisor. People love these materials because they're easy to clean and maintain, and they add a classic appeal to the kitchen, making it feel homey and reliable. Still, each kind of flooring comes with its own unique advantages and disadvantages, so it's important to consider your options carefully before installing a floor you might come to regret. And while hardwood or vinyl peel-and-stick planks may be the trendiest home flooring materials right now, tile still remains the king of the kitchen.
In an exclusive interview with House Digest, we spoke to Rick Berres, owner of Honey-Doers, and Jon Wiest, owner of Ripped Jeans Construction. They offered some of their best insights regarding kitchen flooring materials and installation techniques. Here's what these flooring experts had to say about the best type of tile for your kitchen. 
Why ceramic tile is superior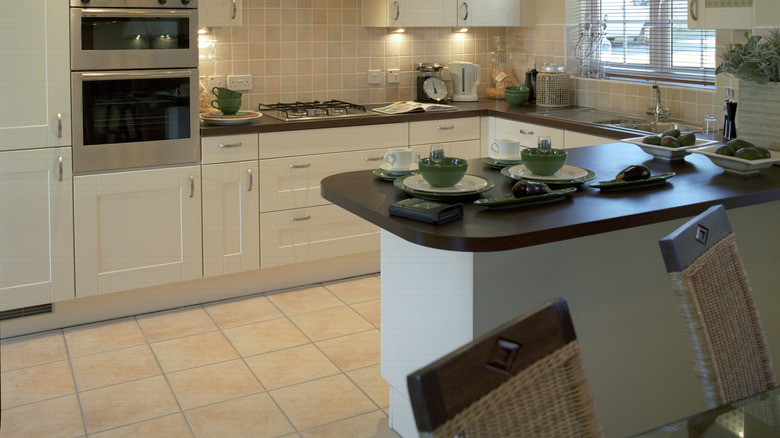 Construction Photography/avalon/Getty Images
There are several good reasons why ceramic tile is the best option for kitchen floors. For one, its appearance and versatility make it reliable without feeling boring. Rick Berres says, "Of all the kitchen renovations we have done, the ones with ceramic tile stand head and shoulders above the rest. It is extremely durable so it lasts forever, it's easy to clean, and the design options are literally endless. Ceramic tile floors look unique and high-end, and you can choose patterns to fit the... style of your home." Whether you're aiming for classic farmhouse, modern glam, or a retro style kitchen, you can enhance the look with tiles which come in hundreds of shapes and styles, from wood-look to hand-painted mosaics. Even simple, solid colored tiles can be jazzed up with an interesting layout.
Perhaps the greatest advantage of ceramic tile is how easy it is to clean. From spilled liquids to pet messes and broken dishes, this tile can withstand just about anything your family throws at it. Unlike hardwood or laminate, ceramic tile won't soak up water leaks or become warped over time, nor does it require any special cleaning sprays or polishes; simply sweep and mop with warm water as needed. Berres concludes, "With the benefit of durability and easy maintenance, ceramic tile will make your kitchen aesthetically pleasing as well as functional."
The importance of proper installation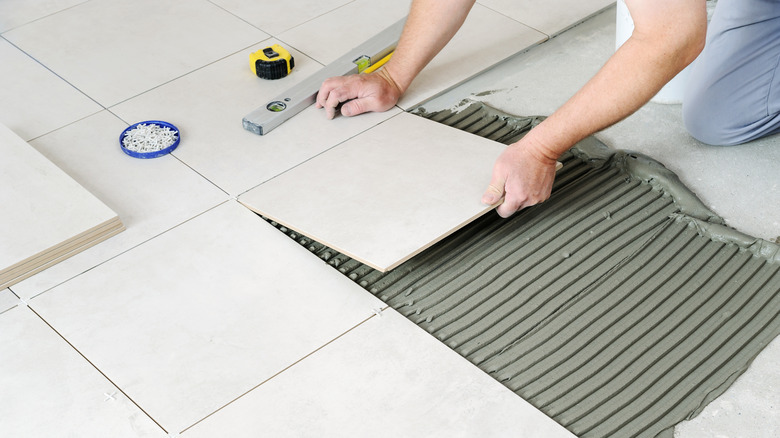 DUO Studio/Shutterstock
The process isn't over once you've chosen your perfect ceramic tile; even expensive tiles can look like a mess if they're unevenly spaced or full of excess grout. Attempting to DIY your kitchen floors isn't such a good idea unless you have significant experience, but you can't always trust just any contractor either. Jon Wiest explains, "Choosing a kitchen tile isn't only about making a careful choice about the size, material, and style of the tile. It's also important to know that your choice of installation company is a major factor in your project's success." 
Instead of risking a shabby kitchen floor that will be difficult and costly to replace, look for a highly credible contracting crew. Wiest says, "We regularly see tile failures in the industry as a result of poor understanding of installation methods and best practices." Of course, you should have some say in exactly how your kitchen floors will turn out, so Wiest adds that it's important to do your research and engage with your contractor. "Be sure to include questions about installation methods while you're interviewing contractors," he explains. "A little time spent educating yourself will go a long way in ensuring you hire the right people for the job."