Why You Need To Waterproof Your Basement, According To An Expert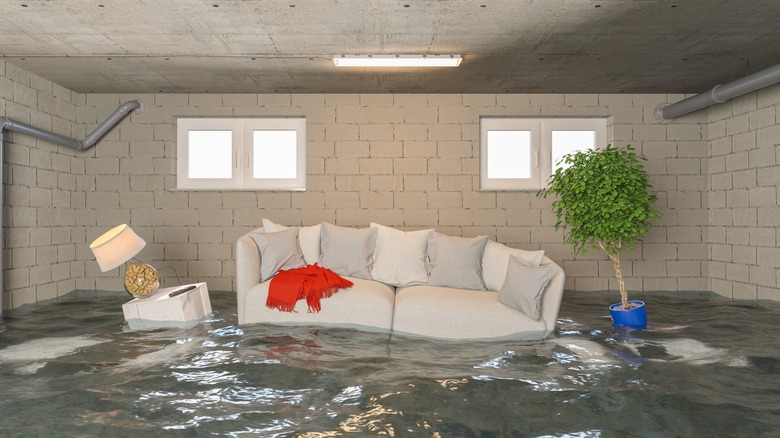 r.classen/Shutterstock
Without a firm foundation, the structure of your home will not be supported, and many problems can arise. A home with a crumbling base requires an immediate remedy in order to protect the residents inside as well as their belongings. This is true for homes that rest directly on the foundation with a one or two-story construction and those that incorporate basement features. Peak Structural notes that basements are naturally placed in a part of the construction closest to the water table beneath the Earth's surface. Therefore, waterproofing this feature is crucial to protecting your home from water that may seep in and cause issues.
In an exclusive interview with House Digest, Dale Granbois, the owner of Zablocki Waterproofing of Milwaukee, discusses the importance of waterproofing your basement and explains the benefits that it can provide. "Waterproofing your basement is a key step to protecting your home from damage, and we recommend taking this step to avoid costly repairs, health hazards, and loss of personal possessions," he notes.
Protect your home from mold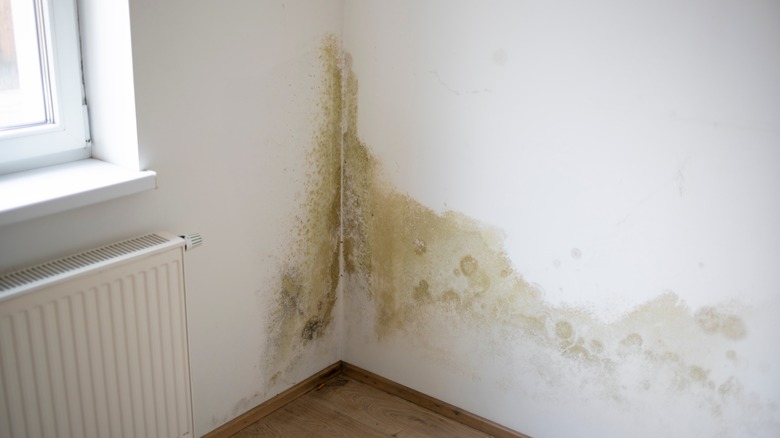 epiximages/Shutterstock
To start, mold growth is a major problem whenever the element of moisture enters the conversation. "A wet basement is the perfect environment for mold to thrive," Granbois says. "Mold can cause serious health problems for you and your family; exposure can cause respiratory problems, allergic reactions, and other health issues." Tackling the moisture that may be building up in your basement can help prevent mold as well. It's also a good idea to speak to a doctor about any potential health complications you may be suffering from due to water seeping into your home and threatening your air quality.
However, health isn't the only threat to be concerned with: "Mold can cause structural damage to your home, which can be costly to repair," he continues. "So if you see any signs of it, it's best to call a waterproofing company to verify and diagnose the problem." Many homeowners might find mold in its early stages; therefore, cleaning it themselves may be possible. But mold will only return if you don't tackle the root cause along with the symptoms.
Prevent flood damage and unpleasant odors
Michael Blann/Getty Images
If your basement is particularly vulnerable to changing water table levels, or your area has seen increased rainfall or a rising river or sea level recently, you may be susceptible to flood damage and all that comes along with it. "Another reason to waterproof your basement is to prevent water damage or flooding. Water can seep into your basement through cracks in the foundation, causing damage to walls, floors, and personal belongings," Granbois warns. 
Damage to the foundation can be the result of a number of issues in the home, but standing water in direct contact with the pillars or slab is often a leading cause of trouble. Once the foundation begins to weaken, water can pass freely into your basement and wreak havoc on your home and belongings. Anything stored in this lower part of the home is at risk of water damage. What's more, once fabrics, paper, and walls are exposed to this free-flowing water, you'll have an even bigger mess to clean up! Granbois also points out, "Water damage can also lead to an unpleasant musty smell in the basement."
Increase the value of your property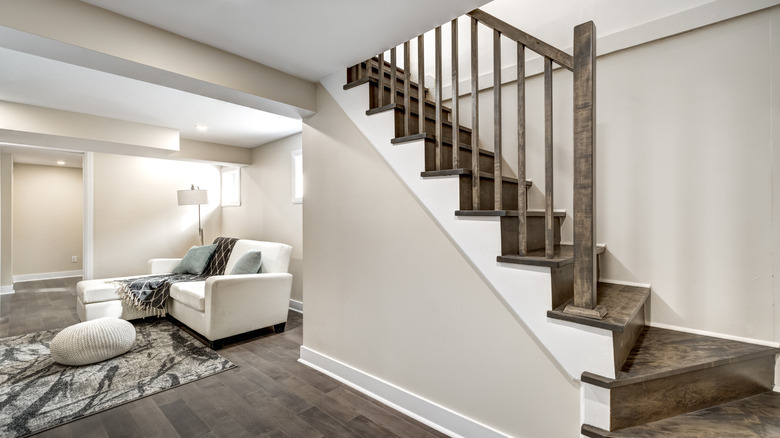 Anatoli Igolkin/Shutterstock
Caring for any part of your home will naturally boost its resale value. Some features enjoy a greater return on investment than others, but when it comes to foundation support and home defense against floods, moisture, and everything in between, the reduction felt by an issue can far exceed the cost it might require to shore up the space. "A dry, usable basement can be a valuable asset to a home, and can be used as additional living space or a recreation room," says Granbois. "This can be a major selling point if you decide to put your home on the market. But if your basement is wet and musty, it can detract from your home's value and be a deterrent to potential buyers," he notes.
A finished basement simply requires this level of care, but deciding to waterproof your property will offer up a variety of potential futures. Gaining additional functionality from the space can offer itself as an in-law suite, or she shed, or it could give you a dedicated entertainment room that adds a unique element of fun to the property for your whole family. However, without this additional step, transforming the basement into a functional living space simply isn't feasible.
Why calling a professional is a wise move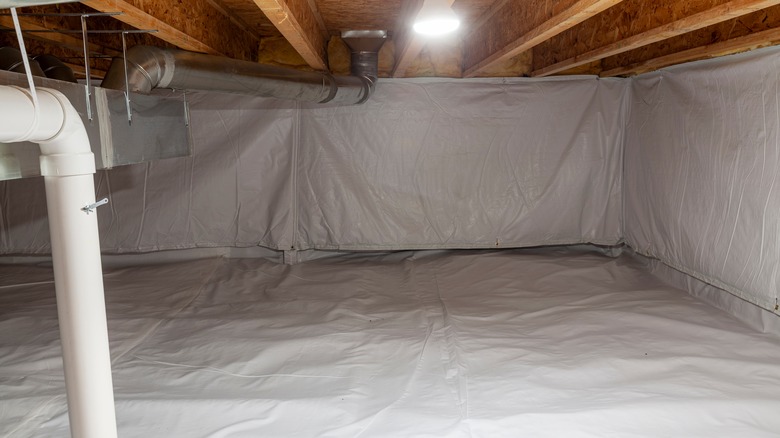 grandbrothers/Shutterstock
A professional is the best resource you can bring into the fold when waterproofing your basement. If this need has arisen, there's a good chance it's because you are dealing with one of the issues that have already been noted. Therefore, you'll need to address both the problem and add a waterproofing solution that will keep the issue from returning later on. "It's important to take the time to find the right solution for your home. Oftentimes there are costly repairs, so make sure you find a quality contractor. They can help you identify the source of the problem and recommend the best solution — whether it's a sump pump, a French drain, or a waterproofing membrane," Granbois says.
Professionals in the industry have the technical know-how to diagnose a myriad of moisture problems in your basement. They are a crucial help when it comes to making this step in the right direction. Shoring up a weakness to prepare the home for a sale, repairing damage from a recent leak or flood, or installing a new living space in the lowest part of the home is not an easy task, but the help of a waterproofing contractor will streamline the process.