Target Vs Walmart: Which Has Better Deals On Home Goods?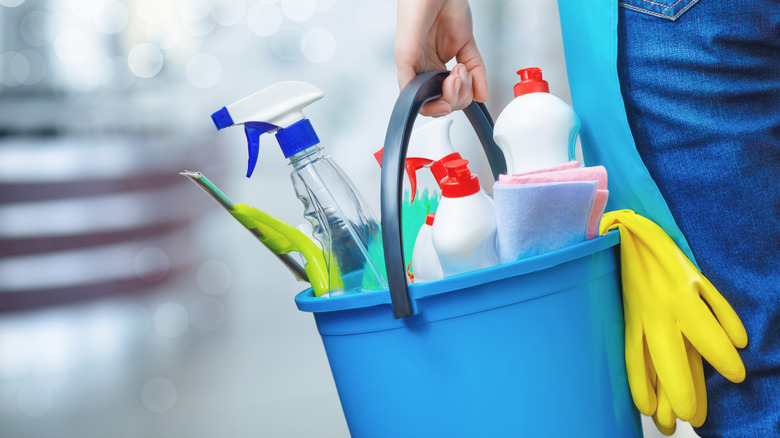 Natali _ Mis/Shutterstock
Almost every household spends part of its monthly budget on household goods. While this could mean anything that's used to maintain a home, we will limit this to cleaning products including hand soap, dish soap, laundry detergent, disinfecting wipes, paper towels, and all-purpose sprays. If you often buy these items from brands like Clorox, Gain, or Dawn, you may be wondering where to purchase them for the lowest price.
Two of the most common retailers to buy household goods from are Target and Walmart. To see which one has the cheapest prices, we will be comparing the exact same cleaning products from both these stores. If you're shopping online, you should also take into consideration the cost of shipping. While Target provides free shipping for orders over $35 or for those who use their RedCard, Walmart's delivery costs around $7 to $8 unless you're a member of Walmart+, which costs about $13 a month. They both also allow you to pick up in-store or have the items brought out to your vehicle.
Comparing prices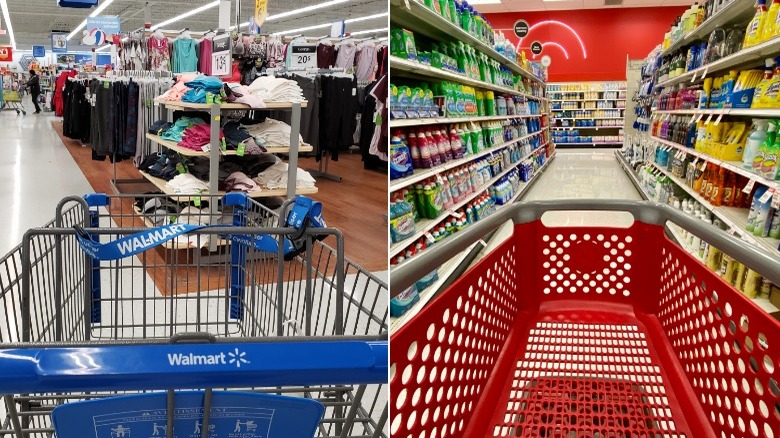 ZikG & dennizn/Shutterstock
Starting with Softsoap Liquid Hand Soap, this option is just a tiny bit cheaper at Walmart, where it's sold for $1.24, while at Target, it costs $1.29. At Walmart, Dawn Platinum Dishwashing Soap costs $5.84, but at Target, it retails for $5.99. When comparing Gain Liquid Laundry Detergent, the same thing is true: at Walmart, it costs $15.94, while at Target, it's $15.99. A six-pack of Bounty Paper Towels will cost $16.94 at Walmart and $16.99 at Target. The Lemon Scented Lysol All Purpose Cleaner is $3.52 at Walmart and $3.59 at Target. Therefore, many cleaning products are a few cents cheaper at Walmart. 
However, there is one case we could find where Target's option is less expensive. When comparing Clorox Disinfecting Wipes, the number of containers you purchase will determine which store has the cheaper option. If you buy the three-pack, you'd be better off shopping at Target, as theirs is priced at $12.99, while Walmart's costs $17.85 (a huge difference). However, the same isn't true for the four-pack: at Target, it's $16.79, while at Walmart, it's $16.62.
The cheaper option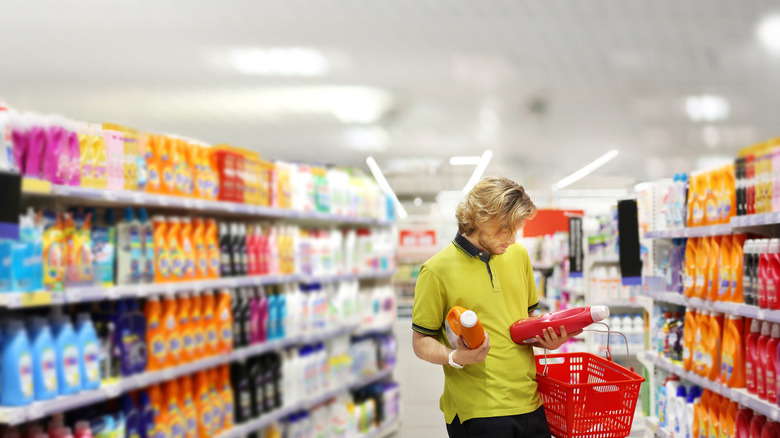 Vlg/Getty Images
Overall, while most of the items were cheaper at Walmart by just a few cents, the three-pack of Clorox Disinfecting Wipes retails for $4.86 less at Target than at Walmart. This sets the scales over the edge and makes Target the cheapest out of these two retailers. If you purchased all the items above, you'd spend $77.95 at Walmart and $73.63 at Target.
At the same time, if you pay attention to prices, you may be able to save money by shopping at Walmart, as almost all of their items are cheaper than those at Target. If you didn't buy the three-pack of Lysol Disinfecting Wipes but purchased all the other items, you'd spend $0.54 less at Walmart than you would at Target. This is why some studies, such as one conducted by Lendedu, find that Target is more expensive than Walmart — it all depends upon the specific items you choose to compare. It's also important to keep in mind that prices may vary depending on your location.