Home Depot Or Lowe's: Which Has Better Deals On Pools?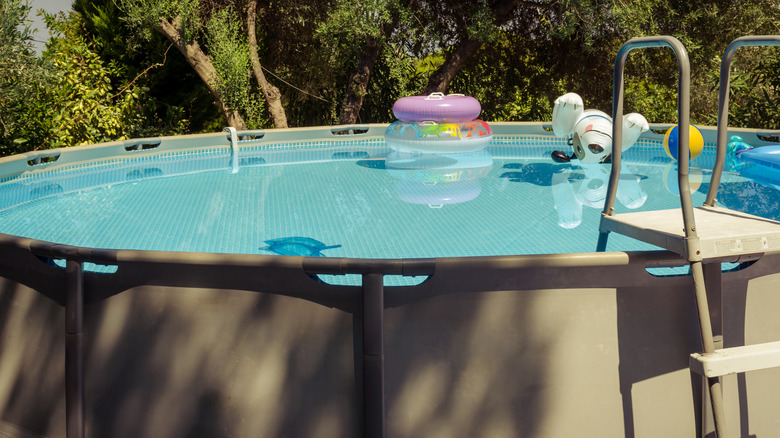 Mary Dimitropoulou/Shutterstock
Buying a pool is a big decision that crosses everyone's mind at least a little bit each summer. As the weather heats up and the sun comes out to play, pool days are some of the best of the season. For those finally deciding it's the year for that significant purchase, there are a lot of factors to weigh, such as the shape, size, and framing. But it would be best if you also contemplated the warranties available, the equipment already included compared to what you'll need to get separately, and, of course, the price.
Many retailers often have great deals and sales around Memorial Day weekend each year, as it is right on the cusp of summer. However, Tredway Pools finds that the best way to save on pool expenses is to look for deals during the off-season since sales will naturally already be down. Before shopping for your pool needs at Home Depot or Lowe's, take a look at each supplier's highlights to help you make your decision. 
Lowe's has fewer options and reviews
Lowe's website has under 300 above-ground pools to choose from, many having little to no reviews. Looking specifically at the brand Intex at Lowe's, there are many options that friends and family can enjoy. Many of Lowe's lower-end pools won't feature any warranties or only offer 30-day warranties on pool liners. However, each product is given free delivery and free returns within 90 days, along with a DVD video in the instructions for easy assistance in setting up your new pool, features you will also find at Home Depot.  
The retailer's largest inflatable pool is the Intex 18-foot x 48-inch Round Above-Ground Pool priced at $569.18 with a filter pump included. If you're looking for a metal framed pool, Lowe's offers the Intex 12-foot x 30-inch Round Above-Ground Pool with a depth of 24 inches, filter pump, and pool cover included for $227.40. It is rated a 4.3 by buyers, 79% of which gave it five stars for its easy setup, durability, and being loved by kids. Another Intex option that is bigger and, therefore, more expensive is the Intex 18-foot x 52-inch Round Above-Ground Pool with a depth of 47 inches for $1,368.60. This setup is manufactured with an inner and outer coating that prevents rust and includes a pool cover and liner with two-year warranties, a pool ladder, and a sand filter pump that lasts up to five years. With a 3.8 overall rating, 62% of reviews gave this five stars. 
Better prices and durability at Home Depot
Home Depot has more than 400 pools to browse, noting that all inflatable pools have a warranty between 30 to 90 days, metal framed pools between 90 days to two years, and hard-sided pools between 20 to 30 years. The retailer's top-selling collections don't see reviews lower than three stars, most of them four stars and above. 
Soft side pools range between $15.87 for a Pool Central 48-inch Round Inflatable Children's Swimming Pool and go as high as $1,049.99 for an Intex 15-foot x 42-inch Inflatable Above Ground Swimming Pool. Unlike Lowe's, hard-sided pools are available from as low as $183.95 for a Summer Waves 8-foot x 30-inch Round Pool. Higher-end models, such as the Huntington 18-foot x 33-inch Oval Pool, cost as high as $7,401.63 and include an entry step system.
Looking at the same models from Lowe's, Home Depot's Intex 12-foot x 30-inch Above Ground Pool with a filter pump, automatic vacuum, and higher depth of 30 inches is cheaper at $206.43. The Intex 18-foot x 52-inch Round Swimming Pool also sees a large price drop at Home Depot, selling for $1,188.44. Home Depot not only offers better prices, warranties, and more options but also gives significantly more information in each pool's listed description so that you'll be able to make the best-educated choice for you and yours.