The Gardening Hack That Will Give You An Attractive And Easy-To-Reach Spot To Store Tools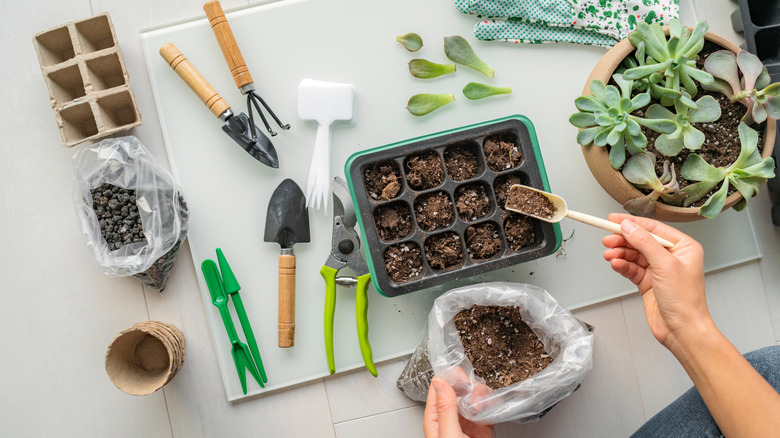 Maridav/Shutterstock
Gardening is an activity commonly associated with relaxation and decreased stress. This is no myth — there are studies to back up this belief. According to Science World, it can actually trigger the release of serotonin due to a mycobacterium found in the dirt. More than that, it's incredibly rewarding to watch a plot of dirt turn into a beautiful, lush flower bed or bountiful plot of crops.
Beautifying your property is another reason so many people enjoy the hobby. There are endless routes to pursue, from dramatic, vining flowers climbing trellis archways to fairy gardens or even trendier pursuits, like moon gardens. There is one issue to sort out, though — what to do with all your small tools. If you're lucky enough to have a shed, you can neatly tuck away your soil, watering cans, gloves, and spades. If not, you're left with a mess of unsightly gear that sticks out like a sore thumb in your beautiful backyard oasis. However, there's a creative way to store these supplies that keeps them out of sight and adds to your garden's overall aesthetic value.
Repurpose a mailbox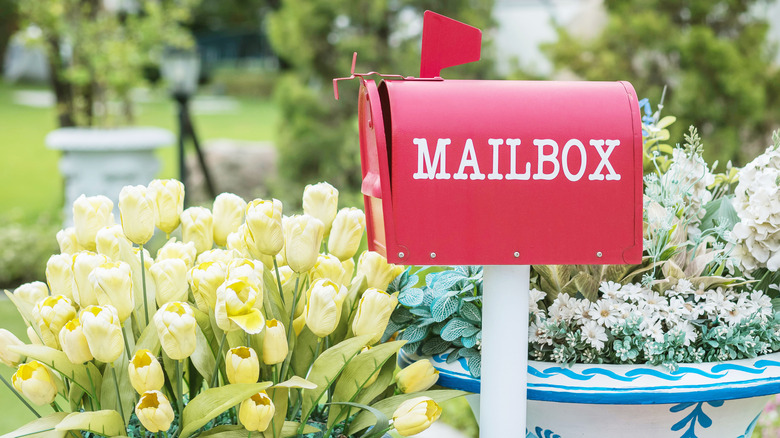 kenkuza/Shutterstock
There's no need to buy an expensive shed or garden tool kit to store your gear in a way that's both functional and attractive — it can even be free. According to The Gardening Cook, all you need to store your gardening tools is an old mailbox. Mounting an old mailbox on a post creates a physically convenient storage option while also being a cute addition to your garden.
This project can be as simple or complicated as you'd like it to be. Check out local antique malls, vintage stores, flea markets, or second-hand sites for old mailboxes, or use one you already have. This makes it not only an economical choice but a great way to reuse an object that would otherwise just gather dust. For convenience's sake, you can find a mailbox with a post already attached. Alternatively, consider building your own with reclaimed wood for a completely zero-waste project.
Spruce it up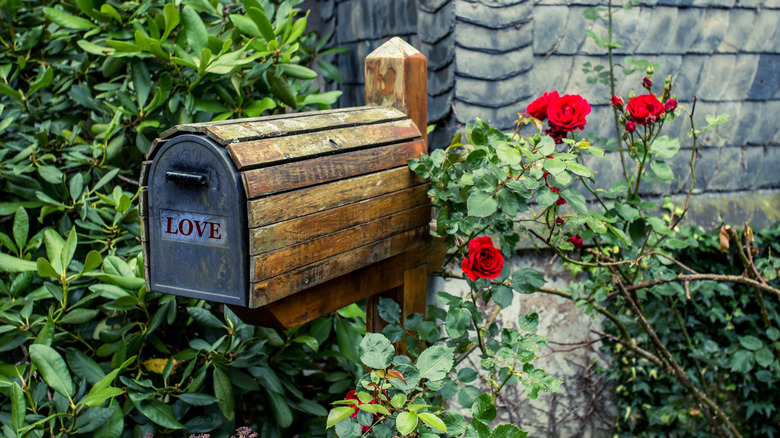 pim pic/Shutterstock
Leaving the mailbox as-is can serve as a perfectly fine and decorative option, especially if you have a vintage-style post box. However, old, beat-up metal mailboxes may stick out in your garden. That doesn't mean it's any less viable, though — it just needs to be spruced up a bit.
To start, Making Manzanita recommends deep cleaning the mailbox. Simply rinsing it with a garden hose should work, but take care to remove any rust. From here, the sky's the limit in terms of decoration. For example, you could stick with a simple coat or two of spray paint in a shade that fits the rest of your garden decor. Or, if you want something a bit more eye-catching, add decals to the outside — such as flowers, animals, or plants. If you want to go the extra mile, mount a rectangular organizer in the mailbox to better organize your favorite small gardening tools.