The Best Way To Organize Your Pantry, According To An Expert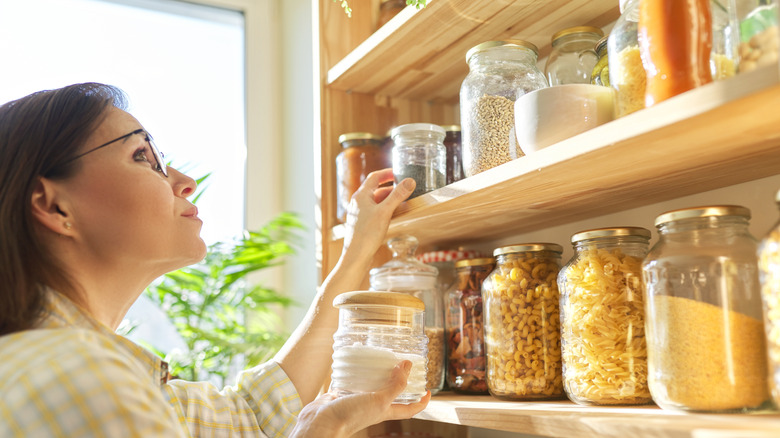 VH-studio/Shutterstock
In the kitchen, maximizing storage space is essential to keep things functional. Keeping pots, pans, tabletop appliances, and food organized will make searching for ingredients and cooking much easier. Beyond standard kitchen cabinets, a pantry makes organization and storage even more streamlined. According to Bienal Custom Closets, a walk-in pantry should be at least 4 feet by 8 feet, which is sufficient for most homes. But if you want something more spacious to handle extra shelving, five feet by ten feet can provide ample storage options.
However, if you don't use any of that square footage wisely, you miss your chance at having a stress-free kitchen. Luckily, getting your pantry in order doesn't take much; adopting the right strategy will make all the difference. In an exclusive interview with House Digest, Laura Nicosia, Franchise Owner of ShelfGenie of San Antonio, a Neighborly Company, explains how to organize a pantry to make it work for your home, lifestyle, and the way you cook.
Put everything in its right place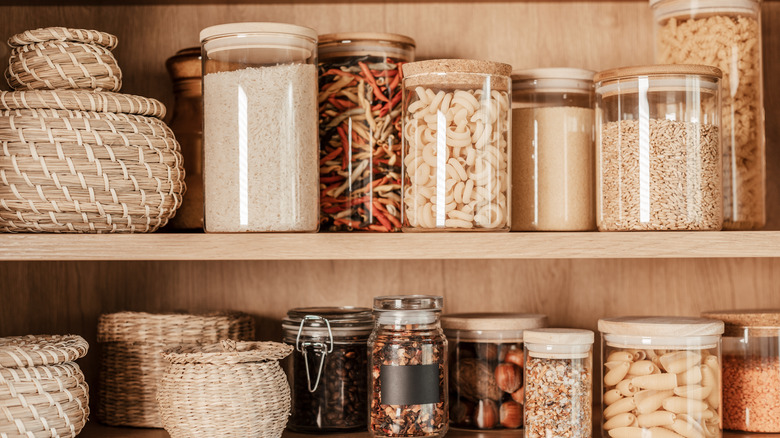 Netrun78/Shutterstock
The key to organizing a pantry is assigning a space to everything that will be placed there. By creating a game plan, you'll be surprised how much space is created. "Arrange items in your pantry by height and then by function," suggests Nicosia. "By putting like-sized items together, you can maximize the space on each shelf." In general, it's a good idea to put taller items in the back and smaller items in the front so you can see every product easily. And when items of similar sizes are placed together, there will be fewer gaps as things will fit together well.
It may be surprising, but stacking cans and other items is not advisable. Instead, look for organization tools like risers and racks that allow vertical storage without having items directly on top of each other. "Avoid stacking, especially when it comes to heavier things like canned goods; this could result in tumbling items," Nicosia says. 
Additionally, when you enter your pantry, you should know where everything is on the shelf. "The most used items in your pantry should be kept in the center shelves at eye-level," Nicosia says. "Less used items and back stock should be stored in the least accessible areas of the pantry, like on the top shelves or floor." This ensures you won't have to dig for items you use multiple times a week. Easy access makes all the difference.
Add drawers and racks to maximize storage space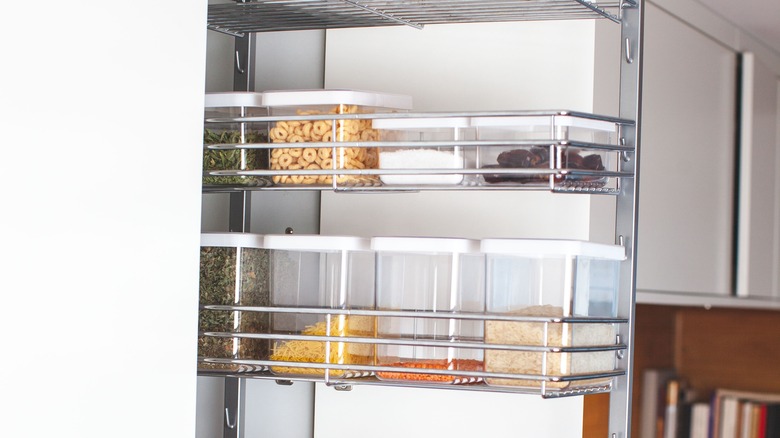 flauma/Shutterstock
You don't have to build shelves and leave it at that. "Consider adding pull-out shelving for easy access to the entire pantry. This will help you see all of your items and avoid food expiration and over-purchasing," Nicosia suggests. It's easy for items to get pushed to the back and forgotten when access to them is limited. When you can see what's in your pantry, you can keep a better inventory of what you have and what you need.
Keeping track of small items like spices can also make cooking more manageable. "If you don't have a drawer or space to dedicate to spices, a lazy Susan or back-of-the-door storage rack is great for organizing them in a pantry," Nicosia says. You may also want to consider putting them in matching jars to reduce varying container sizes and maximize your storage space.
And if you have an odd-shaped pantry or can't find organization tools that fit your space, you still have options. Nicosia says, "No matter the space available, there are custom glide-out solutions that can be tailored to improve pantry storage, efficiency, and accessibility."
Use containers wisely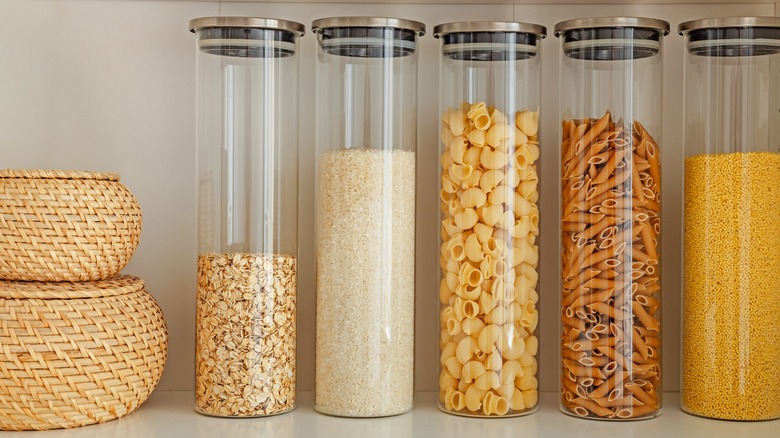 Leka Sergeeva/Shutterstock
Containers can help group everything together, but you shouldn't buy just any bin or basket. "Square or rectangular containers are more functional than round because you lose less space," says Nicosia. "Also, clear bins are ideal to help you see what's inside and reduce waste."
However, while bins can transform your pantry, excess boxes can create a major hindrance. "Get rid of big bulky boxes and containers that smaller items come in from the grocery store (like granola bars, juice pouches, snacks, etc.) and place them inside bins and containers," suggests Nicosia. "This also helps reduce waste." You'll often be able to fit more of an item in bins than their original boxes, which is especially helpful if you buy in bulk.
You may also want to use containers for loose baking and cooking ingredients. "There are a lot of storage container options out there to properly store items like flour, sugar, and spices." With these, you'll want to use labels to know what is what. You can also include scoops to make getting the ingredients easier.