Ikea Or Target: Which Has The Cheapest Storage Bins?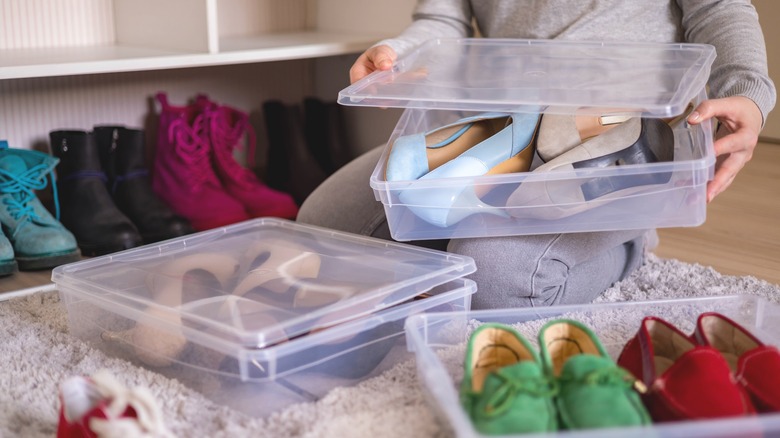 Kostikova Natalia/Shutterstock
We may receive a commission on purchases made from links.
Whether you have a surplus of holiday decor to pack away until next year, seasonal clothes you want to store away for more closet space, photographs that need to be organized, or just generally need more storage for various items, you'll likely be looking for some plastic storage bins. These bins are incredibly convenient for storing away lots of items in a relatively inexpensive and moisture-safe way.
Plastic bins with lids are an excellent option for storing items in a garage or attic, as they prevent dust from gathering on your items and prevent bugs from setting up shop. Also, they don't have to be used purely for packing away seasonal items — you can use small containers for storing toys in a child's room, shoes in a mudroom or closet, and so on. 
These bins can be found at most home goods stores, including popular retailers like Ikea or Target. If you want to know which one has the cheapest storage bins, keep reading.
Ikea storage bins
Ikea is known for its large and vast catalog of affordable organizational items, from inexpensive drawers to handy bins. One of their more well-known clothing and textile-specific bins is the PÄRKLA storage case, which costs just $2 per unit. Although it's made of a softer plastic, it still stands upright or can fold flat, and can fit just as well under your bed as on a shelf. It has a 4.8-star rating and comes in a standard 21.75-inch by 19.25-inch size, as well as a smaller model designed for shoe storage.
For sturdier plastic storage boxes, Ikea's range of SAMLA boxes is also affordable. These can be as small as 3 gallons for $5 or 34 gallons for $26. The larger sizes have wheels so they can be easily moved around. They can also be purchased with or without lids, and the lids can be purchased separately. Their lowest reviewed option is 4.2 stars.
Neighbor Blog says the SAMLA container is convenient due to its transparent design, which does well to somewhat hide scratches and discoloration. They give the product a 3.5-star rating for looks and durability but a perfect rating in terms of space.
Target storage bins
Target also offers a lot of storage products for affordable prices, including plastic storage bins. For textile storage, they have the Ezy Storage sweater box for $4. It's a little smaller than the Ikea counterpart at 15.75 inches by 13.98 inches, and only has a 4.3-star rating, with 69% of customers recommending the bin.
Target also has its own line of affordable modular plastic storage units. The smallest size offered is 5.75 gallons, a little smaller than Ikea's, and costs $4. The largest one is 60 quarts, which is dimensionally smaller than Ikea's 34-gallon counterpart and costs $15. These "Iris" bins are clear, with latched lids and built-in handles for convenience. They have an overall 4.5-star rating, but only scored a mediocre 66% recommendation rate. There are other sturdier, larger, or weather-hardy variations in this line, too. Your Best Digs identifies good-quality storage containers as being stackable with latching lids, which this line provides. However, they also say that standardized lid sizes are ideal, so Ikea's SAMLA bin stands out.
Ikea and Target both have similarly priced storage bins. Ikea is a little pricier, but their bins are larger, have better reviews, and benefit from standardized lid sizing. Overall, this means Ikea probably has better deals for your money.