Cheap Ways To Insulate Your Home Against The Cold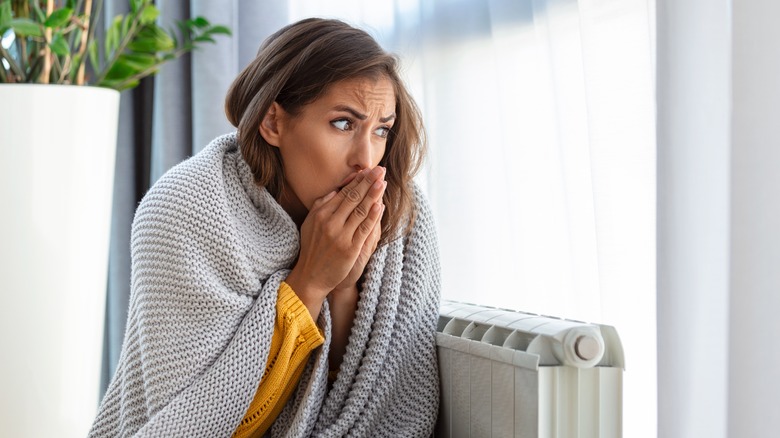 Photoroyalty/Shutterstock
The cold weather often sneaks up on homeowners and renters. As the temperature outside drops, there's an interior push to make the house more comfortable and cozier. For some, this means lighting logs in the fireplace and wrapping up with blankets and hot drinks. But others may not have these same homely luxuries.
One feature of a home that's too cold for comfort is poor insulation. Proper insulation is critical to comfort, whether in the windows – where frost and condensation can build up and affect temperature control — or the home's structure itself. Fortunately, there are many ways to identify and solve interior chill. Tackling window heat leaks should be your first port of call. The windows are some of the worst heat losers in the home – Dakea notes that a typical home will lose 10% to 15% of its heat through the windows. If yours are particularly old or thin, this volume of heat loss can rise dramatically. Starting here and working your way to more substantial insulation fixes will give you the best possible solution on a reasonable budget!
Window insulation tactics are varied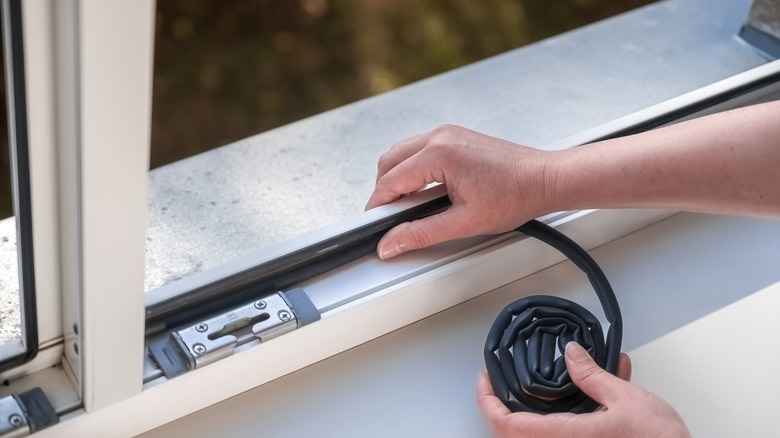 mgequivalents/Shutterstock
Insulating your windows offer some of the best warming options at budget prices. Windows are a key feature to target because of the heat loss that occurs through them. And regardless of your windows' age, you have many options to remedy this heat transfer that may be keeping your home too cold. Real Homes suggests using window film to bolster the heat maintenance capacity of your windows. This product is heat shrunk onto the windowpanes and disappears visually once it's set in place. You need to clean the window, cut the film to size and stick it to the window in question, work out wrinkles or bubbles, and use a blow dryer to finish the installation. These shrink film kits are inexpensive and can be found at Amazon or your local hardware store. You can also remove the film from your windows when the temperature warms.
Another good option is the use of heavy, insulating curtains. Adding thick curtains alongside your worst offenders can be a potent way to transform a room's aesthetic. Harrisons Curtains & Blinds notes that insulating curtains can reduce heat loss by as much as 40%. In the worst cases of heat loss through the windows, it may be worthwhile to consider a window replacement. Replacing your windows will cost more than these other budget-friendly approaches, but it will reduce heat loss through the windows in an instant.
Consider augmentation in the ceiling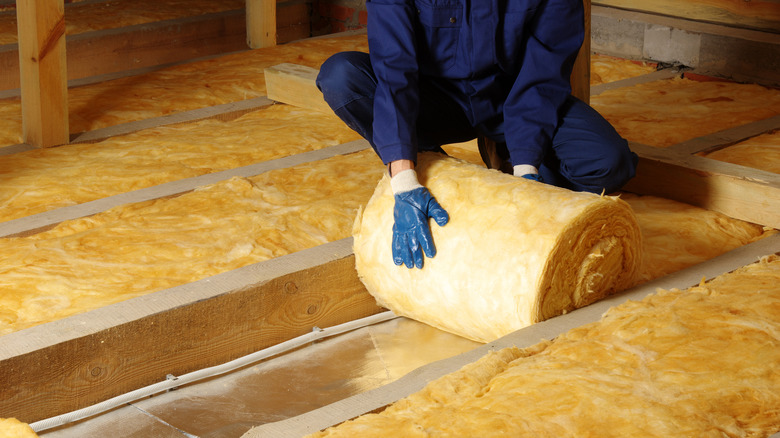 irin-k/Shutterstock
If window alterations don't get the job done, it may be time to consider replacing your insulation. AGL Discover reports that insulation should be replaced or revamped every 15 to 20 years. Insulation doesn't typically face much movement or disturbance as it sits in the attic and performs its function. However, moisture in the home, compression through the use of attic space for storage, and even pests that may infest this crawlspace can negatively impact the performance of your home's insulation.
Adding new spray insulation to improve the home's heat-holding capacity can be a cost-effective option. However, if your insulation has been damaged by recent storms or otherwise (perhaps through a leak in the roof or recently heightened moisture levels throughout your home), a total refit may be needed. Insulation in the home drastically changes the heat maintenance calculations. There's a massive difference in the ambient temperature of a shed or even the garage compared to a bedroom for a reason! It's possible that your insulation has come to the end of the road and requires attention.