15 Stylish Ways To Add Personality To Your Home With Family Photos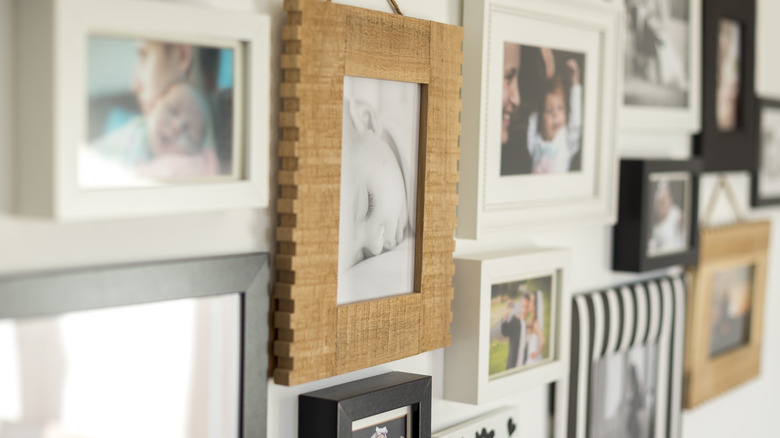 OndroM/Shutterstock
When we think about what truly makes a house feel like a home, our thoughts often revolve around our loved ones and the memories we share. Displaying unforgettable occasions creates a space encapsulated with comfort and tenderness. Sometimes it can be challenging to detach ourselves from a moment and pull out the camera; it may even feel like we're not being as present as we should be by choosing to snap a picture. Yet, when Made for Mums surveyed 1,872 parents about their top regrets, 63% reported wishing they had taken more photos. Similarly, 71% regretted that all their photos were stored digitally without tangible access.
It's a common saying that it's better to have too much of something rather than too little. So why not strive to be a part of the small percentage of folks taking just enough photographs and creating hard copies to set out and enjoy throughout your home every day? Family photos add personality and flair to a space that is uniquely yours, and there are endless innovative ways to display these precious memories.
1. Bold framing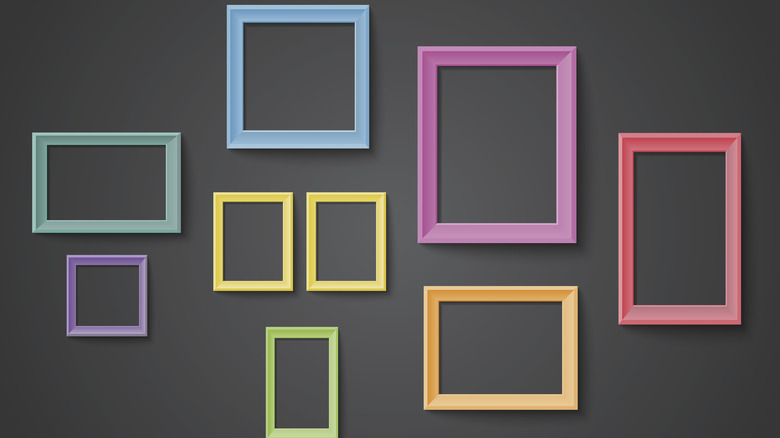 Bannosuke/Getty Images
Featuring simple, yet boldly colored frames is an easy and affordable way to make a statement with your photos. They can include metallic finishes, bright and dark contrasting colors, and DIY projects made from materials like macrame or washi tape.
2. Utilize unconventional areas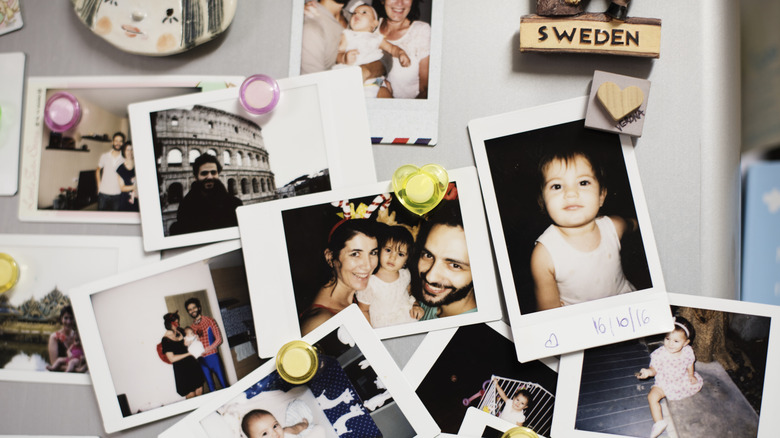 Rawpixel/Getty Images
Photo placement is important and spaces that aren't typical for picture displays are often the most exciting. Incorporate fun magnets and pins to decorate the fridge or bulletin boards with little memories that don't fit anywhere else. Or, use clothing pins and clips to hang Polaroids and other photos along string and wire mounts.
3. Wonky frame shapes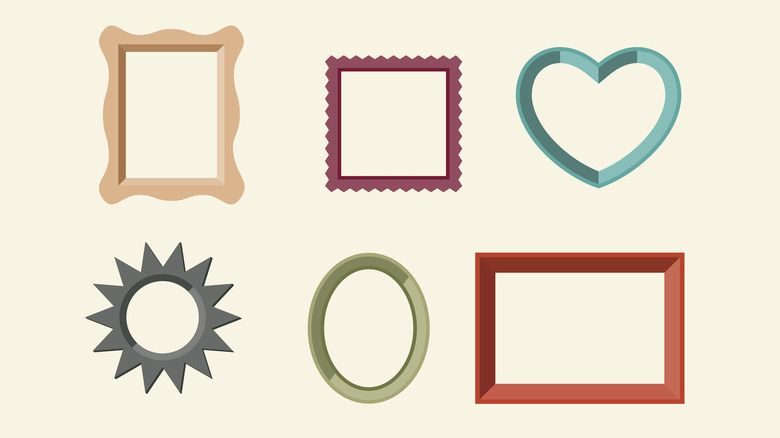 Ilyabolotov/Getty Images
Frames don't have to stick to variations of squares and rectangles. Get creative with different shapes such as diamonds, circles, ovals, hearts, and any other wacky shapes you desire.
4. Accent wall display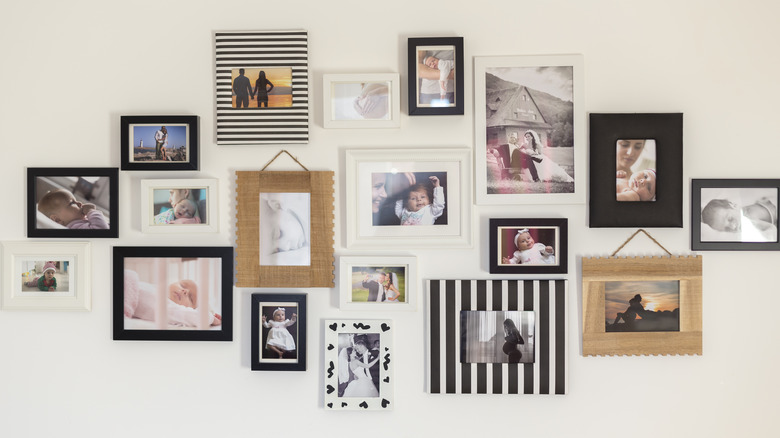 OndroM/Shutterstock
Accent walls have been at the top of the trends chart with so many different variations available. These are perfect for spicing up photos from solid colors to peel-and-stick wallpapers. Choose shades and patterns that complement and enhance your frames and pictures.
5. Black and white gallery
Black and white monochrome gives any collection of photos a chic and elegant feel. Muted filters allow many photos to accumulate in one area without sensory overload from a thousand different hues. Run with this idea by creating other monochromatic looks with slightly different color palettes.
6. Pair with wall art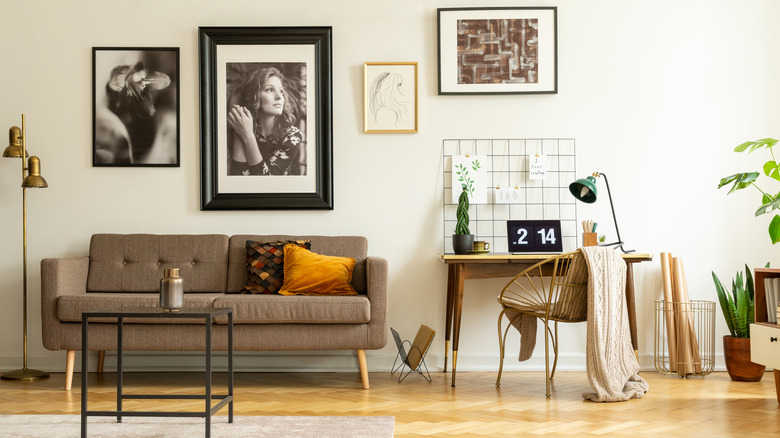 Katarzynabialasiewicz/Getty Images
Family photos don't have to be sectioned off from other framed items and will look gorgeous next to all sorts of wall art. This is a fun project of pairing colors, creating themes, and adding dimensions that are tailored to your unique style and experiences.
7. Photo blankets
Blanket ladders are always a stunning addition to a room, and the blankets you choose to display can be pieces of art. If you run out of room on the walls or simply want a more creative setup of family photos, have some custom blankets made to display on those wooden stands.
8. Mix and match vintage frames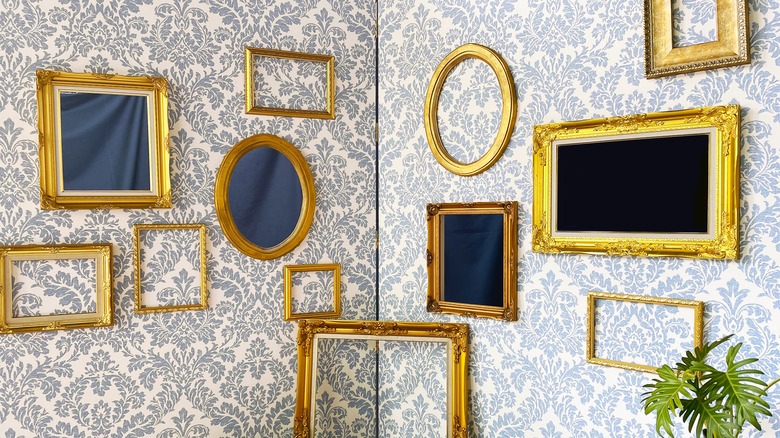 lalunlaa/Shutterstock
Head to the thrift stores, antique shops, and estate sales to shop for vintage frames. This eclectic mix of materials, colors, shapes, and sizes will create a one-of-a-kind photo assortment in your home.
9. Get creative with arrangements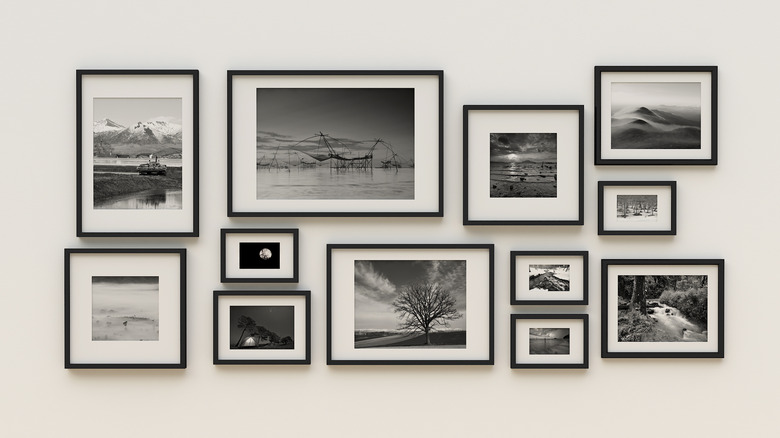 baitong333/Shutterstock
Experiment with different arrangements to find what's visually appealing. This can mean grid patterns, vertical photos mixed with horizontal ones, or a staggered design that adds dimension. Think outside the box and even consider corner photo wall arrangements in order to utilize a space that is often left empty.
10. Pallet displays
Unconventional shelving is a really fun way to elevate your photo gallery. Head down to a local hardwood store for some pallets, which are usually cheap or often even free. Simple pallet wood projects offer an enormous range of opportunities for DIYers who appreciate a rustic look.
11. Floor-to-ceiling exhibits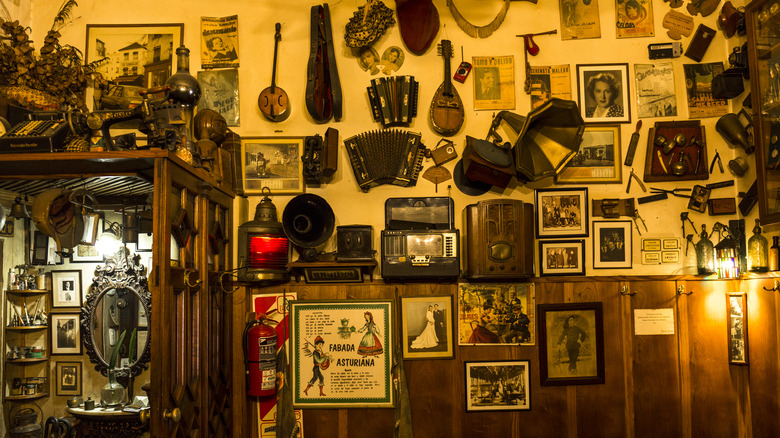 Christopher Pillitz/Getty Images
A floor-to-ceiling photo wall can be intimidating to design. However, what has the potential to feel cluttered can actually be quite charming when setup on an accent wall, down a hallway, or along staircases. Hallways are tricky to decorate without disrupting walkways, and this is an effective way to make these hollow spaces feel less empty.
12. Photo collages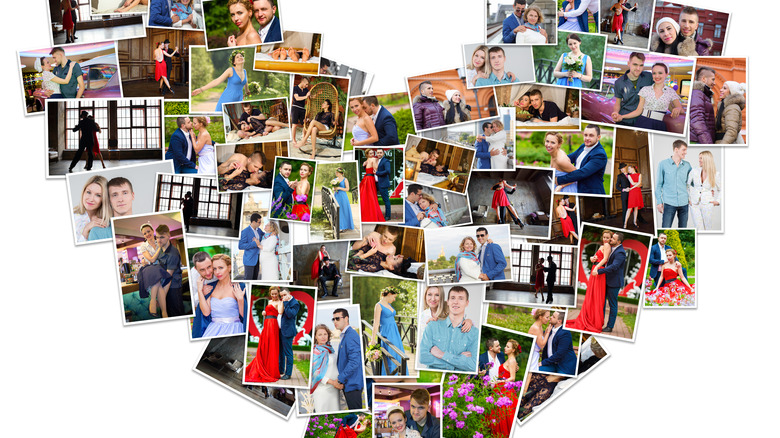 Pavel L Photo and Video/Shutterstock
Photo collages are great for those with limited space who still want to display many different pictures. They're also extremely customizable and can feature small or large tile arrangements and a themed assortment like snapshots from a great vacation.
13. Artsy portraits
With smartphones at our fingertips, it's becoming less common to sit for family portraits. Yet, many talented artists like Rica from Artisan Gift Collection seen above, are willing to draw or paint family portraits. If commissioned art isn't your style, experiment with photography from fun angles and close-ups of details such as hands and shoes.
14. Coffee table albums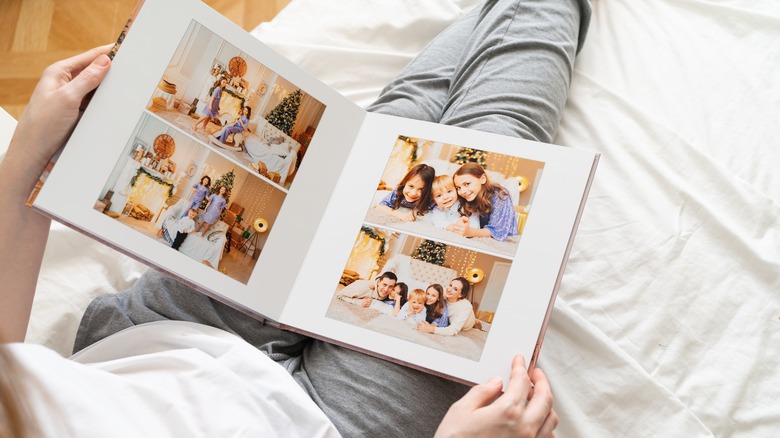 Andrey Sayfutdinov/Shutterstock
The art of scrapbooking isn't dead and photo albums offer your coffee table the perfect entertainment for guests. If you've run out of wall space or are a minimal person, these books ensure all your loved memories are at your fingertips. You can order custom hardback books or DIY your own binders and albums.
15. Photo ledges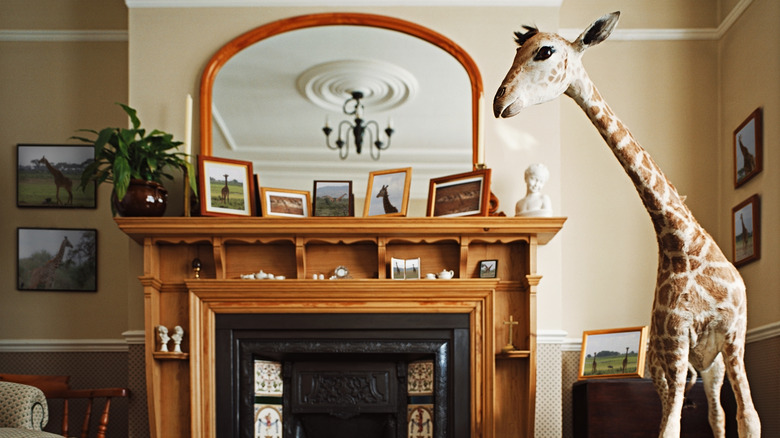 Image Source/Getty Images
Sometimes homes have built-in ledges, and other times you may have to DIY a shelf or mantel. Either way, ledges are great for family photos and showing off curated collections of picture frames. Photos on ledges will tend to be linear, but you can add dimension by staggering frames and using a mix of different sizes.