The Clever TikTok Hack For Staging A Bed
Perboge/Getty Images
Staging is a popular step that most professional real estate agents use while selling houses and apartments. Basically, it means incorporating furniture that won't actually come with the house. Staging is a powerful emotional tool that allows prospective buyers to truly envision themselves in the house — where their friends will sit for game night, their kids will do their homework, and so on. But furniture, even when rented, is expensive and often requires paying moving crews. And further, if you're trying to stage your home without the help of a professional, it will eat into your potential profits. 
Thankfully, there are a lot of staging hacks and workarounds that are both affordable and don't require hiring a moving crew. One of the best we've come across is a tip from TikTok user @sellingthesuburbs on how to stage a full-size bed without really bringing in a bed. The owner of the account, Amanda Albrecht, is a realtor who offers budget-friendly décor tips and real estate hacks.
How to get the look
We will admit we were skeptical when the initial step of the tutorial was to lay out a rug and unfold two plastic card tables on top. But by the end of the video, the genius of this staging hack was clear. After laying out a cozy, plush, and neutral rug, Albrecht snaps two foldable, 6-foot plastic tables into place and pushes them alongside each other. She doesn't reach out for a mattress or sheet set next — instead, she drapes a painter's drop cloth over, again in a neutral color. Because these tables have less-than-attractive legs, the longer drop cloth hides them and gives the illusion of a fuller bed set. 
Only now does Albrecht use actual bedding supplies on the vignette with a thin comforter, a few bed pillows and throw cushions, and a neutral beige throw blanket. The result is a remarkably bed-like display that is hard to recognize as card tables, especially when a staged bedside table is added to the mix. 
While 6-foot heavy-duty card tables aren't exactly cheap, they are definitely more affordable than most bed sets, and most importantly, they don't require additional labor or sourcing. One person can easily take them up stairs, assemble, and disassemble them, and they're easy to store in most homes when folded up. 
Does staging pay off?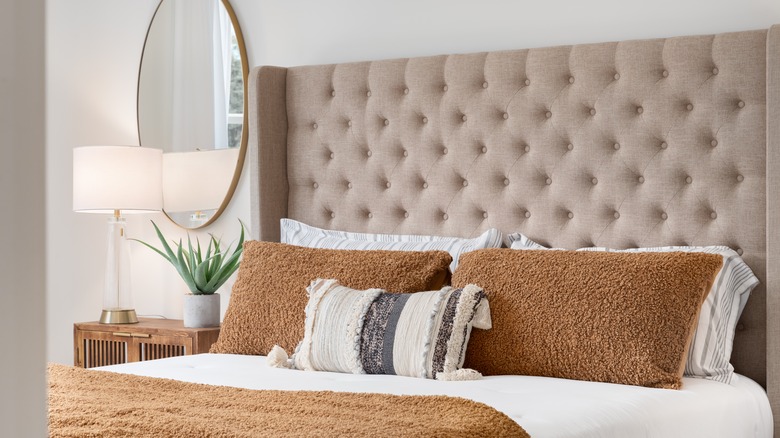 Hendrickson Photography/Shutterstock
Selling a home can be extremely time and energy-consuming. And staging can feel like an extra, burdensome step to the process, especially on top of all the home maintenance and deep cleaning done in advance of listing any real estate. But according to the National Association of Realtors, 47% of buyers' agents reported that home staging impacted their buyers' view of the home, and 23% of buyer's agents said that staging a home increased the dollar value offered between one and five percent compared to comparable, unstaged homes. 
So while it's tempting just to present a house or apartment as is with no furniture, keep in mind that the emotional and visual aspect of home-selling is very important. After all, why else would one of the oldest tricks in the realtor book be to put vanilla essential oils in the oven to give the illusion of freshly baked cookies? Home buyers, and people generally, are not entirely logical beings, so it's important to appeal to multiple senses when putting a property up for sale. Staging is one of the best ways to do so, and with the right hacks, it doesn't have to be hard.