Home Town Stars Erin And Ben Napier Share Their Cheapest Hack For Adding Personality To A Room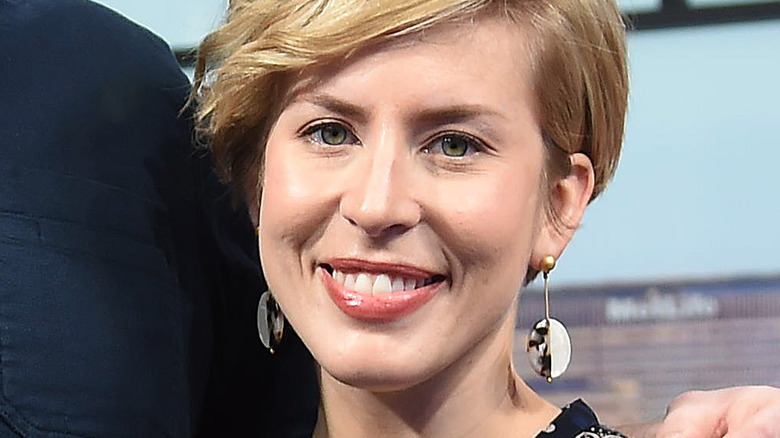 Gary Gershoff/Getty Images
Homes have always been a place for people to express themselves, and that's becoming even more true as specific personalities become the inspiration for home décor. The idea of curating an aesthetic to match your personality is nothing new. But in the digital age, developing specific aesthetics like cottagecore, cluttercore, angelcore, and royalcore have become home décor guides. These aesthetics start on TikTok and represent people trying to bring a unique spin on personality into their space.
Of all the Tik Tok "-core" trends, two of the most popular have been cottagecore and grandmacore, or grand millennial. These cozy aesthetics take inspiration from antique details and make them more modern. Erin Napier, star of HGTV's Home Town, is an expert at making vintage style feel like a contemporary feature. Ben and Erin Napier tackled a starter home for a client on a recent episode of "Home Town." With a limited budget available, the couple was looking for a feature that would make the bathroom pop — and they settled on this easy and inexpensive way to upgrade a space and add a splash of personality.
Wallpaper transforms in an instant
In the episode "Mississippi Made," Ben and Erin Napier transform a home for client Hayley Raines who had just moved from Florida. Raines wanted the home to be filled with décor representing her eclectic and worldly taste. Among the unique pieces for the home, the wallpaper in the bathroom is a true standout. Created by Anna Rifle Bond of Rifle Paper Co., according to Laurel Mercantile, the wallpaper brings in femininity and color that helps brighten up the small space. "It's a little bit feminine and it's a little bit Florida — and I think Hayley is going to flip out," Erin says of the floral design, according to Realtor.
Bold wallpapers are a trend that has been well-loved over the last few years. Designs like those from Rifle Paper Co. use traditional motifs like florals and nature but update them with vibrant colors and modern drawing styles. Wallpapers from this company range from $65 to $122, covering 45 and 60.75 square feet, respectively. With the growth in popularity, big box stores and small businesses alike are selling wallpaper. Peel and stick, in particular, which has a self-adhering backing, has become an easy way to give your home some pattern and color. These new wallpapers are a project that most can tackle in a weekend.
Choosing the right kind of wallpaper
Though it may have gotten a style upgrade, traditional wallpaper is still an option. Luxe Walls defines traditional wallpaper as one that has to be pasted before hanging. Though this means extra work during installation and could be a little trickier to apply, this style of wallpaper is one of the most durable. It's not permanent, but it will definitely require some time if you're looking to remove it. Use traditional wallpaper when you want to make a décor choice that will last for years or even decades to come.
However, if you like to transform your space or you're renting, you'll want to use self-adhesive wallpaper. This type of wallpaper already has adhesive on the back, so it's akin to a wall-sized sticker. To apply it, all you have to do is remove the backing, stick it to a wall, and smooth it out. These can be removed easily by using a little steam to loosen the adhesive and won't leave any residue on the walls; ideal if you're looking to give a space a temporary makeover or a renter who's looking to add personality. However, be cautious where you add the feature; the moisture from kitchens and bathrooms can cause this wallpaper to peel or lift.