How To Feng Shui Your Bedroom For Healthy Sleep Habits, According To An Expert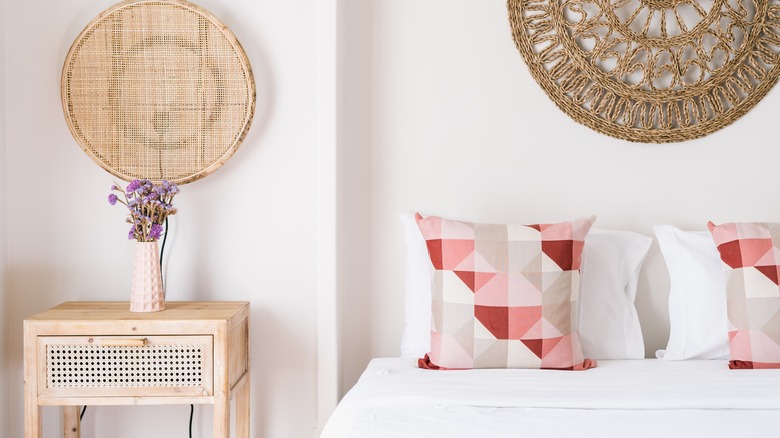 brizmaker/Shutterstock
A bedroom should be a relaxing space where you get a good night's sleep. Unfortunately, there are certain design features that might jeopardize that, such as an abundance of technology or clutter, or harsh hues and lighting. If you haven't put much thought into the energy of your home and the way it impacts how you feel, you may want to consider incorporating feng shui principles, which can help bring a sense of harmony.
In an exclusive interview with House Digest, Joan Kaufman, a feng shui expert and founder of Interior Planning & Design, Inc. shared her tips for harnessing the power of feng shui to bring peaceful energy into your bedroom. "Sleep is essential to good health. Incorporating feng shui principles into the interior design of your bedroom, there are several design principles that will enhance your experience, improving sleep. This can improve your physical and emotional well-being," explains Kaufman.
And, in addition to helping your well-being, being mindful of feng shui could also prove beneficial when it comes to selling your home. In a national survey led by Better Homes and Gardens Real Estate and the Asian Real Estate Association of America, a whopping 79% of respondents said they'd be willing to spend a little more for a home that incorporates feng shui principles, making it a worthwhile investment for multiple reasons.
Select colors and shapes conducive to relaxation and sleep
MDV Edwards/Shutterstock
Everyone has different preferences when it comes to their home aesthetic — some favor neutral tones and clean lines whereas others prefer bold, bright colors and organic shapes. When it comes to the bedroom, though, there are a few key colors and shapes that will help create a restful atmosphere, according to Kaufman.
In terms of the shades you should splash on your walls, Kaufman recommends that you "decorate with soft colors representing the feng shui water element such as blues and aquas. Also, use shades representing the earth elements such as tans, taupes, and other stone colors." There's plenty of flexibility within these parameters to achieve the kind of mood you want, whether you want a more saturated hue or something more neutral.
And, when it comes to the shapes you incorporate, there's something to please both those who love organic influences as well as those with a more modern, sleek sensibility. "Bring in shapes such as waves or water shapes (flowing yet calm, not stagnant or raging waters) as well as square shapes for stability (down-to-earth enhance the energy of the space to support sleep,)" Kaufman advises. To create a layered, stunning bedroom, you can combine different tones or shapes to create a one-of-a-kind space that will have the necessary ambiance.
Bed placement and space setup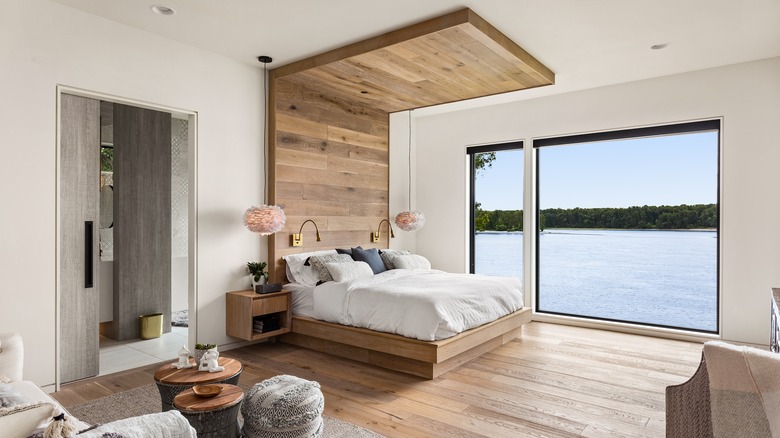 Justin_Krug/Shutterstock
The bed is almost always the focal point in your bedroom. Certain architectural features such as doors and windows may make it seem like you only have one logical placement option for your bed, but keep an open mind and consider feng shui when determining exactly how you should set the furniture.
Kaufman explains, "in pyramid feng shui, the future/dreams segment of the bagua is opposite the door — directly ahead when entering the space. Thinking happy thoughts about the future is inspiring and brings us peace in our restful sleep, too." This feng shui placement suggestion still gives you plenty of options depending on the exact layout of your bedroom. If possible, try to position it near windows for natural lighting so you can start each day energized by the sunlight after a good night's sleep.
And, make sure you take advantage of unused corners, nooks, or surfaces in your bedroom — it doesn't take much room to set up a vignette with some candles, a tiny meditation space, or a reading corner and these types of details can be transformative. "Establish space within the room to promote and encourage rituals that bring a conclusion to the day and help you enter the sleep world peacefully," suggests Kaufman. "Meditation, spirituality, and other practices bridge the gap between awake and asleep and touch into dreams."
Choose a variety of lighting within the space for maximum flexibility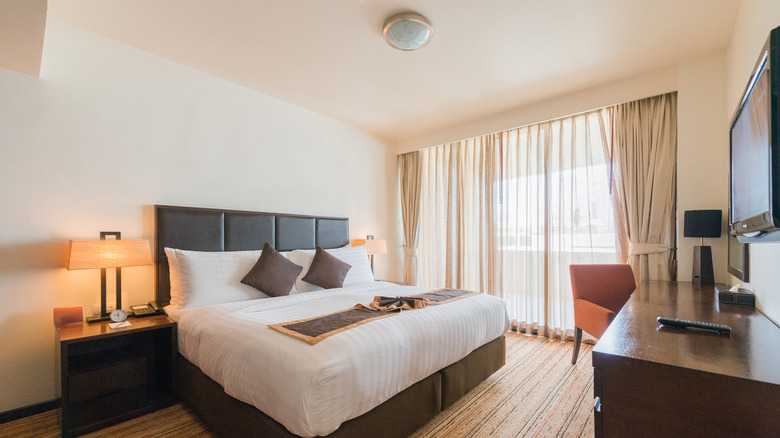 Tracy ben/Shutterstock
Many people default to having one overhead light in their bedroom and a lamp on each nightstand for a more ambient option. However, don't just automatically go with this — instead, analyze your space and how exactly you want to use it. "Carefully consider the layout and design of your general, ambient, and task lighting," recommends Joan Kaufman. "Position lighting for different tasks on a separate control/dimmer. Activities such as reading, getting dressed, writing, or other tasks should be separated from sleeping."
Not quite sure which bulbs or type of lighting to use with all your carefully chosen fixtures? "LED lighting is state-of-the-art. A 2700K and color rendition index (CRI) or warmer is suggested," advocates Kaufman. Selecting lights that fall within these recommended categories will ensure your space feels cozy, even when fully illuminated, and never veers into harsh or sterile territory.
While you'll want to have a variety of options to light all your regular daily activities, perhaps the most important lighting selection is whatever you use during those pre-bed rituals and routines. "For sleeping, the lighting should be able to be soft. Utilizing dimmers will allow flexibility in setting the lighting levels to encourage relaxation or sleep," says Kaufman. And, make sure you're considering any middle-of-the-night needs as well. "If one wakes in the night automated controls or motion sensors can be used to light the walking path without waking one's partner or being overly bright," she suggests.