20 Southwestern Decor Ideas To Add A Touch Of Desert Style To Your Home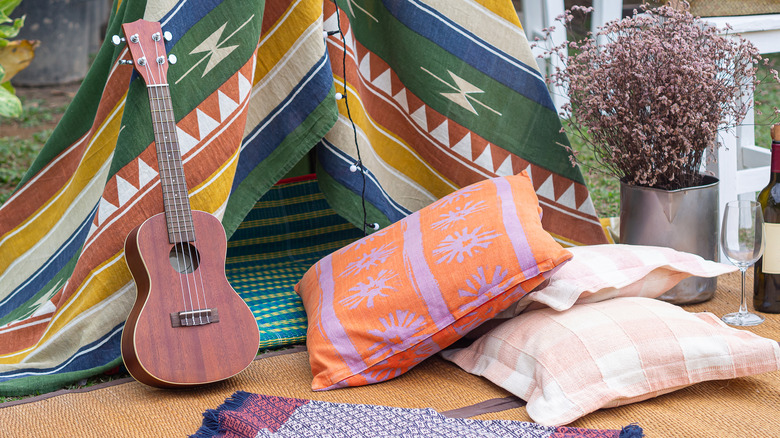 meeboonstudio/Shutterstock
The modern farmhouse trend may finally be out of style, but some elements of farm life are still very much in when it comes to interior design. As bright white, chalkboard paint, and mason jars phase out, more people are starting to embrace a colorful, warm, and authentic version of the farm aesthetic. Southwestern interior design is similar to the bohemian style, but it relies less on bright colors and more earthy tones, rustic elements, and ranch-like décor. As interior design expert, Kerrie Kelly described to HGTV, "Southwestern style gathers its inspiration from the desert palette, Spanish textiles, adobe houses, ironwork and nature. Leather, suede and loads of texture in shades of rust, terra-cotta, cactus green and bulky furnishings are a great foundation for celebrating Southwestern style."
Are you curious about dipping your toes in the Southwestern design trend? Are you dreaming of open skies, fresh margaritas, and warm sunshine this year? Transforming your home into an eclectic desert oasis can seem like a major challenge, especially if you aren't sure where to start. Check out these decorating ideas to discover how you can lasso the Southwestern trend in your home.
1. Woven blankets
Woven blankets are a staple piece for Southwestern aesthetics, and they make a big impact without breaking the bank. These colorful and intricate blankets look great when layered on the bed, draped over a chair, or stacked on a shelf. If possible, purchase handmade blankets from indigenous, Mexican, or Peruvian small businesses. 
2. Hanging hats
Every cowboy and cowgirl needs a place to hang their hat. Hats aren't just a bold fashion statement; they can serve as awesome Southwestern décor pieces. Hang your hats near a mirror, baskets, or other ranch-like statement pieces for added effect. 
3. Desert art
Even in the middle of a snowy northern winter, you can warm up a room with artwork featuring sunsets, desert scenes, plants, and animals. Purchase a stunning print from a local artist, or try making your own!
4. Cacti and succulents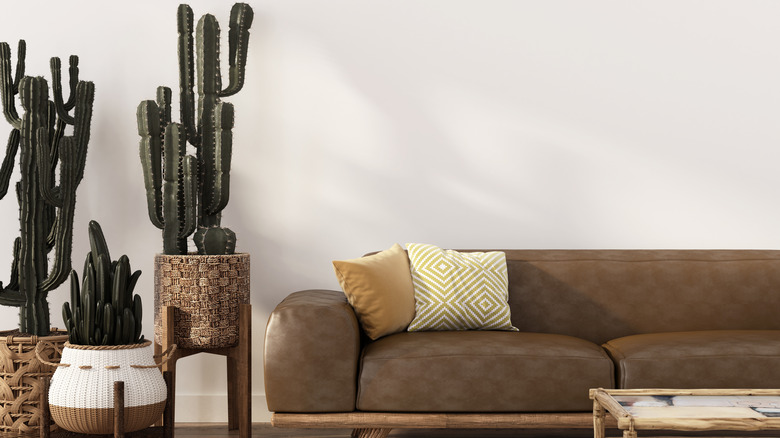 Jzhuk/Getty Images
Nothing says Southwest like prickly pears, barrel cacti, and saguaros. Plant a few hardy varieties in your garden or pool area to make it feel like a toasty desert escape. If you're short on space or your climate is too cold, bring the same vibes inside with faux plants and artwork.  
5. Colorful pillows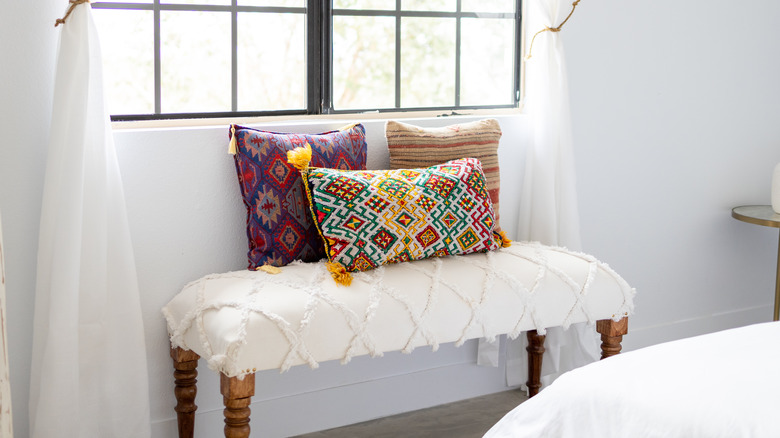 G_Hosh/Shutterstock
Southwestern style uses lots of layered colors and textures to create visual interest. One way to quickly transform your home is to add a few eclectic throw pillows to the sofas and beds. Don't be afraid to mix pieces, even if they don't seem like an obvious match. 
6. Tasteful taxidermy
Bull head skulls are a classic Southwestern décor piece. A mounted bull skull adds an edgy touch to any room, but if real skulls make you feel uncomfortable, look for faux ones in all sorts of colors and finishes. Bull skull motifs also look awesome on pillows and artwork. 
7. Margarita bar cart
The Southwest is hot, so cowboys have to stay cool with refreshing margaritas and agua fresca. Establish a bar cart with all your margarita essentials — glasses, limes, tequila, and salt — up top. For some flair, decorate with an agave plant or leather coasters. 
8. Sunny neutral tones
If you want to make a big impact, consider repainting in gorgeous neutral paint colors. Think sand, peach, apricot, beige, brown, cream, and limestone. Painting just one accent wall can be a quick weekend project, and it makes the whole room feel warmer. 
9. Decorative baskets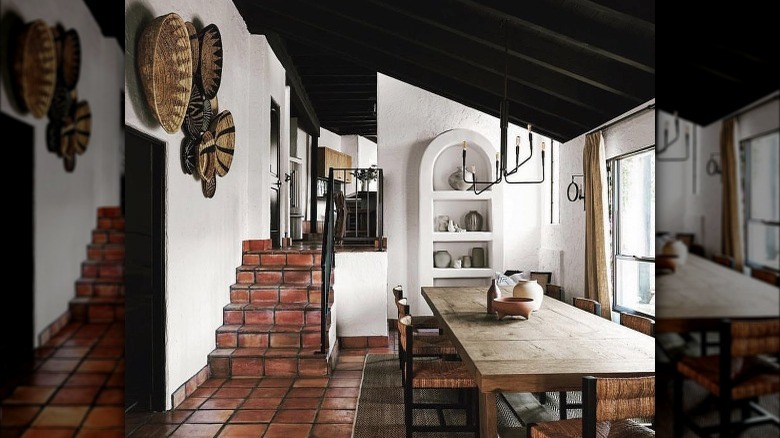 Vineyard Perspective/Shutterstock
Purchase handmade basket art from Southwestern artists and arrange the baskets on your walls. This simple décor trick is an easy way to occupy empty space above your couch or bed, and the baskets look even more gorgeous when hung next to your hats. 
10. Painted planters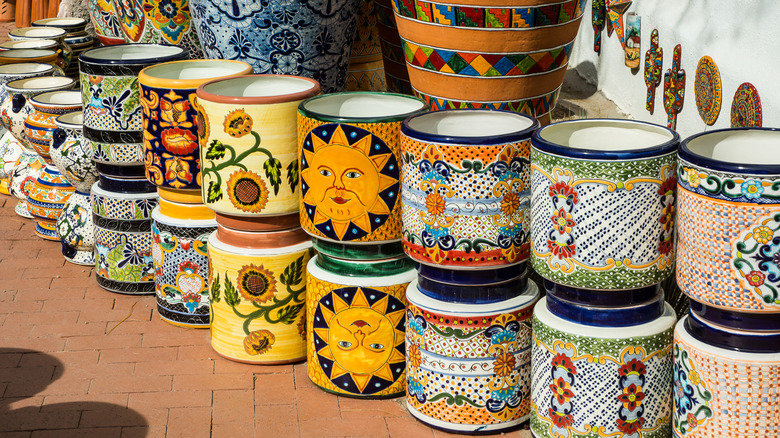 James Mattil/Shutterstock
The Southwestern aesthetic is strongly influenced by Mexican and indigenous American cultures. Making and painting pottery is a Mexican tradition that dates back over 3000 years to the Olmec civilization. Today, you can find stunning vessels, pots, and planters that will showcase the best of the Southwest in your home. 
11. Leather textiles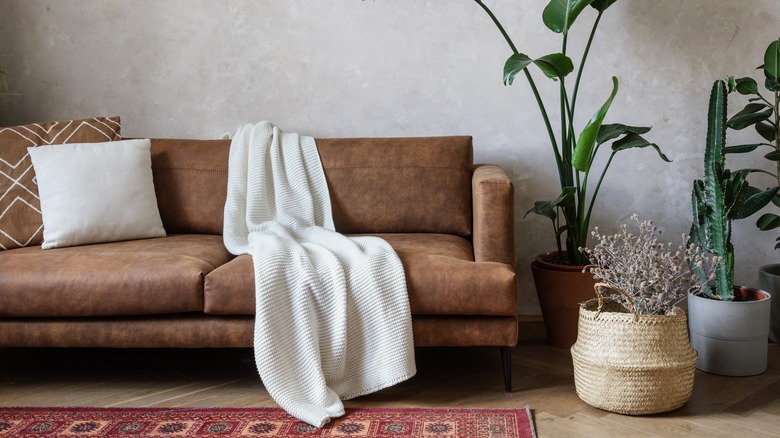 brizmaker/Shutterstock
Cattle was the main economic export of the Southwest, and many historic cattle ranches are still in operation today. Leather became a staple good for creating furniture, boots, and riding gear. Bring some of the same warm and practical essence into your home with a leather sofa, pillows, or décor pieces.  
12. Terracotta décor
KerrysWorld/Shutterstock
You can literally bring the Southwest into your home by incorporating terracotta pottery. Terracotta pieces are made from red desert clay, and the name translates to "baked earth." Use handmade terracotta bowls in your kitchen for mixing ingredients, holding produce, or displaying flowers. 
13. Cowhide rugs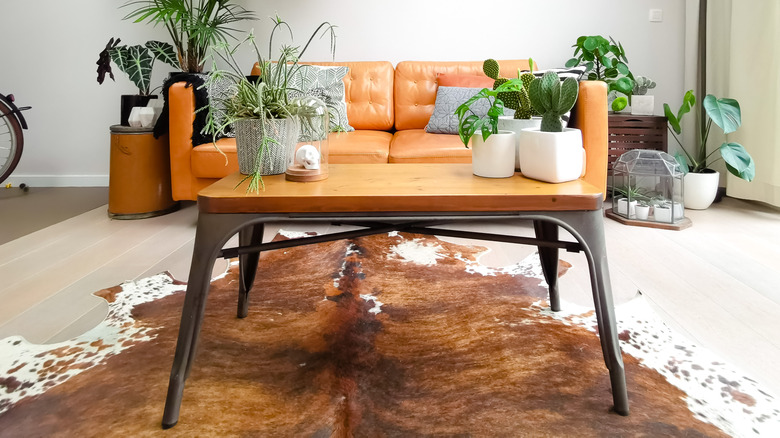 Luoxi/Shutterstock
Cowhide is similar to leather, but with cowhide, the hair of the animal is left intact, resulting in a soft, touchable material with totally unique fur patterns. Cowhide rugs are a Southwestern staple, but if a whole rug is too much cow for comfort, opt for cowhide coasters, pillows, or artwork instead.  
14. Stucco elements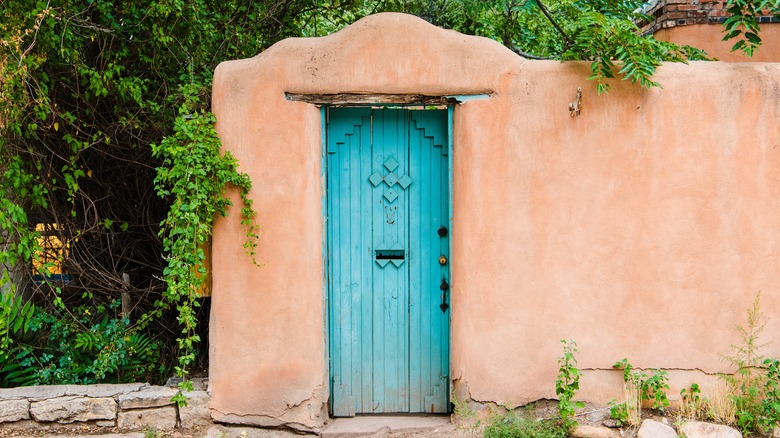 Jim Ekstrand/Shutterstock
Dreaming about building a new pool house, greenhouse, or garden shed? Consider using stucco to create the walls. Stucco isn't just a pretty and affordable building material; it also saves energy and stabilizes the room temperature in desert climates, where it's hot during the day and freezing at night.
15. Patterned tiles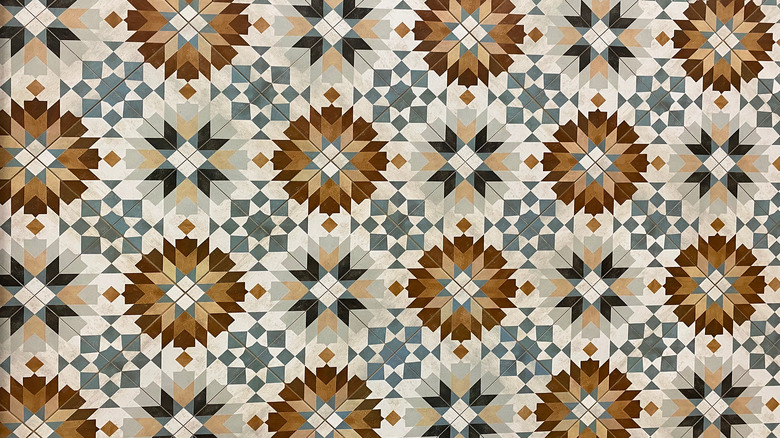 StudioDin/Shutterstock
Patterned and mosaic tiles can instantly make a room feel more exciting. Look for sunburst patterns and warm, earthy colors to compliment a Southwestern aesthetic. Think outside the box with tiled countertops, trivets, tables, and patio furniture. 
16. Rustic wood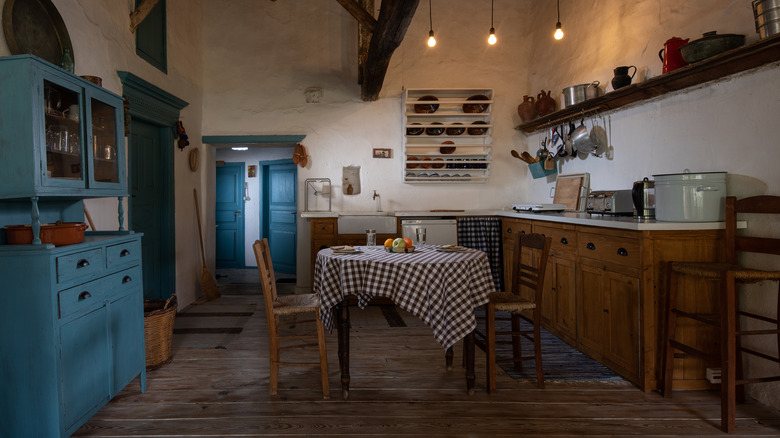 George Tsamakdas/Shutterstock
Wood is another fun element to play with when you want to achieve a Southwestern vibe. To avoid looking too cabin-like, opt for rustic wood ceiling beams, shelves, and furniture with raw edges and sturdy construction. Wicker, rattan, and distressed pieces can also work well here.
17. Backyard oasis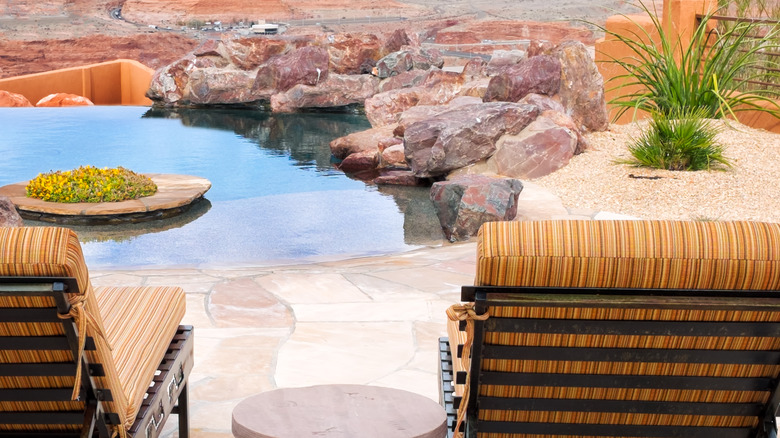 cdrin/Shutterstock
If you're lucky enough to have a pool or hot tub at your home, consider turning it into a relaxing desert oasis. Pick sturdy wrought iron furniture, warm, earthy cushions, and woven hammocks, then enhance the landscape with crushed gravel, palm trees, agave, and cacti. 
18. Cowboy firepit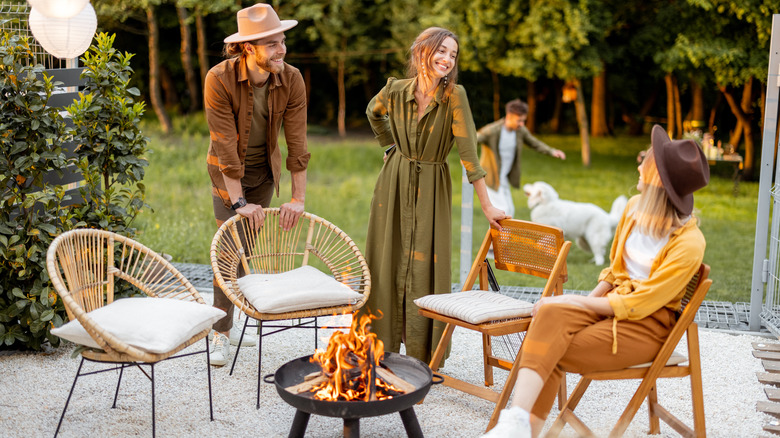 RossHelen/Shutterstock
Nothing says "Southwestern charm" like a night out under the stars. Keep your evening warm and cozy with a rustic fire pit. Pick up an iron fire bowl or terracotta chiminea for a more budget-friendly fire, or if you're feeling ambitious, opt to build a pit from limestone or sandstone. 
19. Guitar display
What's a lonesome cowboy without his trusty six-string? Hang a guitar on the wall, lean it in the corner, or prop it up on the sofa, so it's ready to play whenever the moody blues strike. Other musical instruments like a banjo or fiddle can work for this as well! 
20. Arched details
Inspired by a warm Mexican villa or the setting desert sun, archways are a trendy design that just so happens to suit the Southwestern aesthetic. Paint your archway in a bold, contrasting color to highlight a desk area, bed, or reading nook. Arch decals can also make a great renter-friendly solution.